Char-Koosta News 
MOIESE — In an effort to encourage tribal youth to explore careers in natural resources, a group of organizations and agencies joined with the Confederated Salish and Kootenai Tribes (CSKT) to create the Mission Mountains Youth Crew to accomplish the mission this summer. 
Six high school students from Arlee, Ronan, and Two Eagle, as well two Salish Kootenai College (SKC) students from federally recognized tribes are participating in the 2021 Mission Mountains Youth Program this summer (MMYP). They are developing a thorough understanding of how the Salish, Pend d'Oreille, and Kootenai Tribes historically used the Flathead Valley's land and resources, as well as how the CSKT, Flathead National Forest (FNF), and National Forest Foundation (NFF) manage those resources today. From June 14, 2021, to the end of July 2021, the Mission Mountains Youth Crew (MMYC) members are gaining valuable experience that will shape their futures; most, if not all, of the crew, are interested in conservation and natural resource management as careers. 
The collaboration between the NFF, CSKT, SKC and the FNF allows the crew to learn about the land and earn an income. The crew works with the CSKT Department of Natural Resources, SKC, and the US Forest Service to complete a week of training and seven weeks of fieldwork in the Mission Mountains. Crew members work on a variety of projects to improve natural resource conditions, wildlife habitats, and tourist experiences. Projects include watershed improvements, ecosystem restoration, and recreation enhancement.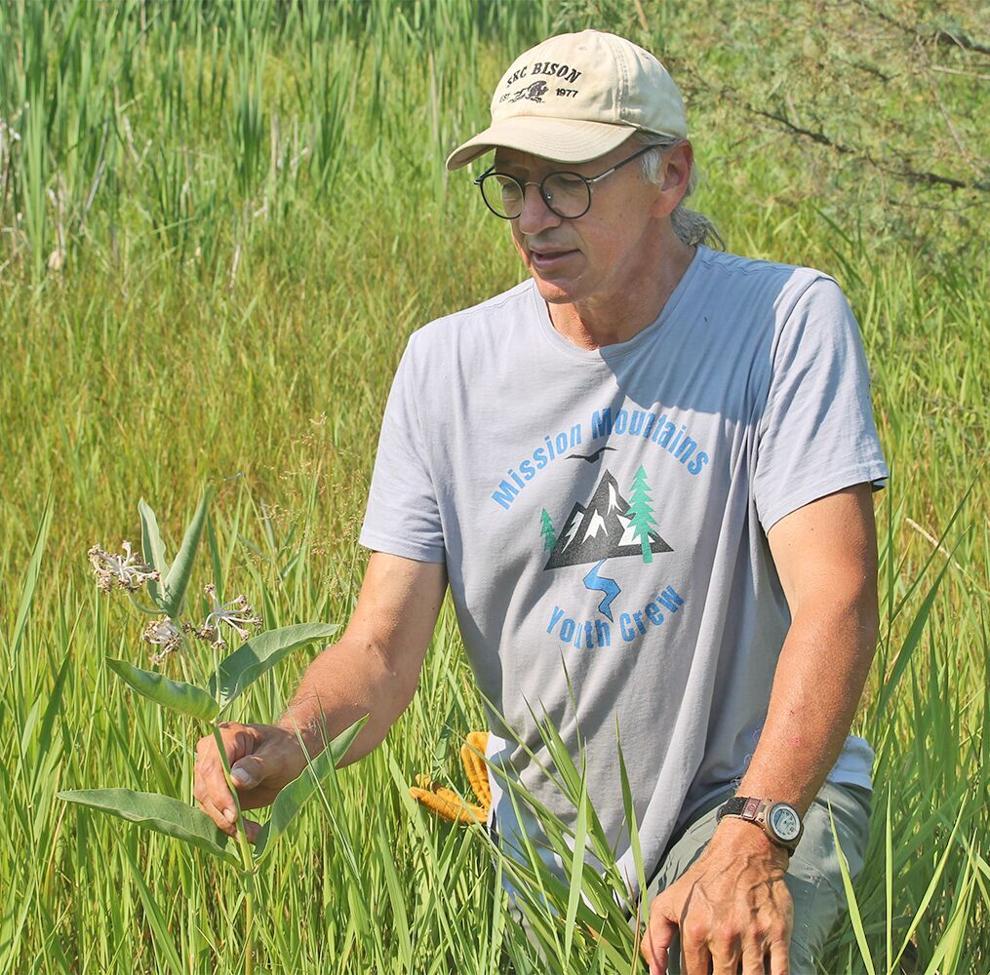 Miranda Burland, CSKT Higher Education Scholarship officer, took the lead in focusing on and recruiting six high school students for the MMYP program under the Tribal Education Department. Burland worked on a grant that focused on recruiting six CSKT or descendant students out of community high schools and paying the students every two weeks until the program ends. The crew also receives an incentive for missing no more than three days, which encourages the crew to stay committed to their attendance. Burland is ecstatic that she has been allowed to assist with the MMYP program. The Tribal Education Department has been and continues to be working on solutions and ideas to help the youth and their futures. As Burland and others stay involved with the students during the program, she said that, when compared to the first day of camp, the crew's bond can be seen as they joke and have fun together. 
Taysean Burke, a 16-year-old CSKT enrolled member from Ronan, got involved with MMYC through his Ronan High School Native American Studies teacher, Gwen Couture. Burke said that he is learning a lot, particularly about plants. Burke isn't sure what he wants to do with his life yet, but after joining MMYP, he feels as if he has found an idea. 
Nehemiah Long, 19, of Pablo, an enrolled Navajo Nation member, and CSKT descendant, learned about MMYP from his Two Eagle River High School teacher Jaimie Stevenson, who assisted Long in his job search for the summer. Long said, "I'm learning a lot of stuff I didn't know before, names of different plants, what things are for, and how to make different things." Long says MMYP is a lot of fun and would recommend it to anyone. "It's the best job."
Students Lou'Rasia Weatherwax, Sage Nicolai, Ignace Pierre (Iggy), and Azariah Godwin are also part of MMYC.
The High School students have the opportunity to connect with two crew leaders from SKC, Tyanna Bostwick and Maliek Genzel, who can provide insight into life after high school. Bostwick, 24, of Browning, Montana, is studying Forest Management and hopes to travel and work for tribes after graduation. Bostwick has learned a lot about plants as well as the cultural side of things. "I already know a lot of trees," Bostwick said, "but it's fun to learn about how we use them culturally." 
Genzel, a junior at SKC, studies wildlife and fisheries. Genzel aspires to be a fishery biologist or a game warden. Genzel appreciates MMYP and thinks it's awesome. Genzel is learning a lot about trees and plants, as well as the botany of the land. "It's great, it's a good way to be outside during the summer, make money, and further my education," Genzel said.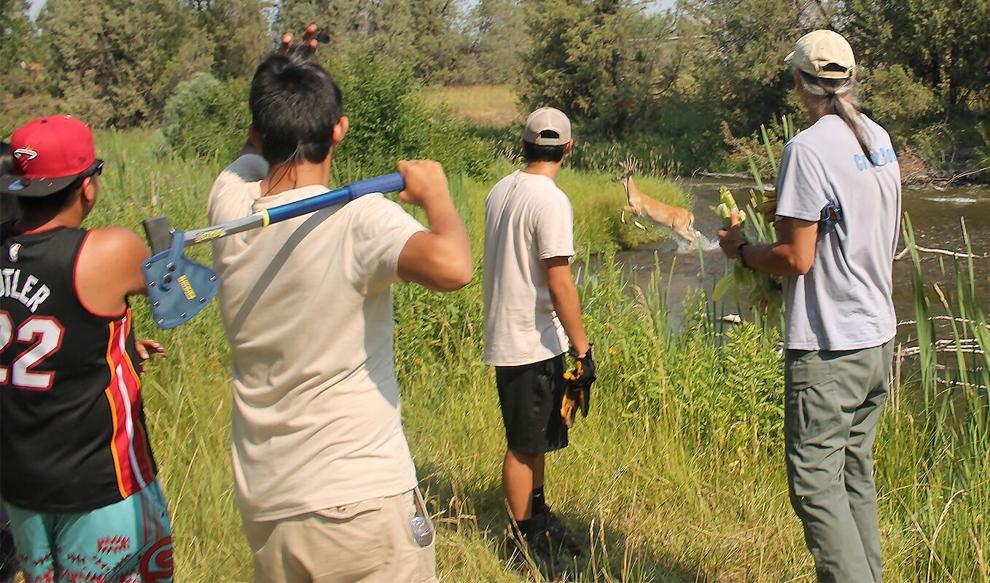 On July 14, crew members went to the Bison Range and focused on clearing and piling tree debris from the trails. In addition to learning about plants and their historical applications. Tim Ryan, the Cultural Specialist in the SKC Culture and Language program, is the liaison between the various agencies involved and guides the crew every workday, creating a fun and educational environment for the team. Ryan was inspired to be a part of this youth program because he was a part of one in high school. "The element here is to get our youth, our reservation youth, thinking about careers in Natural Resource Management," Ryan said.
The crew had the opportunity to talk to the SKC department head of forestry, Rob Kenning, who participated in some of the MMYP activities for two weeks. Part of the Kenning's role was to help show them the opportunities available after high school and help get them thinking about a future in forestry, wildlife, or as Kenning said, "whatever sounds cool to them." The transition period from high school to college can be difficult for some, Kenning provided his attention and services to help with career pathway building. 
Nathan Noble, owner of Daughters of the Sun Back Country Services, obtained a contract between Valley Connection and the Forest Service was hired due to his relationship with Mission Mountains. Noble said, "There are many ecological work and restoration projects that the Missions deserve to be implemented." 
Noble's role was to not only identify such projects, but also cultivate a sense of place and encourage a relationship between the crew and mountains. Noble said, "It warmed my heart to see our newest generation of adults explore that path. I hope that when the public sees the work we accomplished, it will inspire them to treat this land with respect and honor." 
"Our role has been to help provide coordination and facilitate a build-out of the program," says Dani Southard, NFF Manager, Northern Rockies. NFF has assisted in raising funds for the program from private sources in order to generate grants to the partners who help run the program and pay the students who participate.  Southard said making sure that the students were compensated was important. As much as the youth and young adults deserve to be compensated for their time and efforts, it is also critical that they leave with knowledge about possible career opportunities, and an understanding of the value of the land, according to Southard. "This is really an opportunity to connect the students to natural resources, forestry, biology, and wildlife," Southard said. Southard expresses gratitude to Ryan for his help in bringing these events full circle with the cultural aspect. 
Marlee Ostheimer, NFF's Conservation Partnerships Manager, has been instrumental in securing financial support for the MMYP program. REI, an MMYP supporter, assisted in providing the crew with the tools they needed to work effectively, safely, and comfortably. Osprey packs, hiking boots, and other gear were given to the crew. NFF and two Montana-based foundations, the Cross Charitable Foundation and the Dennis & Phyllis Washington Foundation, have contributed significantly; an investment in the futures of the youth. 
Several programs, organizations, funders, and individuals, including Beth Pargman from FNF and Colter Pence, NFF Wilderness, Wild & Scenic Rivers, and Tails Program Manager, have all come together to provide support and expertise to six CSKT affiliated students. All hoping to make a difference in their lives and futures by providing them with the opportunity to continue on the path of protecting and caring for the land. More than that, providing an answer and a solution to those who are concerned about the youth. 
Toward the end of the program, everyone involved, including the families, plans to gather for an end-of-the-year celebration. As MMYP's first-ever year, it is critical to learn about the student's experiences and recognize them for their efforts. Burland said, "We want to spend the day with them and learn about how the summer went, and more importantly, how they can build on the program for next year." Burland said the fact that the students got so engaged with it is "awesome" as well as "knowing that this (MMYP) can, will, and has been very successful."