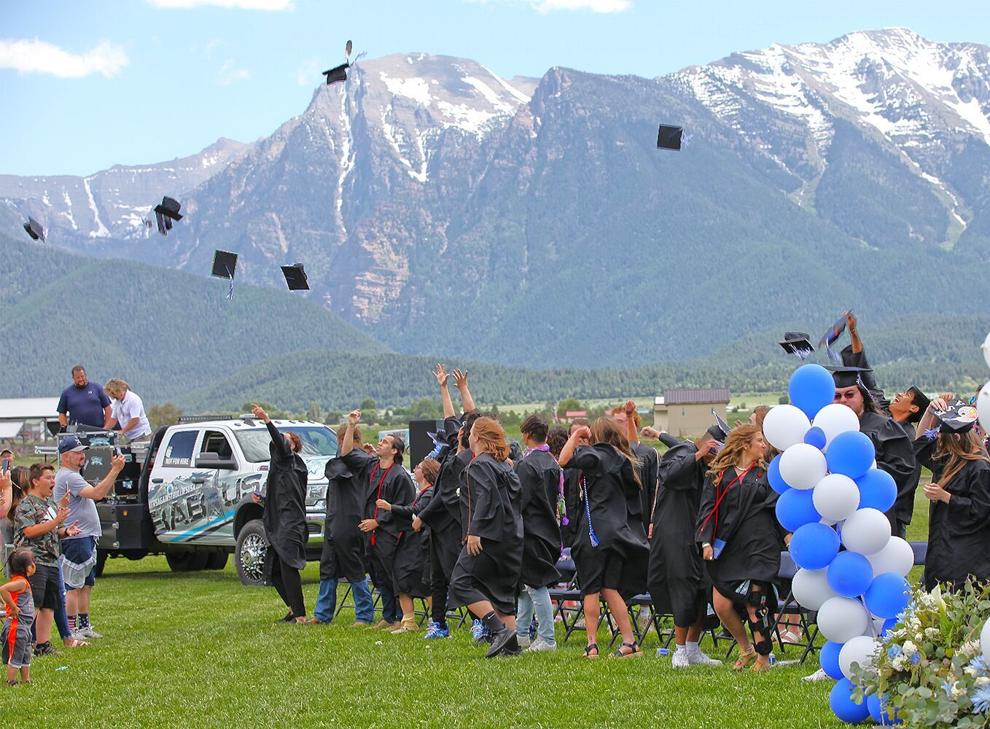 Char-Koosta News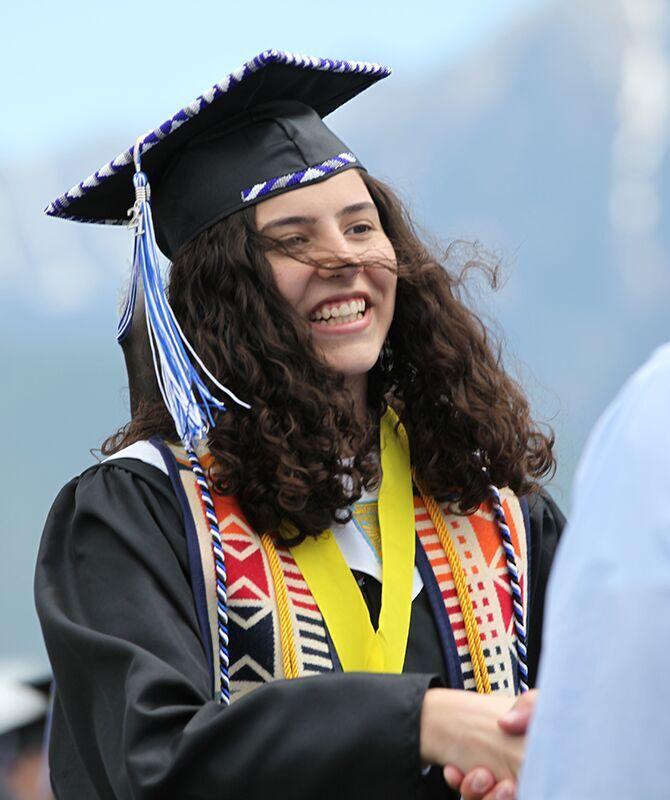 ST. IGNATIUS — Twenty-six members of the Mission High School Class of 2021 were let out of the Dog House Saturday and will now make their paw prints in the big world. Where their destiny takes them is yet to be determined but wherever they end up they will still be metaphysically tethered to the Dog House and their memories of school and community. 
"Mission is a great place to grow up," said Co-Valedictorian Sydney Brander. "High school is made of memories and I have a lot of good ones. This will always be my home."
The graduation ceremonies, like last year, were held outdoor on the football and track field. The Flathead Reservation has plenty of Mother Nature carved vistas to sate wondering eyes but none finer than the majestic Mission Mountains backdrop provided the Class of 2021 graduates and attendees. And with white clouds dotting up the blue sky comprising the Mission Bulldog colors, it was in the words of Sydney Brander, "A good day to have a good day."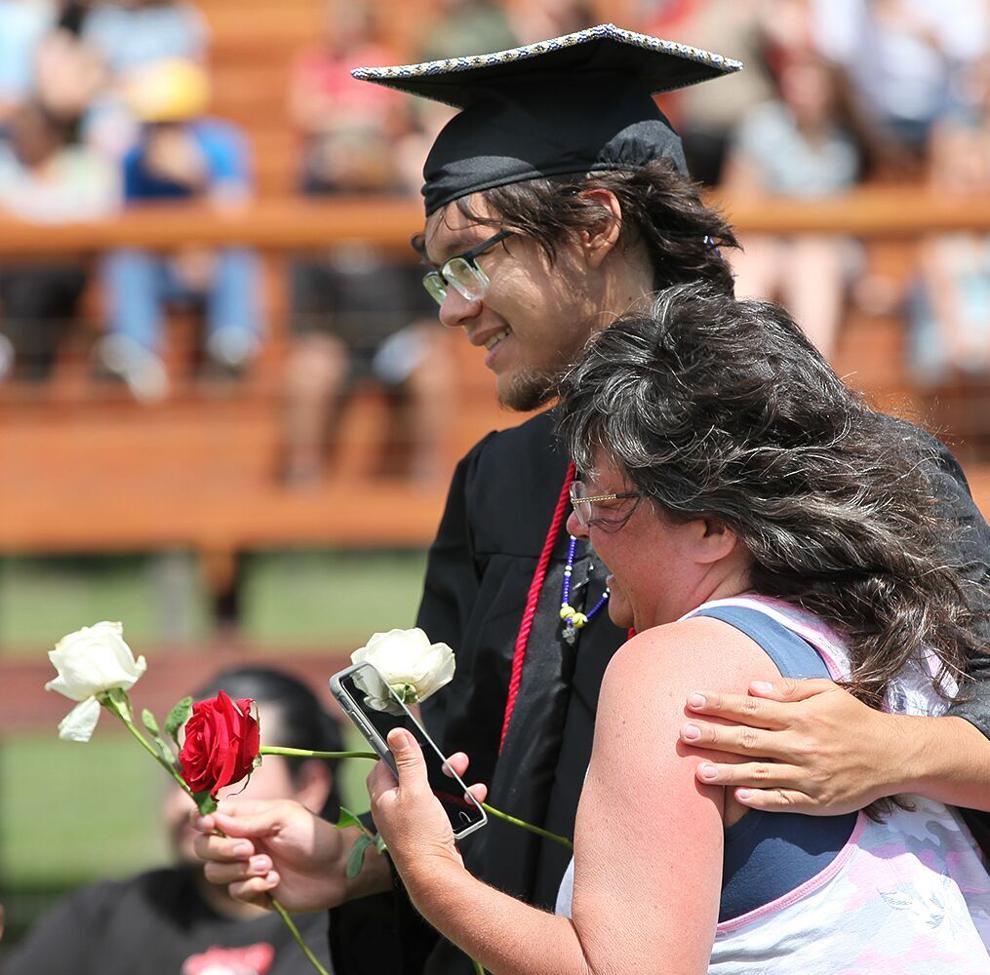 Middle- and High-School Principal Shawn Hendrickson said the 94 percent graduation rate was the second highest in school history. And most of the 26 graduates have plans to extend their education beyond high school.
The MHS graduates raked in $867,256 in scholarships with Salutatorian Brynn Pule raking in the biggest pile of Benjamins at $433,216. The other big rakes, include: Sydney Brander, $170,000; Addison Bird, $41,136; Trevyn Carter, $25,136; Connor Burke, $23,636; Jace Matt, $23,636; and, Co-Valedictorian Keana Thomas, $21,636. 
The Senior class officers were: President, Brynn Pule; Vice-President, Connor Burke; Treasurer/Secretary, Ryan Wickenberg; Representatives, Brandon Parker and Tristen Teeple. 
Superintendent Jason Sargent acknowledged the two Mission High School teacher retirees, Tim Biggs, Social Studies, and John Ligas, Science.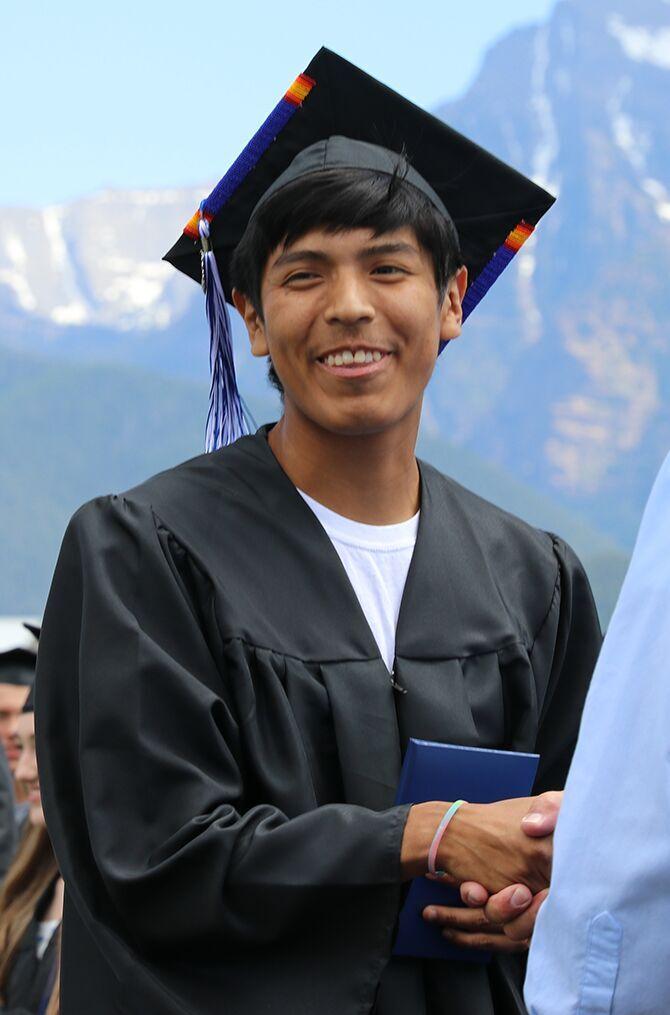 The Snyelmn Drum sang the honor song for the Class of MHS Class of 2021.
Now it's onto life outside the Dog House for the Class of 2021
MHS Class of 2021
Ella Arlint, Joseph Ashley, Addison Bird, Solomon Bolen, Sydney Brander, Evarardo Bravo-Oliver, Conner Burke, Trevyn Carter, Luke Connelly, Pamela Frost, Boone Gilleard, Ian Killorn, John Komotios III, Jace Matt, Josiah Matt, David McNutt, Dustin Mitchell, Isaiah Nasewytewa, Brandon Parker, Brynn Pule, Timothy Richardson, Christian Smith, Layne Spidel, Tristen Teeple, Keana Thomas, and Ryan Wickenberg.