Char-Koosta News 
GREAT FALLS — "Well folks, it's over. Waiting for the day that never comes, is over." Those were the words of the former chair of the Little Shell Tribe, John Gilbert, in his exuberant address to the hundreds of folks sardined into the far-too-small banquet room at the Holiday Inn at the Electric City. They and the overflowing crowd in the hallways were there for the Little Shell Recognition Celebration.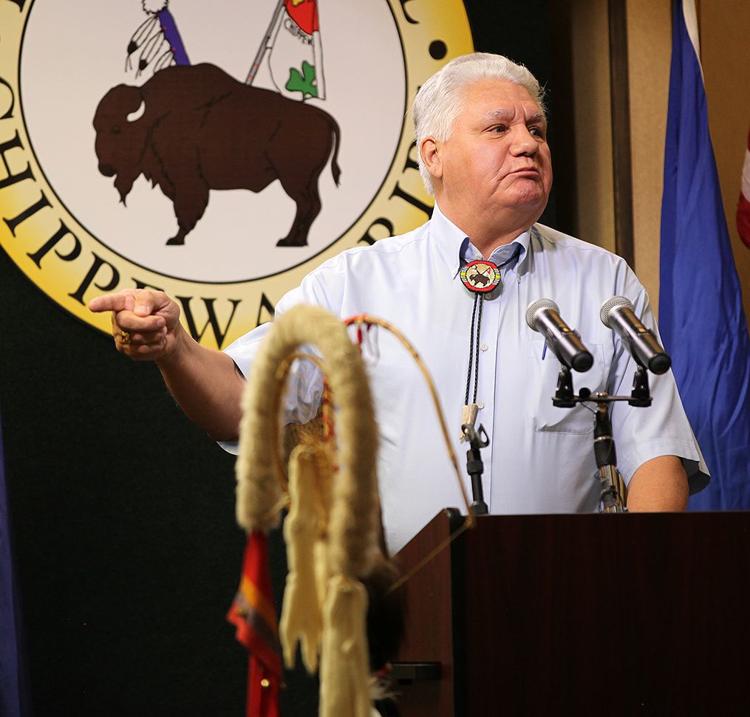 The "over" Gilbert was referring to was the Little Shell Tribe of Chippewa Indian's adrift sojourn in their aboriginal homeland and beyond that began in 1892. That's when Chief Little Shell refused to accept the United States' offer of a thin dime per acre for 10 million acres of aboriginal land and opposed the "Ten-Cent Treaty." However, while Little Shell and other tribal members were away hunting, another group of Chippewa leaders signed the treaty. As a result, the Little Shell didn't have a home to return to and became known as the landless Little Shell from then on until January 20, 2020. That's when the president of the United States signed the National Defense Authorization Act. Nestled deep inside the voluminous bill, that the House of Representatives approved December 11, 2019 was the Little Shell Recognition Amendment. It had been introduced by Sen. Jon Tester (D-Mont.) in six previous sessions. The seventh submission was the long overdue lucky deserved one. By its passing, the Little Shell are now a sovereign self-governing Tribal Nation with legal, political and economic arms. The State of Montana, its municipalities and, counties are now legally bound to treat the Little Shell as a sovereign entity. 
"I told Chairman Gray eight years ago, that Chairman Gray, you are going to lead us into recognition and by God my prediction was correct. You got it," Gilbert said. "With the help of our Montana elected officials, all our dignitaries here, and everybody that got behind this and pushed to make it happen, yes Chairman Gray, you got us over the finish line."
Gilbert exhorted the "new" citizens of the resurrected Little Shell Nation to get solidly behind the Little Shell Tribal Council in its monumental task of rebuilding a nation.
"Ever since I was a little fellow, they'd say, 'John, when that federal recognition comes, I'm going to be able to get my teeth fixed, get new glasses… and maybe we'll get a new house someday," Gilbert said. "Well who knows. I believe now that this is reality. It will be accomplished by our council. It will be done. I believe these dreams will be answered."
There were representatives from several Tribal Nations, including Turtle Mountain in North Dakota, and the Northern Cheyenne, Fort Peck, Fort Belknap, Confederated Salish and Kootenai Tribes, and Blackfeet tribal nations of Montana. They all came with gifts and short congratulation addresses.
The CSKT were represented by Tribal Council Chairwoman Shelly Fyant as well as Councilmembers LeEllen Bundy-McLeod, Fred Matt, Charmel Gillin and James "Bing" Matt.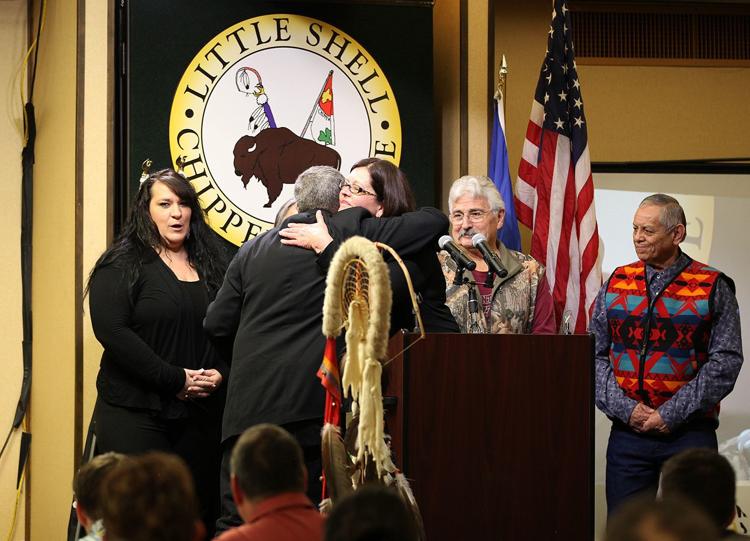 "I am just really proud of the Little Shell Tribe and their perseverance, their strength, their courage," Fyant told the folks. "As Salish and Kootenai people, we also have a lot of Little Shell mixed blood, myself I'm Salish and Metis, and I came here for the fiddle music, so I won't keep you too long. We also have a gift."
Bundy-McLeod presented Little Shell Chairman Gerald Gray with a hand drum with the Little Shell Nation flag painted on it.
There were the highest governmental representatives from the Montana government on hand including Democratic Gov. Steve Bullock, Democratic Lt. Gov. Mike Cooney, and Republican Attorney General Tim Fox. Also, on hand were Sen. Steve Daines (R-Mont.)  and Rep. Greg Gianforte (R-Mont.). Sen. Tester addressed the gathering by video from Washington, DC. Other dignitaries included Great Falls Mayor Bob Kelly, Linda Voorman, wife of the late- Nicholas Voorman, the author who wrote the history of the Little Shell, and former state Sen. Mitch Tropila of Great Falls.
They all praised the Little Shell for their spirit and perseverance in their long journey to the beacon of nations. Each had a part in helping or encouraging the Little Shell in their recognition quest.
Tropila, who was successful in his quest to state recognition of the Little Shell in 2000, recounted an exchange he had with Rep. Caroline Pease Lopez after a hard and long day at the state legislature. She gave him a magnet with a bison emblem on it and told him of how the bison faced storms head on.
"She told me, In the middle of a blizzard, in the center of a snowstorm and whiteout, the buffalo is the only animal who will stop and turn and walk headfirst into a storm," Tropila said. "Now I imagine that in 1892 that when Chief Little Shell said 'No' to the federal commission, and said, 'No,' the 10 cents Treaty that was not worth the piece of parchment it was written on, then he stopped and turned and he walked headfirst into the storm. Now little did he know that that storm was going to take 127 years to pass. But storms never last, Chief Little Shell you've done your spirit animal proud. I would also like to say that the Little Shell Tribe of Chippewa Indians, that today I believe your spirit animal and the Great Spirit are smiling down on you from above."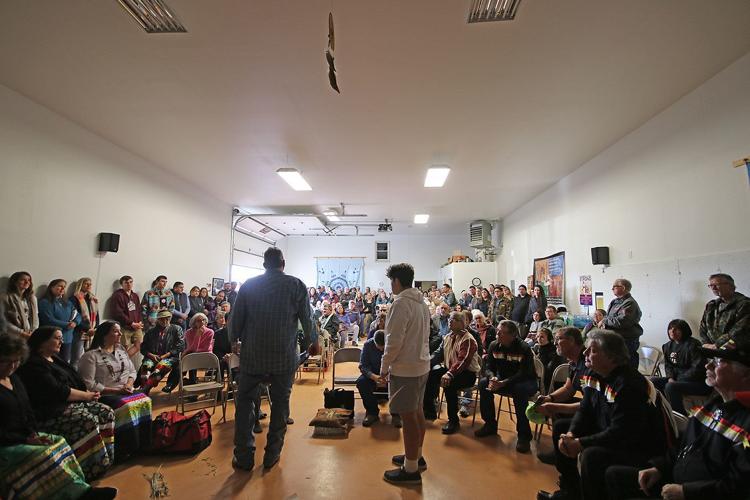 In his opening welcoming address Mike LaFountain, Little Shell Cultural Committee chair paid homage to the folks who have long marched headfirst into the storm and those who now have a better future because of them.
"There are so many who have carried this torch for over 130 years. Many have passed that would've love to see this historic day, and we honor them," LaFountain said. "We also now have to think of our future generations and build a strong future for them. A nation that provides jobs, education, and elders and veterans services. A nation that is healthy and economically self-sufficient. A nation that we can all be proud of."
The Little Shell Nation, comprised of an estimated 5,300 members, are now the 154th federally recognized Tribal Nation in America. They are now eligible for the same treaty rights as other tribal nations, including: healthcare services, education opportunities and federal economic development opportunities.
They now have commitments from the federal government to purchase 200 acres for a homeland reservation — it will be the eighth in Montana. 
In a press conference following the recognition ceremony, Little Shell Chairman Gerald Gray said there were a couple of options being considered for a reservation. 
"We've only met once since we've been recognized. We really need to now sit down and visualize how this is shaking out for our people. We want that 200 acres to be contiguous. We don't want to have those (checkerboard ownership) problems that some reservations have had with that kind of thing," Gray said. "It could be here in Great Falls. We're looking at Cascade Hill and Blaine County but the majority of our membership live here in Great Falls."
Joshua Clause, an attorney with Washington, D.C., law firm Clause Law PLLC, said, "The Tribe has ability through the legislation to acquire 200 acres, and they also have the ability under the IRA to, under the administration's discretion, acquire more land."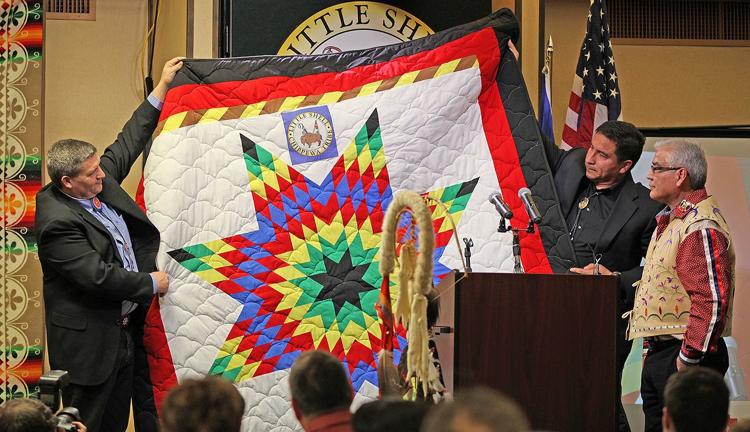 "But now, not speaking for the Tribal Council, I think the next step is to just get some symbolic piece of land so that way, no one can ever call them 'the landless Indians' anymore," Clause said. "Money is obviously a factor; the other thing that is really important to understand is that the tribal council are all volunteers, they all have day jobs. My firm is volunteer. So resources are going to be tight for a while. It's going to take some time to be able to build all of this."
It will also require cruise control, a different approach and realistically achievable goals.
"Building off of that we definitely want to be taking baby steps, we want to get it right the first time, so we're in no rush to go out and try to build a reservation," Gray said. "We have to take it slow and look at all the options and take the best options that we can because if you look at Indian Country, the federal government is really used to the reservation system as it is and we don't have that so they'll have to take a little different approach when it comes to us and our needs."
"The first task would probably be related to access to housing for our membership and definitely health is big," Gray said. "If that doesn't go like we'd like it to go then maybe we'd be asking for a little help from our congressional delegation and lean on them a little bit and say we need some help here, a letter or something like that."
Clause concurred.
"So far, they've been incredibly helpful. The promises they made tonight pale against all the efforts they've put in to helping the tribe get where they are today," Clause said. "Little Shell was unique in the fact of the support they had in terms of the seven other federally recognized tribes (in Montana); the state, the governor, the attorney general, the Montana Legislature, the full (Montana) congressional delegation. They were kind of uniquely positioned. We're going to continue to push them to ensure the federal government lives up to their responsibilities — that the tribe gets the tools it needs to succeed on its own."
Clause said he was very elated that the Little Shell are finally federally recognized as an Indian Nation.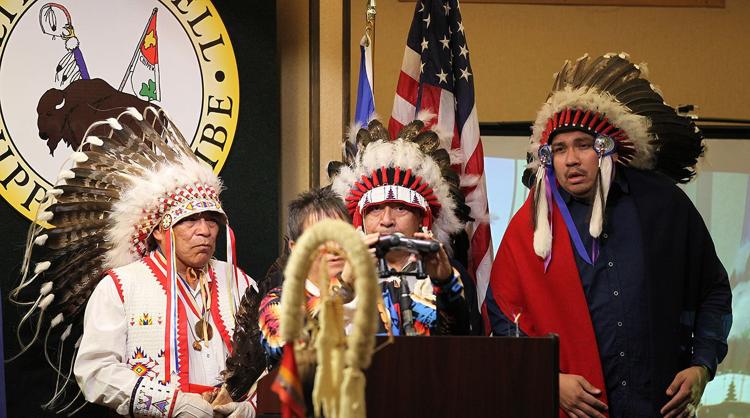 "It really hit me when I was walking around here meeting people downstairs that came up to me crying and hugging me, you can see what a real difference this makes in their lives; it is beyond words. I think every attorney, when they go to law school, set out to do that, make a big difference in people's lives, but not everyone is able to. I feel really blessed to be part of the story of the Little Shell," said Clause, a member of the Mohawk Tribe. "I look at kind of everything that happened to all our people, it is all interconnected and to be a part of helping to right whatever little things we can every day is rewarding. Then sometimes it's a big thing like the Little Shell restoration. It's really absolutely fulfilling professionally. Every day I feel happy about going to work and am really blessed to work on the kind of things I do. I'm overwhelmed right now and feeling really blessed for the Tribe."
Earlier in the day, the Little Shell held a pipe ceremony at the Shawn Gilbert Event Center north of the Great Falls bypass that was attended by another overflowing crowd of approximately 150 people. It was a spiritually uplifting event.
"Our Ancestors, they're truly the ones who kept this hope and dream alive for the Little Shell people to become federally recognized but then also they're the ones who kept our tribe together through all the years when we could've split up and called it quits, we never did because of them, and that's why it's so important to honor them in a good way for everything they've done for us," Gray said following the pipe ceremony. "The spirit of survival is burned and engrained in us like no other. We have that bite, that desire because we always knew who we were — Indian people. Just because we didn't have that label, we always still were, still are and always will be."
It was painful and hard being an Indian while not being a federally recognized Indian, Gray said.
"It was hard, it was hard. I went to elementary school in Rocky Boy and we were never a part of that tribe growing up," Gray said. "My grandparents lived in Browning, and it was the same thing. We'd go up there and we just were never a part of it. We felt it and were told that. That made it tough for us but we survived. We persevered. This brings everything full circle."
However, getting to the circle was a journey of few ups and many downs.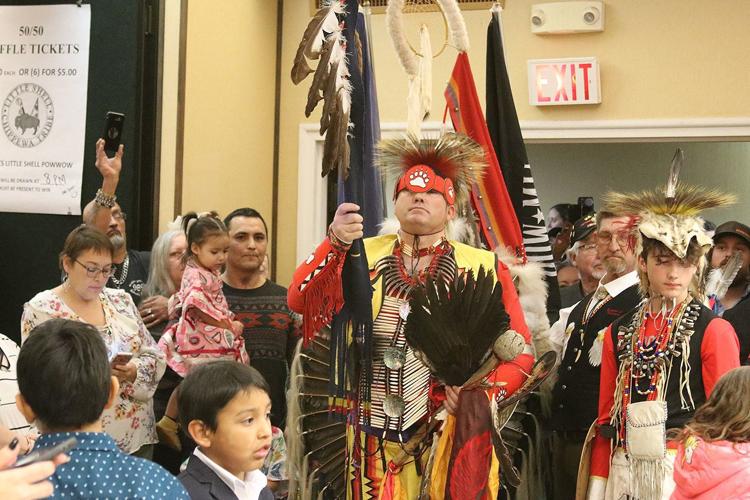 "It's been heartbreaking because we were constantly trying to find a path forward but it was always taking one step forward the two steps back," Gray said. "It was frustrating. There were points when you thought, nah, it's just not worth it. But then again that's not who we are so we just kept on going, we're getting this done. 
"I think people will look back at this and will be really happy. This is a real positive thing happening," Gray said. "For tomorrow, now we build a nation for our people that includes healthcare services, educational opportunities, homes. The things we were always scrapping to get. Now we don't have to, now we can really build a path forward for our people, our membership. It's a great day for the Little Shell Nation. 
"It's a great day for all Indians, big time. That's what it is for all Indians. Our brothers and sisters from other tribes," Gray said. "They were all supportive of our efforts. It is a great day, we are the 574th tribal nation."
LaFountain said it was a good day to be in this life.
"It's powerful day, very powerful," LaFountain said. "This connects the disconnect, reconnects it. Reconnects us to the past and brings it to today and into the future. So we are now whole again. We area one with our Ancestors, the guiding spirit of our existence. It's the work of our Ancestors who got us to this point. I felt their power here with us today when we were singing those songs and passing those pipes. I know they are sitting here with us and they made this happen. I'm grateful; I'm humbled and honored to be a part of this."