Char-Koosta News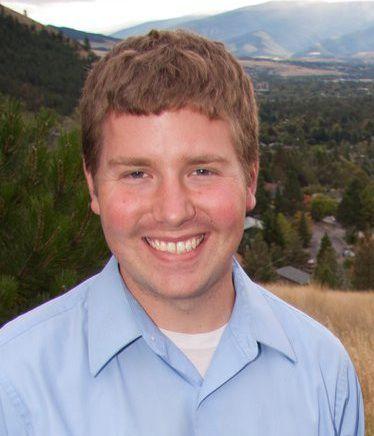 Montana Legislator Bryce Bennett (D) is focused on protecting Montanan's ability to vote. With current Montana Secretary of State Corey Stapleton (R) stepping down to run for the lone House of Representative seat, Bennett knows this is the best office to ensure voting rights.
"I have spent my entire adult life working to make sure that our elections are open, accessible and secure for the voters of Montana," says Bennett. "I've registered hundreds, if not thousands of voters myself at senior centers, farmers markets, and community gatherings, not because I'm trying to get more Republicans or Democrats elected, but because I feel so incredibly passionate about my work to make sure all Montanans have a voice."
The Secretary of State has many tasks includes overseeing elections; business services; and archiving legislative material. The Secretary of State also sits on the Montana Land Board.
Bennett, who's served in the Montana State Legislator for nine years, has worked to protect voting rights for all Montanans. The law he's most proud of made the vote-by-mail system permanent. In previous years, voters had to reregister to vote by mail and many votes were not cast simply because they did not respond to the renewal notice. In 2018, 72,000 people were able to get a ballot, a notable increase from past years.
He's also aware of the recent push by other states to limit voter turnout, often in areas of non-white populations. The midterm election in Georgia saw voter purges and restrictions put in place that allegedly limited African Americans' ability to vote. The North Dakota legislature passed a bill that required street addresses on Driver's Licenses in order to vote. Voting rights advocates claimed that bill targeted tribal communities that overwhelmingly voted Democrat. Many tribal people were not allowed to vote because they didn't have an address on their identification.
Bennett says similar efforts make their way to the legislature's floor where most don't survive the legislative process. However, in the last election, LR-129 was voted in by Montana voters, which restricts organizations from collecting ballots from voters and turning them into to election offices. Authorized members can deliver ballots to election offices, and are limited to delivering six ballots per election. LR-129 prevents organizations from going to tribal communities and collecting ballots from voters who may not be able to travel to polling locations or were not going to vote in the first place.
Sen. Albert Olszewski (R-6) introduced the bill, contending that he'd heard calls to police, the Secretary of State and even 911 that people they didn't know were knocking on their doors, demanding their ballots and asking who they voted for. Olszewski is currently running for Montana Governor.
Despite LR-129, Bennett says the Secretary of State's office can protect voter accessibility. He feels disappointed with Stapleton, who claimed Montana has rampant voter fraud, which has thus far not been proven; and failed to send out a voter information pamphlet correctly. "The office needs someone who is not going to put up barriers that make it hard for people to vote," says Bennett.
Nationally, voting systems were attacked by hackers in recent elections. Bennett says Montana utilizes an election audit process. Instead of relying on computers and machines that can be hacked into and results altered, Montana uses paper ballots. Discrepancies, challenges and errors in voting results can be reconciled by recounting the paper ballots, thus ensuring an accurate count of votes. Still, hostile foreign hackers are still working on ways to influence elections. "Reality is that foreign hackers are trying to get into our election system and try to undermine the integrity of our democracy," says Bennett. "I want to work with Montana's National Guard's cybersecurity unit to make sure that both the state and county governments – as well as tribal governments if they're interested in participating as well – have the ability to lock down our election system so that foreign hackers and domestic hackers would never dream of getting into our system. That's a priority for me."
In 2015, Bennett voted for SB289, the Disclose Act, which targets 'dark money' groups that try to influence voters to support or opposed certain candidates or bills. Dark Money is described as a political spending by nonprofit groups that remain anonymous or hide their identity or association. They can also fund political campaigns and not be identified. The Disclose Act requires all groups to disclose their donors in 60 days if they spend money in Montana's elections. "In my mind, if you're going to be engaging in our elections, you need to be fully transparent," said Bennett. "If you have a special interest in our elections, come out of the shadows and explain your position."
In February, the Supreme Court of the United States declined to take up a challenge to the Disclose Act.
Bennett also supports an automatic registration system, which would automatically register a voter when they turn 18 and don't need to 'sign up' with an election office. He also believes that the Electoral College system is outdated and needs to be abandoned. "In Montana and every other election across the nation the person who gets the most votes wins and I think that's a pretty commonsense way to do things," he said.
He also acknowledges the other responsibilities of being Secretary of State. The SOS is on the State Land Board that consists of the Governor, SOS, State Auditor, Attorney General, and the State Superintendent of Schools and oversees over a million acres of public lands. One of the main roles of the Land Board is to provide access to public lands by working with private landowners who push for easements. Easements allow access on private lands that may surround or 'land lock' public lands and prevents anglers, hunters or even tourists from enjoying public lands. Bennett feels the some of the land board members including the current SOS refuse to vote for land easements, despite calls from private landowners. He's not sure why they oppose easements as providing public land access helps bring production opportunities to Montanans and fund schools.
Bennett believes he's up for the challenges. His goal for the Secretary of State office is to make the office look like Montana. "Montana is a wonderfully diverse state, so making sure that we have people from different perspectives that can make sure we are not forgetting about folks that we are not leaving anybody out is going to be very important to making sure that we have a democracy and business community that works for everybody."