Char-Koosta News 
ELMO — A well-attended Kootenai Culture Committee Elders Council meeting got updates from the Preservation Office on its projects and the Montana Department of Transportation's Perma Curves redesign and reconstruction project. 
Preservation Office
Kevin Askan said Preservation is working with Hungry Horse Dam/Reservoir and U.S. Forest Service officials about having a tribal field monitor with the Flathead National Forest. If that happens, Askan said that it would strengthen the CSKT's position there. Preservation is also looking at the installation of interpretive signage in that area as well as taking steps to ensure that cultural sites are not disturbed when the reservoir is at lower elevations. 
Grey Johnson discussed the cultural-sensitive sites at the confluence of Martin Creek and the Clark Fork River near Trout Creek. They might get a bit of breathing room. A real estate developer is proposing to build boat docks in the area to serve nearby homesite development. Johnson said the Avista Corp., which owns and operates the Noxon Rapids Dam that creates the Noxon Reservoir has been working with the Preservation Office on the issue since it became an issue of concern due to the tribal cultural sites in that area.
Johnson said, Avista has been working with the developer on dock relocation and redesign to eliminate the encroachment on the cultural sites. Avista has also considered buying the land closest to the threatened site and putting it in trust and keeping it development-free. The CSKT could also consider buying the nearly 10-acre parcel. Johnson suggested that the site could, among other things, be used for tribal cultural gatherings ala a river honoring.
Katie McDonald said the Montana Archeological Society will conduct a meeting at Salish Kootenai College to discuss cultural resource management. Preservation is also working with CSKT Forestry to come up with a game plan about cultural resources found in timber sale areas.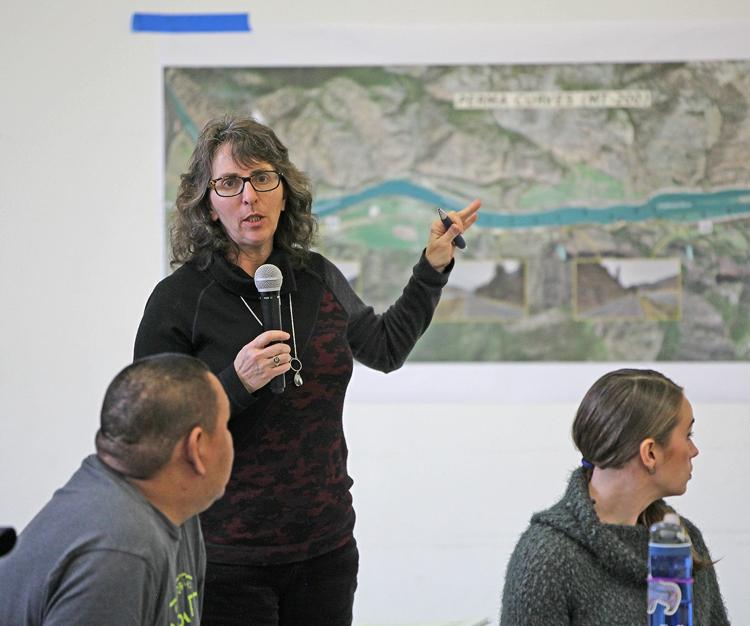 MDT Perma Curves
Representatives from the Montana Department of Transportation continued their informational update tour on the five-mile Perma Curves reconstruction project. The five-mile project is just past the Flathead Reservation west boundary between mile makers 85-90 on Montana Highway 200 in Sanders County. MDT wants to improve roadway safety while respecting and adhering to the unique environmental features and scenic beauty in the area.
Miki Lloyd, project engineer, said the road in that section of Highway 200 was constructed in 1924 and hasn't had any major construction work since.
"We want to bring the roadway up to present standards with respect to the cultural issues there," Lloyd said, adding that MDT is looking at widening and straightening the curves, as well as adding guardrails and rumble strips. 
The reconstruction date has not been set in stone but won't be within the next five years as it is not in the MDT five-year construction and project budget. Prior to construction the relocation of utilities and right-of-way acquisition are anticipated.
"We are in the planning stage and don't have any engineering plans at all," Lloyd said. "We are currently outside our funding plans. When our design is finished then we can ask about funding. The funding comes annually from the federal government and we never know how much we're going to get each year."
Kathy Harris, KLJ consultant, said the road is too narrow and that is a safety issue that results in vehicle accidents and that MDT doesn't want to build out towards the Flathead River as part of the solution. However, the road must be straightened, widened with two- to four-foot shoulders and stronger guardrails to improve safety. 
"Moving into the river in that area would be very challenging. We are looking at the five-mile section with small improvements in various areas or with improvements over the entire five-mile section," Harris said. MDT has identified three one-mile sections of the five-mile project that are the most dangerous. "We don't think we can stay in the present right-of-way and will have to buy more right-of-way."
Harris said one of the things MDT is looking at when it comes to stream crossings is putting in larger culverts that can also serve as small — and potentially larger — animal crossings.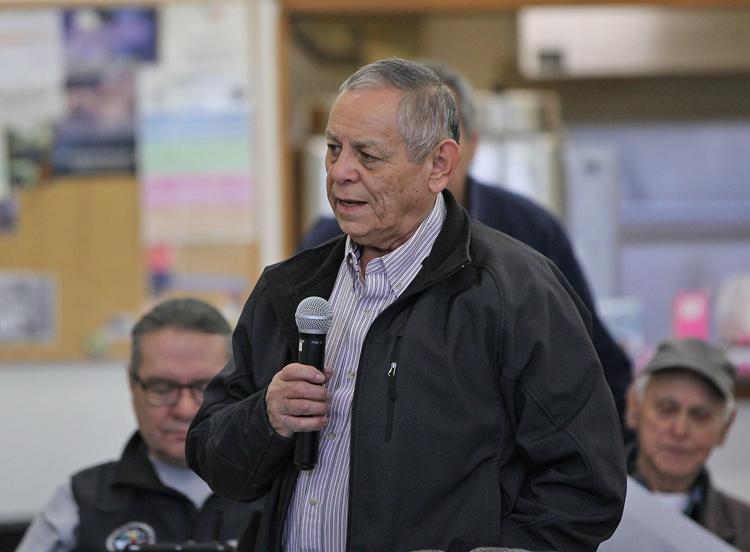 Arlee District Tribal Council Rep. James "Bing" Matt said he had many close calls in that section of Highway 200 when he was a school bus driver for Arlee athletic teams and suggested enforcing or changing speed limits in that area.
Harris said speed limits were a concern and agreed with the enforcement of speed limits in that area but said law enforcement couldn't be there 24 hours a day. She said the widening, straightening, rumble strips and guardrails would contribute to traffic safety there.
"A speed study could happen there but that's outside our project," Lloyd said, adding that speed limit changes would affect the road design. Also changing speed limits is the mandate of the five-member Montana Highway Commission.
To a query from Tribal Council Chairwoman Shelly Fyant about installing cameras, Lloyd said it was not legal in Montana to use cameras as an enforcement tool. "It is not legal in Montana to use cameras to enforce the law," Lloyd said. "The state legislature would have to make a law to do that."
Kootenai Culture Committee Director Vernon Finley expressed his concern about Flathead Reservation signage at reservation boundaries and along highways within the reservation-more should contain the Kootenai language. He also said MDT should use imminent domain and buy out property owners along the five-mile Perma Curve reconstruction area and straighten out that section. 
Kootenai Language Program
Leonard Michel said more funding is needed for the Kootenai Language Program.
"The Kootenai Language Program should be at least on par with the Salish-Pend d'Oreille," said Lois Friedlander. "The Kootenai Culture Committee language effort has been languishing for 30 years."
Wilbert Michel expressed his dissatisfaction about people within the program being let go and suggested the Tribal Council has to take a look at what has happened.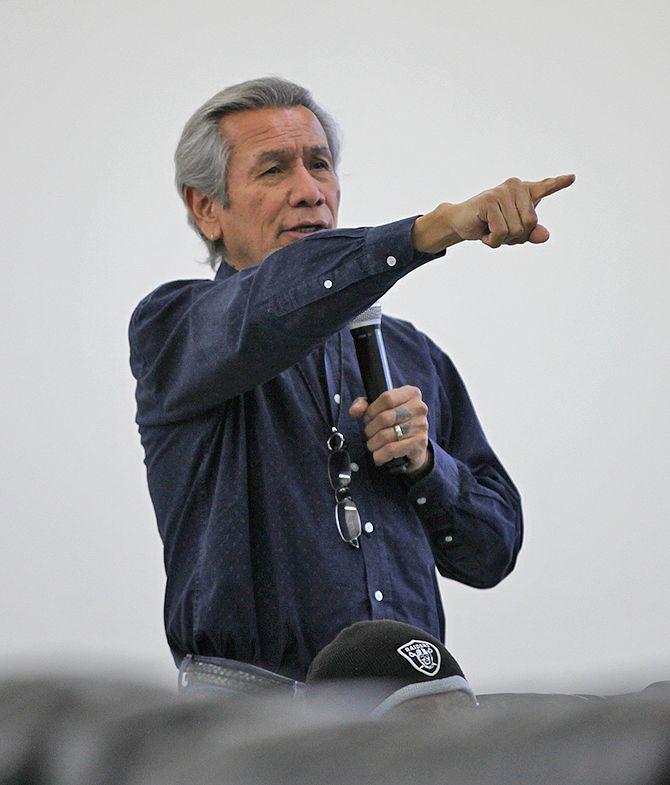 Finley said he couldn't comment on personnel issues but could discuss the purpose of the Kootenai Language Program.
"It would be good to have a curriculum and people reservation-wide to teach the language," he said. "Our process here is to increase the number of (Kootenai) speakers in the community that are at the basic level after six months internships. That is the direction the program is headed to. we don't have enough fluent and literate Class 7 standards speakers to do that. We need to add to the numbers of beginning speakers speaking (Kootenai) in the community."
Tribal Council Chairwoman Fyant said the Tribal Council gives the culture committees funds for language salvation and it is up to the language program coordinators to develop the programs to meet its goals.
Elmo Tribal Council Rep. Leonard TwoTeeth said the Tribal Council is supportive of both language programs, has provided funds for Elders to attend the Salish language conference in Spokane in March and will do so for the Kootenai language conference.
Fyant suggested and Finley agreed to discuss the issue at the March Kootenai Culture Committee Tribal Council orientation meeting. 
2020 Census
TwoTeeth said 130 people are needed to conduct the 2020 Census on the reservation; the jobs pay about $17 an hour. For more information, contact Rob McDonald at 675-2700, ext. 1222.