Char-Koosta News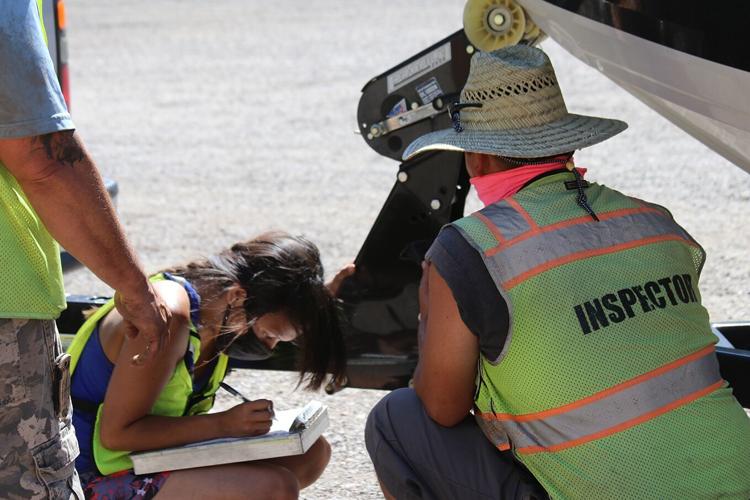 RAVALLI — Without a doubt, the summer traffic on Highway 93 has picked up in the last couple of months, since the State of Montana entered Phase 2 of its COVID-19 management plan in early June. And it's picked up drastically since the 4th of July holiday. That's apparent to all the homies on the Flathead Reservation. 
Among the traffic increase are watercraft recreationalist heading for Flathead Lake and other western Montana waterways and waterbodies to weigh anchor and cruise atop the blue waters. As result the watercraft inspections at the two inspection stations managed by the Confederated Salish and Kootenai Tribes at Thompson Falls and especially Ravalli has grown exponentially. 
"The inspections have really picked up after the 4th of July. It usually stays this way until Labor Day," said JaBleau Arlee, CSKT inspection crew supervisor. "With COVID affecting people's need to get away from it all I wouldn't be surprised if we have another two months, at least, of boating traffic — until the end of September."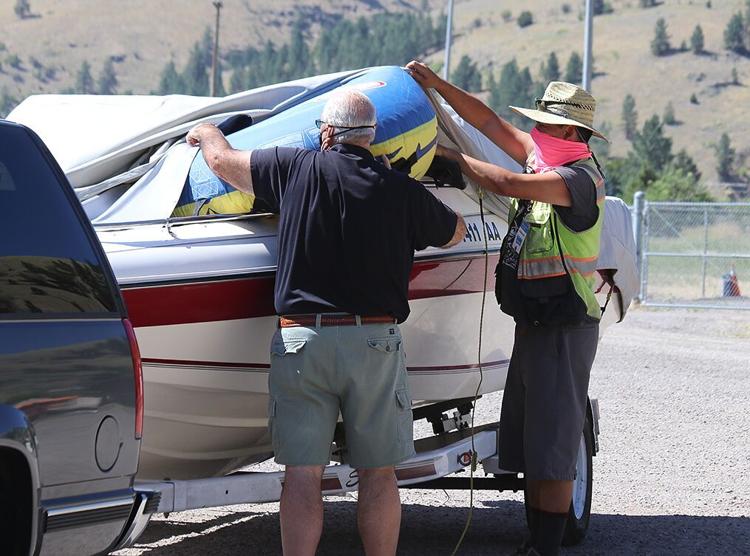 By mid-afternoon, Saturday, a bit more than 200 inspections were conducted. "We'll be this busy till the end of the day, till the end of summer," Arlee said, adding that about 40 percent of inspections at Ravalli and Thompson Falls are out of state watercraft. 
Heretofore, the CSKT managed inspections have not encountered any mussel fouled watercraft. However, 20 fouled-watercraft have been found at other state inspection stations. Those watercraft are cleaned — decontaminated — before they can enter the waterways and waterbodies.
It has been relatively calm waters at the Ravalli inspection station in terms of people understanding the need for the watercraft inspections.
"Most people understand the reason for the inspections," Isadore Mitchell said. "But about once a day someone pulls in who doesn't like stopping because they see it as a waste of their time."
Each of the two inspection stations managed by the CSKT under a Montana Fish, Wildlife and Parks contract are equipped with a body camera to record any uncooperative watercraft owners. 
Thankfully the vast majority don't feel it's a waste of time, and some of those who do, come away with a better understanding after talking with the inspectors.
Idaho boating recreationalist Scott Marachek and his family had to get their boat thoroughly cleaned by a hot water wash, and ballasts drained. It was their second inspection stop of the day. At the previous stop at Sula, the hot water machine faltered and couldn't finish the wash, consequently Marachek had to stop at Ravalli where he spent about 45 minutes to finish the hot wash after spending about that much time at the Sula station.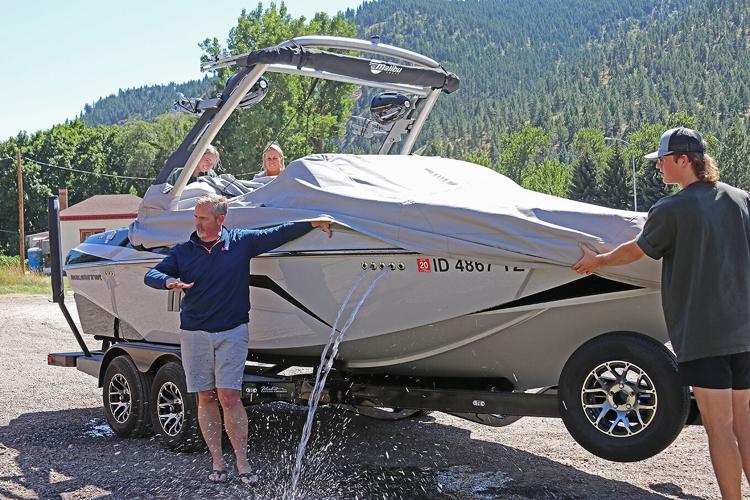 Marachek, who grew up in Billings, was heading for Lake Mary Ronan, a regular stop on his summer boating recreation agenda since he came with his family when he was 5 years old. He said the inspections cost some valuable sunshine time on the lake but understood the reason why. 
"I know this is a necessary thing to do, I understand the reasons why the hot wash has to be done. It is a little frustrating that I had to stop twice," Marachek said. "But these guys have been really hospitable and informative so the stop was enjoyable. We appreciate that."
Once a waterbody is fouled by the invasive zebra and quagga mussels there is no turning back, and the toll on the environment and economy is catastrophic. The Columbia River Basin, that includes the Flathead and Kootenai rivers basins, is the lone remaining water basin in the United States sans the zebra and quagga mussels.
In a report prepared by the Montana Department of Natural Resources a quagga and zebra mussel worst-case scenario invasion would cost Montana an estimated $234 million per year in damages to its economy.
Consequently, it's important for watercraft owners to do their part, and follow the Clean, Drain and Dry mantra after each use.
So far as of Monday, July 27, the Montana AIS inspection stations have conducted 75,383 inspections that found 6,574 high-risk watercraft and 20 mussel fouled watercraft. 
The high-risk watercraft emanate from areas known to contain zebra and/or quagga mussels or are watercraft with bilges. 
Top inspection numbers of sites conducted near Flathead Lake
Clearwater Junction has conducted 20,745 inspections that included 286 high risk water-craft
Ravalli has conducted 9,576 inspections that included 603 high risk water-craft
Anaconda has conducted 6,566 inspections that included 1,105 high risk water-craft
roy has conducted 4,001 inspections that included 61 high risk water-craft
St. Regis has conducted 3,211 inspections that included 132 high risk water-craft
Thompson Falls has conducted 1,963 inspections that included 31 high risk water-craft
Browning has conducted 1,770 inspections that included 131 high risk water-craft
Sula has conducted 993 inspections that included 129 high risk water-craft
Kalispell has conducted 499 inspections that included 43 high risk water-craft 
Inspections by state
Idaho tops the top 10 of out-of-state inspections with 1,000, followed by Washington with 480, Wyoming 415, California 331, Colorado 313, Utah 304, Minnesota 302, North Dakota 298, Arizona 294, and Oregon 265. 
The remaining inspections were conducted on Montana water-craft.

AIS fouled water-craft breakdown as of July 27, 2020
Inspection Station - Anaconda
Date: 7/19/2020
Water Last Launched: Lake Michigan
State of Origin: Michigan
Inspection Station - Nashua
Date: 6/27/2020
Water Last Launched: Lake Pleasant
State of Origin: Minnesota
Inspection Station - Anaconda
Date: 6/19/2020
Water Last Launched: Lake Michigan
State of Origin: Michigan
Inspection Station – Hardin
Date: 6/18/2020
Water Last Launched: Mill Lacs Lake
State of Origin: Michigan
Inspection station - Anaconda
Date: 6/14/2020
Water Last Launched: Unknown
State of Origin: New York
Inspection Station - Anaconda
Date: 6/11/2020
Water Last Launched: Lake Winnebago
State of Origin: Wisconsin
Inspection Station - Nashua
Date: 6/6/2020
Water Last Launched: Lake Michigan
State of Origin: Wisconsin
Inspection Station - Anaconda
Date: 6/4/2020
Water Last Launched: IL
State of Origin: Illinois
Inspection Station - Dillon 
Date: 5/29/2020
Water Last Launched: Lake Mohave, AZ 
State of Origin: Arizona
Inspection Station - Flowing Wells 
Date: 5/27/2020
Water Last Launched: Minnesota
State of Origin: Minnesota
Inspection Station - Anaconda
Date: 5/23/2020
Water Last Launched: Mississippi River, IL 
State of Origin: Illinois
Inspection Station - Dillon 
Date: 5/20/2020
Water Last Launched: Lake Havasu, AZ
State of Origin: Arizona
Inspection Station - Hardin 
Date: 5/19/2020
Water Last Launched: Geneva Lake, WI
State of Origin: Wisconsin
Inspection Station - Anaconda
Date: 5/1/2020
Water Last Launched: Mississippi River, IA
State of Origin: Iowa
Inspection Station - Anaconda
Date: 4/30/2020,
Water Last Launched: Lake Havasu, AZ
State of Origin: Arizona
Inspection Station - Dillon 
Date: 4/28/2020
Water Last Launched: Lake Havasu, AZ
State of Origin: Arizona
Inspection Station - Dillon 
Date: 4/21/2020
Water Last Launched: Lake Pleasant, AZ
State of Origin: Arizona
Inspection Station - Dillon 
Date: 3/23/2020
Water Last Launched: Lake Havasu, AZ
State of Origin: Arizona
Inspection Station - Dillon 
Date: 3/20/2020
Water Last Launched: Lake Havasu, AZ
State of Origin: Arizona
Inspection Station - Dillon 
Date: 3/15/2020
Water Last Launched: AZ
State of Origin: Arizona