Char-Koosta News 
POLSON — The Flathead Rodeo, one of the largest rodeos hosted at the Polson Fairgrounds, returned this summer with over 500 entrants. From August 26 to 28, people from all over the world, including Italy, packed the stands to see the participants compete for the opportunity to attend the Indian National Rodeo in Las Vegas from October 19 to October 23.
Cowboys and cowgirls competed in Bare Back, Stir Wrestling, Saddle Bronc Riding, Tie-Down Roping, Team Roping, Ladies Barrel Racing, and Bull Riding every night from 7 p.m. to 9:30 p.m. Saturday night's festivities culminated with Buffalo Riding, which had not been done in far too many years.
"The Flathead Rodeo is proud to be back, it has taken a lot of hard work from a lot of people," said Ray Champ, the man behind the microphone. Champ gratefully recognized AGS, Aries, Blueberi, Bootbarn, CSKT, Don Aadesn Ford, Eagle Bank, Fidelity Title, Glacier Bank, Glacier Brewing, IGT, M&S Meats, Pepsi, Pier 93, Port Polson Inn, Quick EZ Towing, Scientific Games, St. Luke, St. Joe, Summit, Super 1, Valley Bank, Valley Glass, Walmart, Whitefish Credit Union, Wrangler, and Zip
"It takes so many people to make a production of this magnitude to happen," said Champ.  
Saturday night, when the fans saw the Mission Valley Honor Guard and Veteran Warrior Society carry the American Flag into the arena, Champ gave a particular tribute to the marines who had recently died in attack in Afghanistan.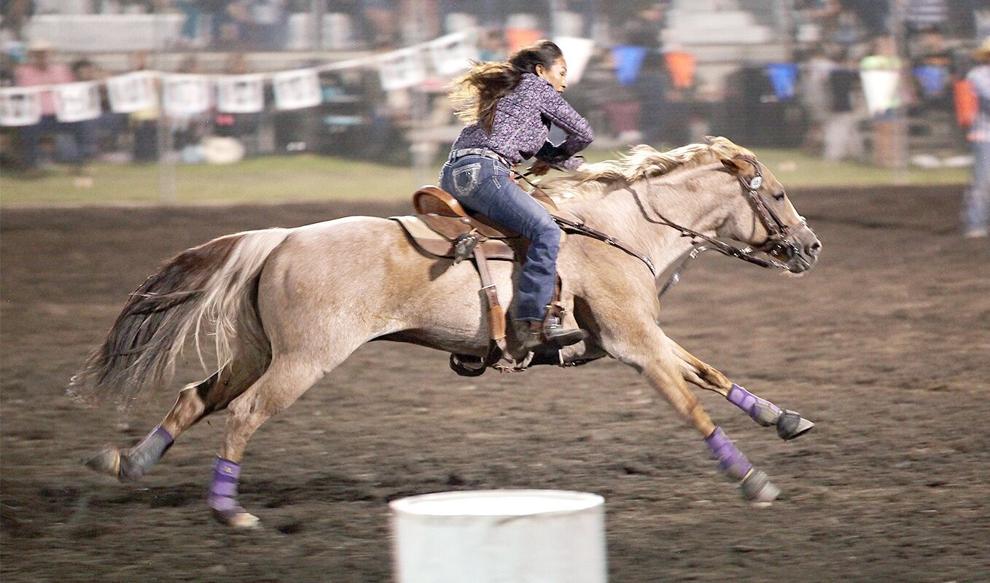 "So many Americans gave up their time, time away from their families, so that they could defend all of us," Champ added. "You know, the Bible says that there is no greater love for a man than a man who lays down his life for his brothers."
"You see these patriotic Americans in front of you; they have done this, they have paid the price so that we may enjoy this Rodeo as free Americans," Champ added.
Jeff Daniel, Neal Lewing, and Laurencia Starblanket performed the National Anthem on consecutive evenings, along with the Badger Tail drum ensemble, Mission Valley Honor Guard, and Veratrin Warrior Society. On the final night Starblanket performed the National Anthem in Salish, which many in the audience appreciated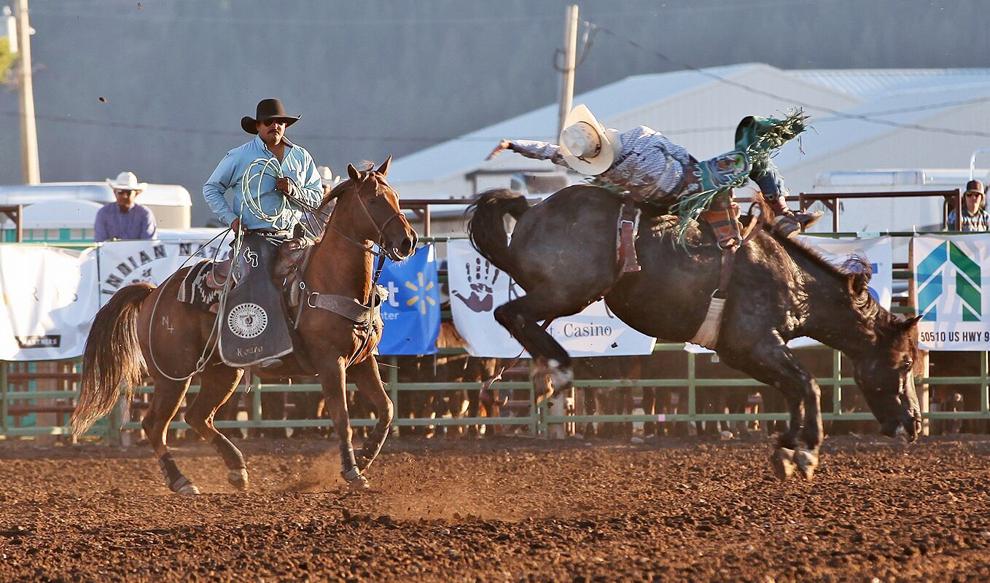 S&K Gaming hasn't participated in the Flathead River Rodeo since 2015, according to General Manager Sheila Matt. "Everything went well. Saturday night was tremendous!"
"It was wonderful to witness such a fantastic event with so much community support." Matt stated.
Contestants flocked from all across the country to compete on the radio, from Florida to Canada and everywhere in between. (See INFR qualifiers and winners below.)
Maddey Clary, Kelsey Gillin, K'La Gonzalez, Mesa Bell, Pete White, Nick Clairmont, Tyler Houle, Kody Morigeau, Shorty Matt, Kermit Clary, and Madisyn Hanken were the local participants.
Every night, a raffle drawing for $1000 was held. A 50/50 drawing was performed on Saturday with a total prize pool of $9,640, with the winner taking home $4,820.
Indian Tacos by Patty Stevens with Salish Institute, Island Noodles, Fire and Ice, Sugar Shack, Deanos Lemonade, Grandma Janice's Fry Bread, and Polson Fairgrounds were among the food vendors. The Purple Wild Flower boutique and consignment business, as well as Ronan's Muley Bluz with ropes and saddles, were also present.
Indian National Finals Rodeo Qualifiers
Bareback
Steven DeWolfe, Wyatt Betony, Tyrick Wilson, Jhette Knight, Clay Ramone, Buck Lunick and Evan Betony 
Saddle Bronc
Jay Joaquin, Kaden Deal, Creighton Curley, Jesse Wilson, Stade Riggs, Jeremy Meeks and Alan Kole Gobert. 
Bull Riding
Preston Louis, Cody Jesus, Tyson Tsinnijinnie, Cody Rustin and Chance Thomas. 
Steer Wrestling
Casey Stone, Tyler John Byrne, Walker Small, Tronnes Birdinground, Jordan Wiseman and Tuck Johnson. 
Tie Down Roping
Nolan Conway, Dontre Goff, Blair Buck, Dean Holyan, Brock Belkham and Gerald Daye. 
Team Roping Header 
Dylan Johnson, Brooks Dahozy, Braydon Boyd, Westley Benally, Erich Rogers and Conner Osborn. 
Team Roping Heeler 
Jim Cole, Colten Fisher, Wyatt Gibson, Quinton Inman, James Begay, Jr. and Aaron Tsinigine.  
Breakaway Roping
Serena Dahozy, Danielle Lowman, Amber Crowley, PJ Fox, Rawlinda Ben, Kelci Bends and Kadin Jodie. 
Barrel Racing
Tara Seaton, Keira Simonson, Graysen O'Connor, Kiana Davis, Kyra Teehee and Ashlie Withrow.
Indian National Finals Rodeo Polson
Bareback
1st   — Jhett Knight
2nd – Wyatt Betony
3rd – Clay Ramone
4th – Tom Chee 
Saddle Bronc
1st – Jay Joaquin
2nd – Creighton Curley
3rd – Alan Kole Gobert.
Bull Riding
1st – Lane Granger
2nd – Preston Louis
3rd – Wynn Wells
Steer Wrestling 
1st – Colin Johnson 
2nd – Tuck Johnson
3rd – Nolan Conway
Tie Down Roping
1st – Nolan Conway
2nd – Marty Watson
3rd – Rooster Yazzie
Team Roping
1st – James Aviso and Myles John
2nd – Shariff Sells and Kevin Yazzie
3rd – Rope Three Irons and Jesse Chase
Breakaway Roping
1st – PJ Fox
2nd – Savannah Fish
3rd – Chalon Lefebre
4th – Sammy Jo Fish
Barrel Racing
1st – Keira Simonson
2nd – Tara Seaton
3rd – Kiana Davis
4th – Janae Devine