Char-Koosta News 
RAVALLI — It looks like the summer vacation season has become the zebra and quagga mussel lookout season in Montana, and the Flathead Indian Reservation. As a result, the mussel inspection stations have sprouted up throughout Montana beginning in mid-March and will be in full bloom in mid-May.
One of the first mussel inspection stations to be manned was the Ravalli station, managed by the Confederated Salish and Kootenai Tribes Natural Resources Department in mid-March. It will be open 24/7 beginning May 15. The other CSKT station in Plains will become active in mid-May. There will be a 20-person inspector force managed by Jaybleau Arlee that will man the stations. Aquatic Invasive Species specialist Erik Hanson has oversight of the inspection program.
Hanson said the gear up of the stations coincide with the increased number of boaters and water recreationalists heading to Flathead Lake to weigh anchor and get wet. However, there has been fairly steady watercraft travel already at the Ravalli station. 
Initially, the Spring Mack Days drew much of the early boating traffic but that was shut down due to the COVID-19 pandemic concerns. Also, the other boating waterbodies on the Flathead Reservation have access restrictions due to Tribal Council action related to COVID-19.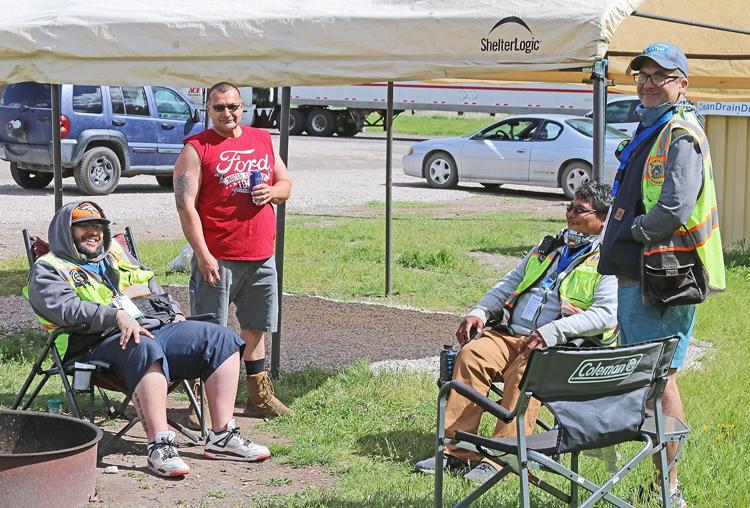 So far, the bulk of the inspections have been on watercraft from California, Arizona and North Dakota, as well as from the Missoula area. Much of the traffic from the warmer climes of California and Arizona are "snowbirds" that have property in the Flathead Lake area. The inspectors at Ravalli speculate that the increased Missoula area traffic is related to the COVID-19 restrictions to shelter in place, and people wanting to recreate; the early snowbird arrivals is also driven by COVID-19 fears.
Recently a boat coming from out of state was inspected at Anaconda and mussels were found; it was destined to Lakeside. As a result, the fouled watercraft was cleaned at Anaconda and was restricted from launching into any waterbody for 14 days. It was also inspected at the Ravalli station.
"The Plains and Ravalli stations are the last lines of defense," Hanson said. The stations are strategically located to inspect watercraft coming onto the Flathead Reservation from the west and south. Inspection stations in the Kalispell area and Browning inspect watercraft coming from the east, north and west. "The other stations call us and let us know that a boat that they inspected had mussels on it is heading our way so we are prepared for it. Other states alert us too. We conduct our inspections with that in mind. It is extremely difficult to find 100 percent of everything on a boat, that's why repeated inspections are important."
Hanson said station personnel and managers continue to learn from the past as well as on-going training. The CSKT NRD is working in cahoots with the Montana Fish, Wildlife and Parks to improve station management.
"We give and get feedback from FWP on what occurs at the other station," Hanson. "We are continually working to improve the quality of our inspections. This season we will install cameras to monitor the stations to ensure that the inspections are done properly."
Ravalli station inspector Cody Neal said Thursday through Sunday are the busiest inspection times. So far, the station has conducted around 50 inspections a day on the peak weekend days. However, the weekdays are pretty busy too. On Monday, there were 21 inspections done by noon. Some people are used to the inspections, others not.
"Some people give us a lot of gruff because of the inspections. Some of them that have already been inspected at another station feel they shouldn't have to be checked again," Neal said. "Last year we found mussels on a boat that had already been inspected. That's why it's important to be redundant. We are the last line of defense."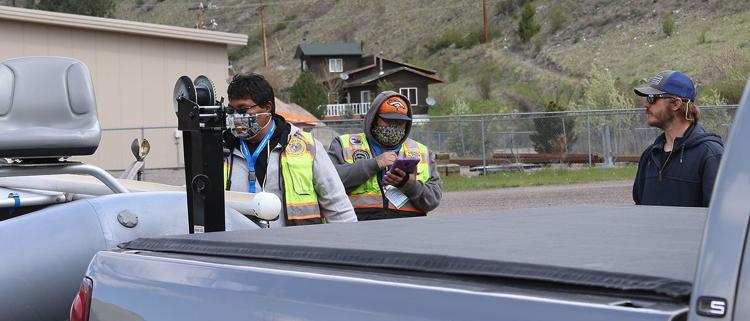 Neal said some Missoula area boaters have been disappointed when they learn that the other waterbodies such as McDonald and Mission reservoirs are closed to off-reservation boaters. "When we tell them about the closures, many of them turn around and go home," he said, adding that some leave in a huff.
COVID-19 has not only altered the general public's lives, it has altered the way the stations conduct inspections. 
"We have to follow the safety guidelines," said inspector Rob Howard. "We wear masks, and maintain six feet separation on every inspection. We wash our hands before and after each inspection."
Tribal Fish and Game Warden Garrett Fenton said so far this season there have been a couple of drive-bys a day but are picking up with increased traffic. "Now some of the drive-bys are saying they shouldn't have to stop because of the potential of exposure to the virus," Fenton said. "This is just my opinion, if they don't want to be exposed to the virus they should stay at home, shelter in place. It's a two-way street, some of them could be exposing us to the virus."
Fenton added that another excuse for drive-byes is that they have already been inspected. "That doesn't matter though, they have to be inspected even if they were inspected at Ravalli the weekend before," he said. 
Last summer a total of 113,168 inspections were conducted in the state and found 16 zebra or quagga mussel fouled watercraft. The fouled vessels are decontaminated on site and required a follow-up inspection to ensure decontamination before they were permitted to launch. In the last three years 49 mussel fouled watercraft were found at the check stations. Also 300 water-craft were intercepted transporting invasive aquatic weeds.
More than half — 70,720 — of the inspections were conducted on Montana watercraft. The majority of the other inspected watercraft came from the Southwest including California and the Midwest.
There were 114 AIS related citations and 245 warnings issued, primarily for boaters that failed to stop at inspection stations.
Last summer the Ravalli check station was open from March 15 to October 15, and conducted 14,034 inspections
Remember to Clean, Drain and Dry
Aquatic invasive species (AIS) are plants, animals, or pathogens that are not native to Montana and can cause harm to the environment and economy.
AIS are introduced accidentally or intentionally outside of their native range. AIS populations, such as zebra or quagga mussels, can reproduce quickly and spread rapidly because there are no natural predators or competitors to keep them in check. AIS can displace native species, clog waterways, impact irrigation and power systems, degrade ecosystems, threaten recreational fishing opportunities, and can cause wildlife and public health problems.
The three steps of "Clean, Drain, Dry" greatly minimize the risk of spreading AIS into new locations.
Clean: Completely remove all mud, water, and vegetation before leaving an access area.
Drain: All water from the watercraft and equipment needs to be drained.
Dry: Let your watercraft and equipment dry before launching in another area. Aquatic invaders can survive only in water and wet areas.
For more information on Montana's defense against aquatic invasive species, visit cleandraindrymt.com.