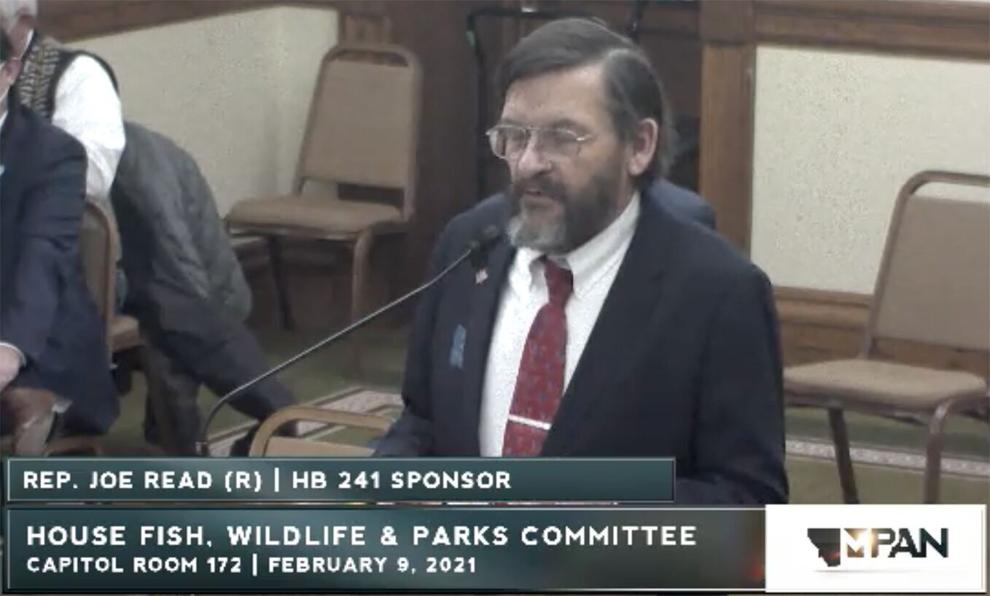 Republican Rep. Joe Read's bill advocating for non-tribal member fee land owner hunting big game within reservations shot down in committee 
Char-Koosta News 
HELENA — What happened in Helena last Tuesday might have seemed like Déjà vu all over again to some Tribal people but it was more of the steady stream of same old, same old that Indian people have been experiencing since the first encounter with the white non-Indians.
What happened was the Montana Legislature House Fish, Wildlife and Parks Committee hearing on House Bill 241 sponsored by House District 93 Rep. Joe Read, R-Ronan. The bill proposed to allow big game hunting on non-tribal member fee land within the boundaries of Indian Reservations in Montana by overturning a 70-year-old state rule prohibiting the use of state hunting licenses to hunt big game on fee land located inside Montana's seven Tribal Nation Indian Reservations
"It's just a private property ownership bill and in no way, shape or form is an attempt to infringe on Tribal property, to usurp the rules and regulations a Tribe has over their fee lands and their membership," Read said. 
Read said the "time is ripe" to establish that all land owners have the ability to hunt and harvest game on their own private property and reduce habitat damage caused by an overpopulation of predatory animals.
The testimony of proponents of the bill included a pair of father-son tag team proponents of the bill, as well a couple of other non-Tribal member fee land owners and a real estate broker. All live on the Flathead Indian Reservation. There was another comment via ZOOM from a Stevensville area resident. 
One of the pairs were retired Montana Fish, Wildlife and Parks fish and game warden Rick Schoening, and son Brendon Schoening, owner of the Collison Craft body shop atop Polson Hill. 
Rick Schoening was the Polson District warden for 21 of his 28 years at FWP, and worked for the Polson Police Department for seven years after retirement.
"During these 35 years behind the badge, I've always followed the rule of law and expected everyone else to do the same, including the State of Montana," Rick Schoening said, adding that he was representing his self and the "well over a thousand signatures" contained in a folder that he displayed and provided the committee. "Unjustly home and landowners within the exterior boundaries of the seven Indian Nation Reservations do not have the same rights as landowners living outside these boundaries. This is wrong. We are taxpayers like the rest of the people."
Rick Schoening said he had, as a game warden, witnessed "this inequity first hand." He said during his public interface with reservation non-tribal member fee landowners he developed an empathy for them while drinking coffee with them, adding that was part of his public relations effort and their concerns about hunting on their fee land ran parallel with his.   
"I was also the guy issuing tickets tosome of them and their family members for shooting deer and elk on their own land," Rick Schoening said. "I never felt it was right, but it was my job to enforce the laws and regulations of Fish, Wildlife and Parks. I made it a point to someday fix this wrong."
Rick Schoening's son, Brendon Schoening, an on-Flathead Reservation fee landowner in the Dayton area, said it was his "Montana constitutional" right to harvest game on his property.
Brendon Schoening said through the years he had restored the vegetation on his land and that attracted wild game and that resulted in depredation of his property. He claimed his property was not part of the Flathead Indian Reservation.
"Not being able to harvest deer and elk, that have come on my ranch is frustrating to say the least. It's just not right," Brendon Schoening said. "After many discussions with my father, I decided I wanted to test this unjust prohibition in 2019. Big game regulations were so unclear, I felt that I would not be violating any hunting regulations."
After harvesting big game on his property Brendon Schoening said he notified the Montana FWP game warden. He was cited for violation of hunting regulations, the harvested game was confiscated, given to the Tribes, and not kept for evidence. 
Brendon Schoening said his wife didn't support his decision, and that by testing the legality of the ordinance it could harm his reputation and potentially cause the loss of his Collision Craft business.
"I am happy about this because I knew I was right," he said, adding that after a year of legal proceedings, 20th District Court Judge James Manley dismissed the case. As a result, the Montana FWP amended its regulations to further clarify that it is unlawful to hunt big game on non-Indian owned fee land on the seven Indian Nation Reservations in Montana.
The other father-son proponents were Shane Shima, owner of Montana Power Products in Ronan and Hunter Shima.
In his testimony, Shane Shima, who claims to be seventh generation common-man American, said he would like to be able to hunt on his land like the rest of the State's citizens.
"There are those who want to reduce our individual property rights on how we choose to use it," Shane Shima said. "It should not be right to take property rights from one to benefit the other."
Hunter Shima, a lifelong Ronan resident, said he was concerned about the growth of wildlife on his and his neighbors' property, and the fact that he has to go off the Flathead Nation Reservation to hunt. 
"I work all day, and don't have the time to drive an hour to go hunting off the reservation," Hunter Shima said. "I envy my friends who can hunt within minutes from where they live."
Tammy McAllister, 20-year owner of the 10,000-acre Whiskey Trail Ranch in Ferry Basin that rents lodging and highlights its hiking, wildlife and photography opportunities. She said that her land was considered part of the CSKT Ferry Basin Elk Reserve and more than 600 head of elk are on the property and has spent $40,000 to put an elk fence on the property. 
"One year we opened it up to tribal members to hunt," she said, adding that they harvested 10 bulls and six does. "But over the past two years, we backed off and only went with tribal members we knew — just for comfort."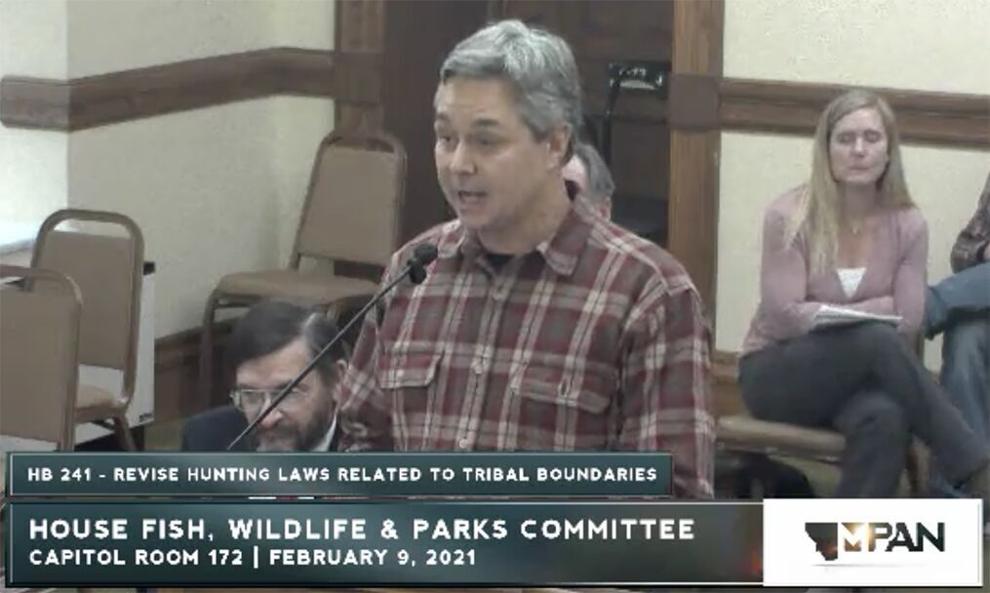 Ever-present anti-tribal advocate, David Passieri, a real estate broker for Mission Valley Properties, and self-proclaimed "sovereign under god all mighty," who lives and breathes property rights, said he "supported HB 241 as it will result in the reduction of large game animals within the exterior boundaries of all Montana Indian reservations." That, he claimed, would eliminate thousands of dollars in crop and equipment damage, and reduce vehicle-animal accidents.
When Passieri veered onto the racial rumble strip, the committee nipped that in the bud by telling him that the hearing was not about racism and that his time at the mic was up. He then submitted copies of "American Tribal Tyranny" an anti-tribal sovereignty booked by Elaine Willman, the former chair of the Citizens Equal Rights Alliance (CERA), an national organization that advocates against tribal treaties, sovereignty and governments. Committee Member Rep. Seth Berglee, R-Joliet, said racism is inappropriate in the hearing and the subject the book discusses was irrelevant to the hearing.
Fourth generation Montanan who lives on his great grandfather's homestead in the Proctor area, Andrew Learn, said the Homestead Act granted rights to hunt and harvest on the homestead property. 
"My great grandfather was able to hunt and fish to sustain the homestead style of life," Learn said, adding that he had tribal member friends. "He was self-sufficient. That's' what America is all about."
American Indians also have an idea of what America is all about, and Montana Indians know a bit of what Montana is all about, and they voiced some of those feelings to the House Fish, Wildlife and Parks Committee HD 241 hearing.
Fort Peck Nation Tribal Executive Board member Justin Dupree said the Assiniboine and Sioux Tribes were in the area that is now Montana long before Montana was a territory and state 
"I ask why we have state representatives who want to infringe on tribal rights. Rights our people have fought for and died for throughout our history. This proposal would allow non-tribal members to hunt on fee lands within our reservation boundaries with state rather than tribal permits, something that I believe completely disrespects our rights and sovereignty to manage our own lands and resources," Dupree said. "The U.S. government placed our tribes on plots of land nobody wanted. And if this bill is passed, we will progressively lose what little rights we have left. This (process) is a violation of our treaty rights."
Vice-Chair of the Fort Peck Tribal Business Committee Charles Headdress, a VietNam War Veteran, opened his testimony, stating, "My people have been here a lot longer than seven generations." It was an allusion to a previous claim of longevity as Americans by a proponent of HD 241 from the Flathead Nation Indian Reservation. He said the Fort Peck Reservation, established by an act of the U.S. Congress in 1888 was meant as a homeland for the Assiniboine and Sioux Tribes for the exclusive occupation and use by members of the two Tribes.
"However, like the other Indian Reservations across this country, the Fort Peck Indian Reservation lands were parceled out in individual allotments without the consent of the Tribes," Headdress said in a reference to the Dawes Act, aka the General Allotment Act that was another federal government effort to assimilate American Indians. It focused specifically on breaking up Indian reservation lands held in common by members of a Tribe by granting land allotments to individual American Indians. "The United States identified the failure of the General Allotment Act and ended this devastating policy with the passage of the Indian Reorganization Act in 1934. However, like many other Tribes, the harmful repercussions [of the General Allotment Act] continue to be dealt with by Tribal governments to this day."
In a response to Passieri's promotion of the "American Tribal Tyranny" book, Headdress said, "All you have to do is read the Dawes Act to understand tyranny."
Headdress said the Assiniboine and Sioux Tribes ceded wide swaths of lands to the federal government in exchange for the Indian Reservation lands meant for the exclusive use of tribal members. That included the right to manage fish and wildlife within the exterior bounds of the Fort Peck Nation Indian Reservation for the benefit of tribal members.
The Fort Peck Nation like other Tribes in the state have cooperative hunting and fishing agreements with the Montana Fish, Wildlife and Parks that allows for certain categories of hunting and fishing on the reservation.
"This bill attempts to encroach on our Tribal sovereignty, and our ability to protect and manage the natural resources which have always been important to our existence," Headdress said. "It also fails to recognize the government-to-government relationship of the Fort Peck Tribes and the State, that is State policy."
Headdress said the HD 241 violated State and Federal court rulings that have upheld the constitutionality of the FWP regulations that prevent non-tribal members from hunting big game on Montana Indian Reservations, and would create jurisdictional uncertainty for Montana Indian Tribes and the State due to the checkerboard landownership that was created by the federal government opening Indian Reservations for homesteading by non-Indians.
Several other Tribal government representatives echoed the concerns of the Fort Peck Tribal Executive Board members. 
Blackfeet Nation Tribal Business Council member Frank Monroe, Jr. said the sponsor of the bill failed to consult with Montana Tribes about the effects it would have Tribal regulations, jurisdiction, and the government-to-government relationships, tribal member and non-member relationships and tribal member treaty hunting rights. It would also create a budget problem and enforcement quagmire for the Montana Fish, Wildlife and Parks on the seven Indian Reservations and would lead to considerable litigation.
"We also question if the State has sufficient knowledge to effectively manage non-member hunting on reservations," Monroe said. "The status quo doesn't raise such questions."
The status quo, Monroe alluded to was the State's decision in 1950 to prohibit hunting on Indian Reservations, and the upholding of challenges to that decision by State and federal court system. 
"This bill is meant to address the Montana Supreme Court decision in State v Shook, which upheld Montana regulations that prohibit non-member hunting within reservations using only a State hunting and fishing license," said Evan Thompson, general legal counsel for the Blackfeet Nation. "The court held that the State has a duty to regulate hunting by non-members in a way that protects Tribal regulations. This duty can't be fulfilled by enacting hunting and fishing regulations by the State of Montana with zero communications with Tribes and zero study of the effects the law will have on hunting rights reserved by treaty with the United States.
If the State doesn't uphold this duty as articulated in the Shook case and pushes this bill forward… the floodgates of litigation will open between the Tribes and State."
Treaties are the supreme law of the land embodied in the U.S. Constitution.
Monroe said the proposed legislation was broader than individual rights, that it was more about jurisdiction on Indian Reservations.
"As drafted the bill seeks to open non-member hunting on fee lands without limitations," he said.
Majel Russell, an attorney that represents some Tribal Nations in Montana concurred with Monroe about the shadow intentions of the bill.
"This bill has been painted as a private property bill," Russell said. "It's not. It's a bill that clearly infringes on Tribal sovereignty, and violates the Montana Constitution and State law."
Deputy Director of the Montana Fish, Wildlife and Parks Dustin Temple expressed FWP's opposition to the bill. Gov. Greg Gianforte said he directed FWP to oppose the bill.
"This bill legislation would effectively prohibit FWP from regulating hunting on fee lands owned by non-tribal members within boundaries of reservations." Temple said. "Such a blanket prohibition fails to recognize physical elements FWP must assess, especially to those fee-lands within reservation boundaries."
Temple said the proposed legislation failed to recognize the legal unique relationships among State, Federal and Tribal governments when it comes to land and resource management on Indian Reservations.
Temple said FWP was party with the Flathead Nation against the State in the Shook case, and the settlement in favor of the Flathead Nation and thus all Tribal Nations in Montana. The settlement in the case codified the closure of non-Tribal member fee land owners hunting within the boundaries of Indian Reservations.
"This legislation contradicts that settlement and would have Fish, Wildlife and Parks in renewed litigation," Temple said. "For those reasons Fish, Wildlife and Parks requests that the committee votes no on House Bill 241."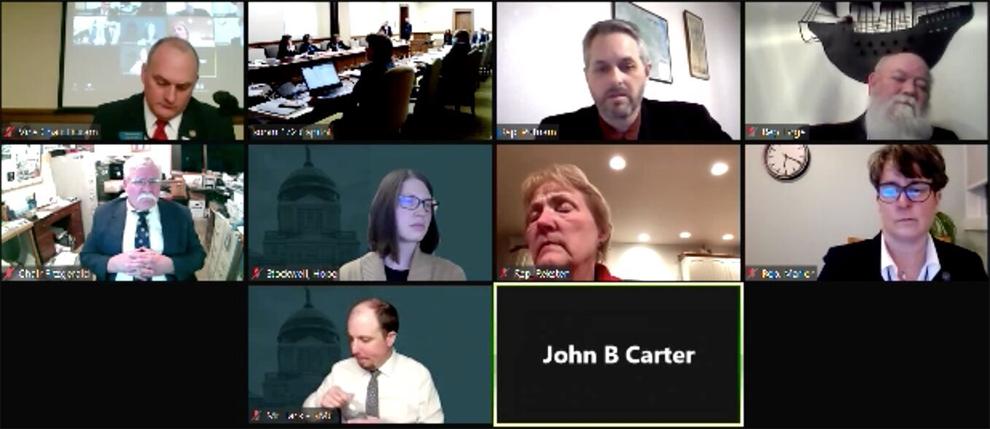 Flathead Nation Tribal Council Chairman Shelly Fyant urged the committee respect the present legal mandates about non-Tribal member fee land owners from hunting within the boundaries of the Flathead Reservation.
"If this bill becomes law it will break two agreements. The first between the Confederated and Salish Tribes and the United States, and secondly between the CSKT and Montana," Fyant said in reference to 1855 Treaty of Hell Gate, and the hunting and fishing agreement between the CSKT and State of Montana. "It's simply not worth destroying what has been working for decades for all other Montanans and our tribal people on our treaty-reserved homelands in order to benefit a few landowners who choose to live on an Indian Reservation. For those reasons I ask the committee to vote no on House Bill 241."
Flathead Legal Department attorney John B. Carter said the outcomes in the Shook and Roberts court rulings established that there wasn't a constitutional right to hunt on fee land as some of the proponents of the bill maintained, and encouraged the committee to not pass the bill.
In 2002, the Montana Supreme Court unanimously ruled in the State v Sandra White Shook case that the state rule banning non-Indians from hunting within reservation boundaries was legal.
That lawsuit was filed by Flathead Indian Reservation resident Sandra Shook. She was cited after killing a deer on a neighbor's private property within the boundaries of the Flathead Indian Reservation. Shook said she was aware of the restriction, but had permission from her neighbor to hunt their land. Shook said the regulation violated the constitutional guarantee for equal protection of the laws by distinguishing between tribal and non-tribal members on the basis of race.
However, the Montana Supreme Court concluded that the prohibition is a rational method of preserving wildlife for hunting by American Indians. The justices also said the restriction fulfills the State's obligation to recognize tribal hunting privileges established in federal law and treaties between the tribes and the federal government.
The U.S. Supreme Court declined to hear the case, saying it believed the state's high court had correctly decided the case.
In the Randy V. Roberts case, Roberts filed a federal lawsuit against the state, challenging a hunting rule that bans non-tribal members from hunting big game on lands within Montana's American Indian reservations. He claimed the law was a violation of his constitutional rights because he is being denied the ability to hunt on private property within reservation boundaries based solely on his race.
Roberts operated a commercial bird shooting preserve licensed by the state on 1,500 acres of deeded, non-Indian fee land owned by his mother within the boundaries of the Crow Indian Reservation.
U.S. District Judge Richard Cebull in Billings ruled that the Fish, Wildlife and Parks position that the state ban on non-Indian hunters was not based on race.
Roberts appealed the case to the 9th Circuit of Appeals which upheld Cebull's ruling that the regulation was based on political classifications, not racial classifications. 
The three-judge 9th Circuit Court said that courts have long held that classifications based on membership in federally recognized tribes are political rather than racial.
Two days after the hearing, the House FWP Committee voted 13-5 to table House Bill 241. Seven of the committee's 12 Republicans voted with all six Democrats to table the measure. The committee did not debate the bill before Rep. Tyson Running Wolf, D-Browning, moved to have it tabled and triggered the vote.
Upon hearing about the tabling of HB 241, Flathead Nation Tribal Council Chairwoman said she was very pleased with the support of opponents to the bill.