Char-Koosta News 
For Kootenai War Dance Chief Wilbert Buckskin Michel, who journeyed to the Spirit World in August 2020, he served with the Army 4th Infantry Division in 1967-1968, and fought in the battle of Dak To.
For Marine Gunnery Sergeant Roger Shourds, who journeyed to the Spirit World in July 2021. He served with the Marines and did two tours from 1966-1968 in VietNam at ChuLai.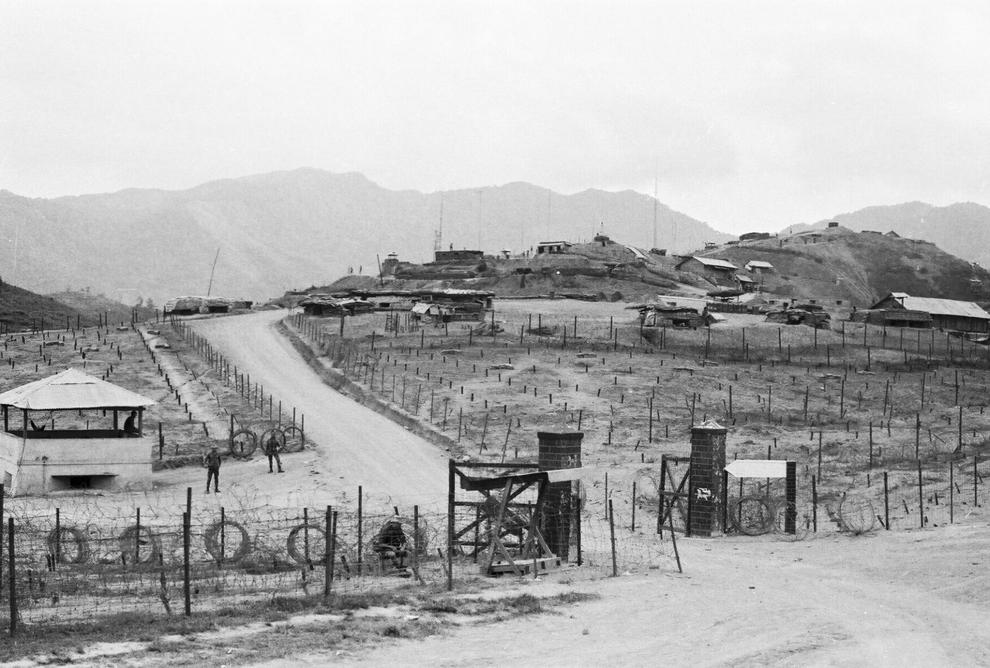 All Along the Watch Tower 
In September 2009, I found out I was going back to VietNam, 40 years after spending a bit more than a year there from Easter Sunday, April 14, 1968 to May Day, Thursday, May 1, 1969.
Years later, I learned that May 1, 1969 was the day with the highest number of American military personnel in South VietNam, it was also the date where the numbers began to decline. 
I've wondered if I was the one at the apex and tipped the scales downward when I stepped onto the Swiss Air Lines jet that departed CamRanh Bay at 10 a.m. VietNam time en route to The World — America. 
In my mind's eyes, I still clearly see my last views of VietNam as we ascended over the South China Sea. It was a melancholic dichotomic observation — I wanted to go home but I didn't want to leave VietNam.  
I had feelings of abandonment of my Army buddies as well as the rest of my fellow Americans still In-Country. I still wonder about those I served with and hope their lives have turned out as well as possible considering the white-hot experiential circumstances of VietNam and the cold shoulder homecoming. 
I also felt a lonely sadness for the numerous Vietnamese and Montagnard tribal people I served with at Minh Long Special Forces camp in Quang Ngai Province, southeast of Chu Lai in the I Corps tactical zone. It was literally "Indian Country" — Montagnard Country — as the boonies outside the big bases were called. There wasn't anything out there but a couple of bamboo thatched hut villages, and the tribal people with chickens, ducks, pigs, dogs and water buffalos. 
The Montagnard tribal people's ways were very reminiscent of those of Indian tribal people. There was an unspoken spiritual attachment to the people and a feeling of home at Minh Long. It was like a time machine journey to the past where the old ways were still intact in the 20th Century. The Vietnamese people and even the military people they fight alongside of looked down on Montagnard tribal people; and call them moi, which means savage. We had a lot in common. It was very hard to leave those people behind.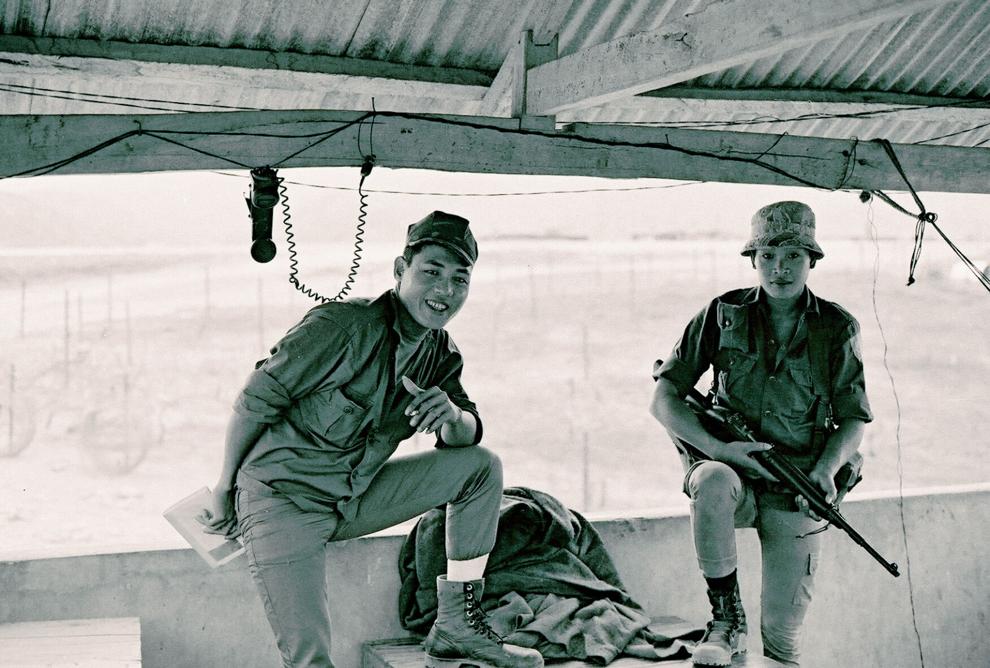 Saddle Up the Palomino
One of the things I found out at Minh Long was the non-tribal Vietnamese people's knowledge of American Indians was based on Hollywood portrayals in those cheesy 1950s B Western movies. 
One evening, we were sitting around a fire eating C-rations and MREs shooting the breeze. I had witnessed some brutal interrogations by some of the ARVN Rangers, and I asked the Colonel in charge, "How can you kill and torture your brothers and sisters?" He responded, "No problem, Chief. VC, NVA, same-same Indians in America." 
After a momentary pause to digest what he said, I responded, "No, they're not. I'm an Indian." He already knew that, and responded in a similar phrase that I heard back in Montana a few times. "You good Indian," he said with a chuckle. "I guess," I said.
That exchange hung in my head for a few hours. Then while staring into the coal-dark night alone with my thoughts and a billion twinkly stars some sort of minor epiphany shuddered through me, "Yea, the Colonel was right. Indians in America, and the Viet Cong guerillas and North VietNam Army regulars were same-same — Warriors against invaders."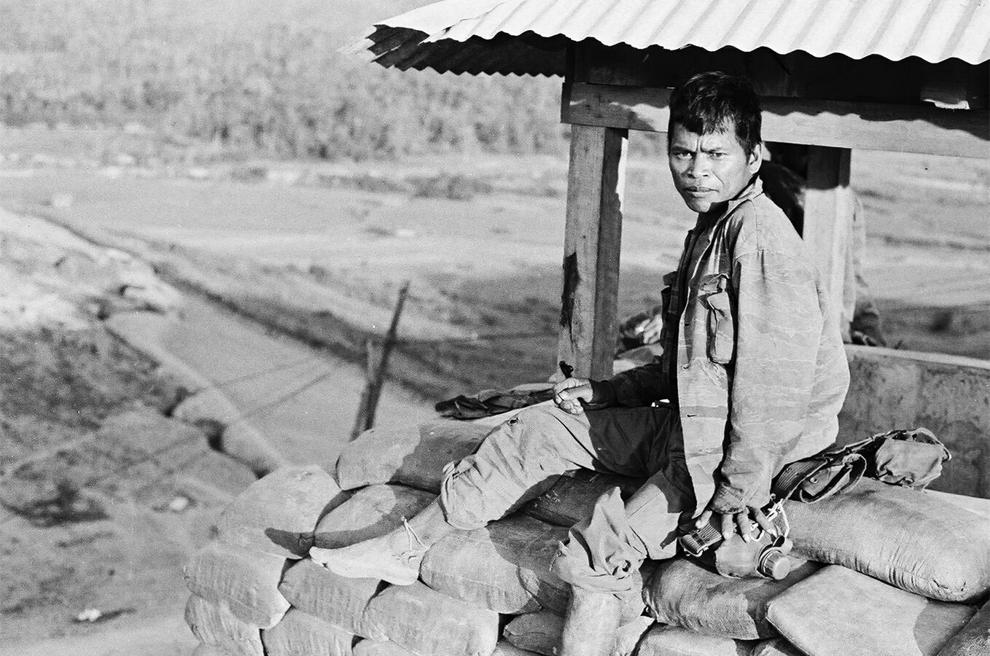 "I Wanna go to VietNam, I Wanna kill a Viet Cong."
Soon after arriving in VietNam, I realized that the Vietnamese people were not like we were trained to view them. They were not "gooks" or "slopes" or other degrading names that were drilled into malleable young minds. They were people, just like me, some of my life's experience with the condescending judgmental other mirrored theirs with the American invaders.
Some of the Vietnamese and Montagnard looked like Indians, especially the mixed French blood Vietnamese.
But I was in a situation where some of them wanted to kill me and the other Americans, and our mission was to kill them before they killed us. It was about survival.
They were defending their homeland, and we were there under the guise of stopping the domino effect of encroaching communism in Southeast Asia. However, it soon became clear in our minds that our mission — our individual mission — was to go back to our homeland alive.
It was a whole new way of existence, a new reality that soon fit like a glove — survival amps up all the senses. Seeing with your nose and ears, and walking cautiously and softly on the razors edge becomes normal.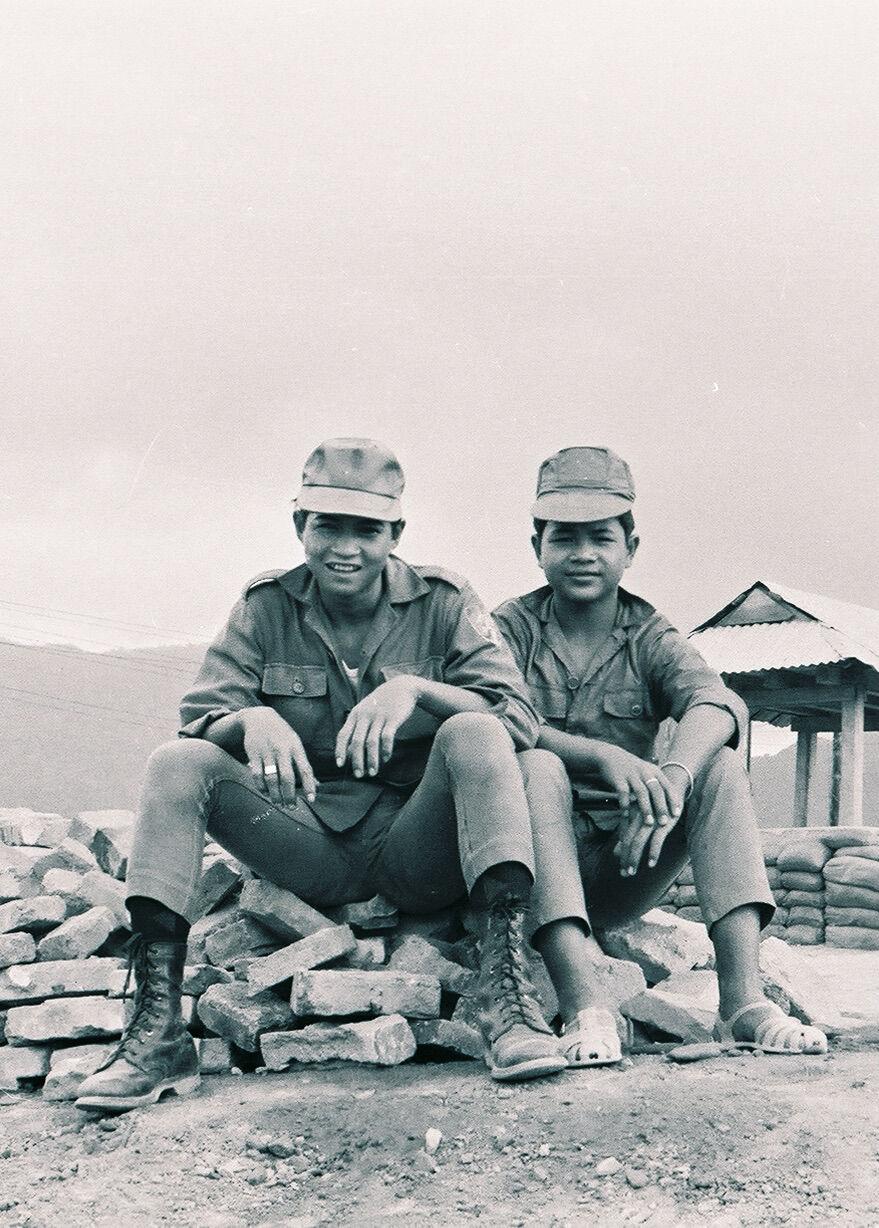 It was just the way it was and it was the life I had to live and had to find some sort of comfort in the most uncomfortable environment. Had to keep fears tucked deep inside where they fomented over time and escaped later in life to ambush at the slightest sensory switch flip — the smell of diesel, hot dusty days, sudden loud noises, slapping helicopter blades, soft reminiscent sounds. Boom, right back in that time and place. The saying in VietNam was that Charlie owned the night and we owned the day — for some Nam Vets Charlie still owns the night and shades the day. 
In a searing memory, I remember saying to a dozen or so Vietnamese and Montagnard Civilian Irregular Defense Group (CIDG/militia) friends as they saw me off on my final Huey journey back to Chu Lai to process out and get back to The World that: "Somehow, someway, I don't know when but I am going to come back and see all of you again."
It's a promise I never forgot but as the years passed, and the relationship between the United States and communist VietNam remained acidic, I became doubtful that my return would ever happen. 
Eventually an amiable government-to-government relationship was established under President Bill Clinton's Administration. 
Then in the early 2000s the Socialist Republic of VietNam Ambassador, Le Cong Phung, came to the United States, along with other foreign dignitaries touring America. The group stopped in Pablo to visit the Tribal Council and observe them conduct their meeting. 
During a break I talked with Ambassador Le Cong Phung, and told him that I was a VietNam War Veteran and wanted to return to VietNam. I said I was concerned about how I would be welcomed, i.e., are the Vietnamese people mad at Americans, and especially the VietNam War Veterans. He told me there wouldn't be any problems and encouraged me to return for a visit.
Time Has Come Today  
Somehow, someway came to fruition November 2009, thanks to Roger Shourds and his connection to Dr. Ed Tick and Kate Dahlstedt of Soldier's Heart, based in New York. The pair had facilitated many such VietNam Veterans return tours to the country where they cashed in their youth, spending it on the most intense times of their young lives, times that became part of a shadow-psych that — for better or worse — would cloak their outlook to perpetuity. 
To them, I am forever grateful because I was able to reclaim some of what I left behind 40 years earlier: part of me in exchange for a heavy load of guilt I carried for all those years.
I am also forever grateful for sharing the three weeks back In-Country with fellow VN Vets from the Flathead Indian Reservation, Roger Shourds, Marine and Wilbert Michel, Army. They were both accompanied by their wives, Louise and Bev, respectively.
There were soul wracking intense mixed feelings among Roger, Wilbert and me about our going back to VietNam. We confided in each other that maybe something would happen so we wouldn't have to go, like missing our flight.
There was a nervousness of what might happen, especially how the Vietnamese people would view us, treat us. Would they treat us like our fellow citizens did when we returned to America? Would we be as unwelcome as that?  
How would our former Viet Cong and North VietNam Army adversaries react when we met with them at several Reconciliation Ceremonies scheduled during our three-week Hank Snow, "I've Been Everywhere" road trip from Saigon — now Ho Chi Minh City — to the Mekong Delta near Vinh Long to Central Highlands with stops at Pleiku, Camp Enari, Dak To, Kon Tum, and An Khe to the Central VietNam South China Sea coast from DaNang to Hoi An, Tam Ky, Minh Long, ChuLai and Duc Pho then north to Phu Bai, Hue, onto Quang Tri, Dong Ha, and The Rockpile, and Khe Sanh along the  infamous Highway 9, further north to the DMZ, back to Hue for an overnight train ride to Hanoi then Ha Long Bay in the Gulf of Tonkin for our final two days.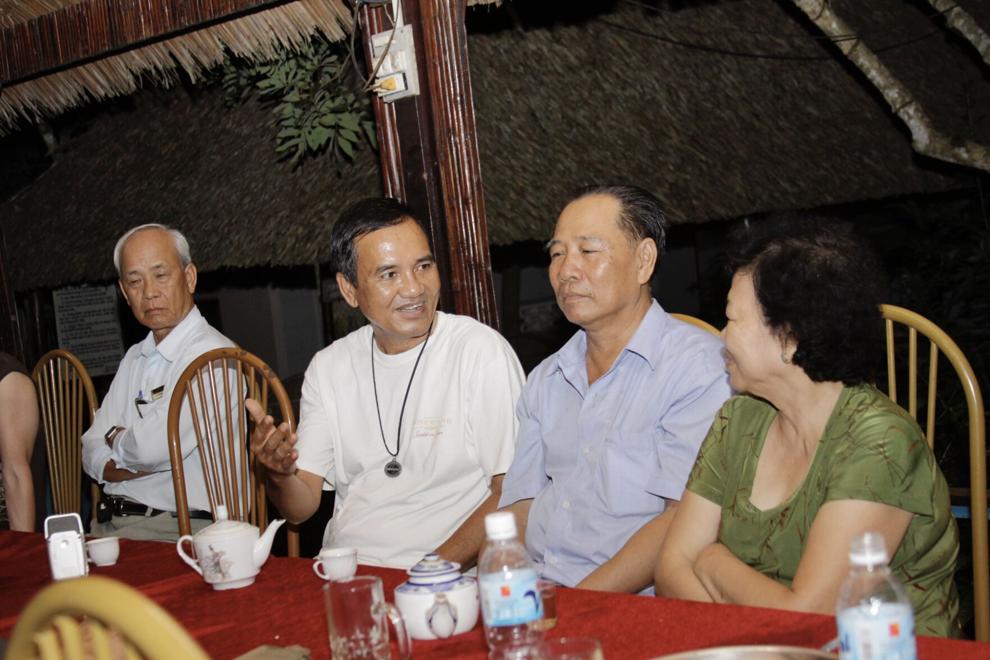 "Oh, hello, Mr. Soul, I dropped by to pick up a reason."
The exhilaration of my second tour of VietNam gained intensity with each passing day somewhat like the way earthquakes are measured, each daily uptick of intensity seemed tenfold of the day prior. I got very little sleep, I didn't need it, I didn't want it, I was cruising on VietNam adrenalin once again. I had learned to live without much sleep long ago in VietNam, where an, oh, so tired nod-off till my chin hit my chest to awaken me felt like night-long respite from the surreal reality of my adrenaline-fueled time in the beautiful multi-shades of florescent green Hell in paradise war-torn country.  
I had my iPod on shuffle with Neil Young providing the soundtrack for trip.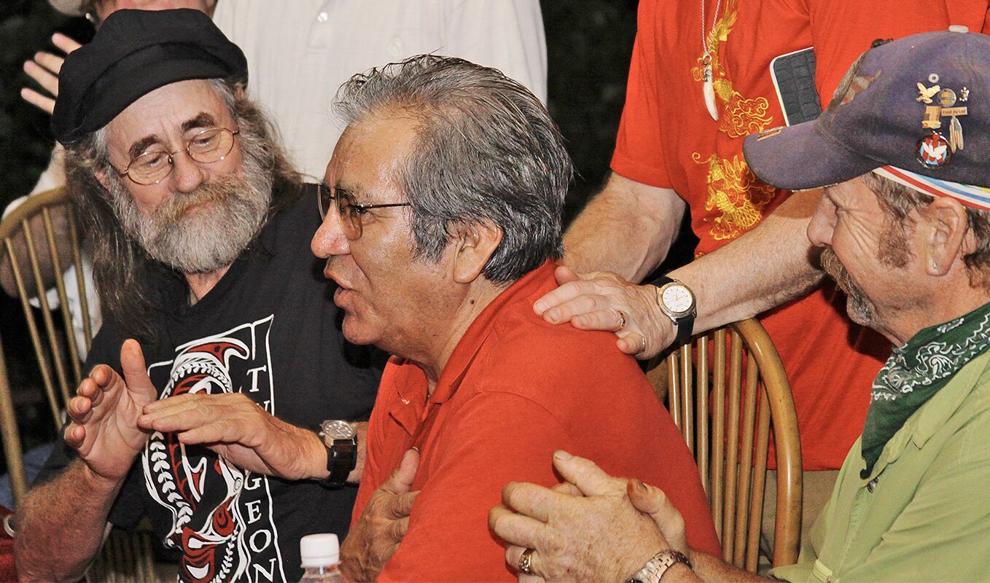 Tonight's the Night. Tonight's the Ni i i i ight.
On the third night in VietNam, the second in the Mekong Delta we had a reconciliation meeting scheduled between former Viet Cong guerilla troops. But the word came down that VietNam government authorities put a stop to it and wouldn't allow the hand-full of former VC to attend. However, we were able to conduct a reconciliation meeting with Tam Tien and Madame Tam, the owners of the quant resort we were staying at on the land between split fork tongs of the Mekong River across from Vinh Long. 
Among our entourage were to two Vietnamese tour guides who fought with the Americans. "Ray" (the name given to him by the Americans he served with), served in the Army of the Republic of Vietnam (ARVN). The other, Song, served with the South VietNam Air Force (SVAF). Song was our main tour guide who remained with us the entire tour, while Ray was with us during our stay in the Mekong Delta.
The Vietnamese people that were American allies are treated as outcasts and don't receive any benefits of being a citizen of VietNam. They were interned in the Communist re-education camps after the war. Song's brother died in a re-education camp; Song survived. They, however are beneficiaries of VietNam styled capitalism and make a living as tour guides and translators, many on the VietNam Veteran tours.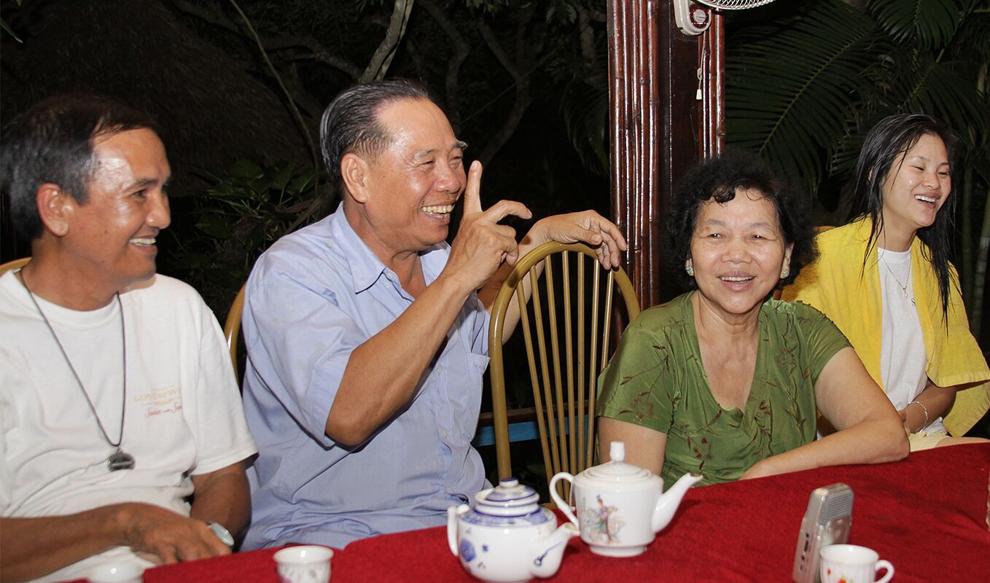 We all gathered at a long rectangular dining table covered in red table cloth in a long rectangular bamboo thatched roof open walled bamboo constructed dining area. 
The atmosphere was thick with anticipation and it got thicker as the baring of souls began. The added unseen but perceptible weight that waft through the air under the thatched roof felt like perpetual parting of silk curtains as I moved to various locations to take photos.
Once the baring of souls began a quiet settled in under the bamboo thatched outdoor dining area. The only thing heard was the voices of those speaking and the clink of porcelain tea cups. A few passing Australian and European tourists stopped and from the shadows listened intensely in reverent silence to the ongoing conservations among former war adversaries.
One by one some of the seven American VietNam War Veterans and two former American South Vietnamese allies told their stories, bared their souls about their participation in the war. The Americans, in indirect and direct ways asked for forgiveness.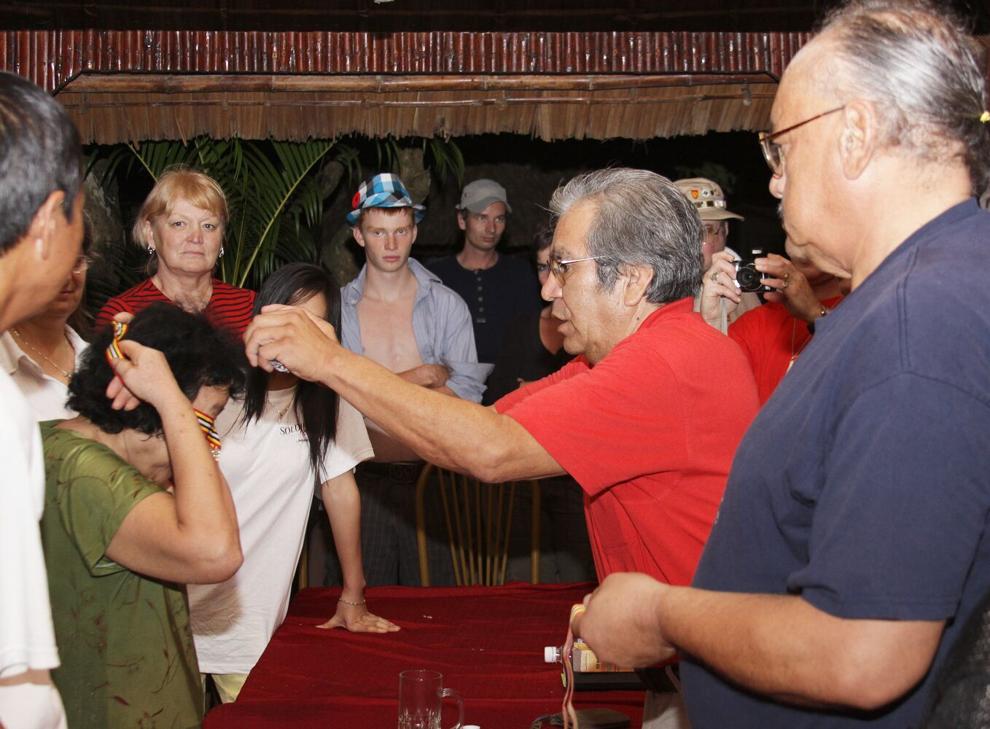 I spoke first so I could photograph the rest of the meeting. I talked about how hard it was to view the Vietnamese people as we were indoctrinated to view them in our military training, and how that became part of our In-Country lexicon. That was particularly hard for me since I have always been inquisitive about those different than me. I said the Vietnamese people reminded me of Indians back home in Montana.
Basically, we Americans who spoke apologized for our involvement in the American War, as it is called by the Vietnamese. 
Kootenai War Dance Chief Wilbert Michel was the last to speak and spoke directly to Tam Tien and Madame Tam. He told of how bad he felt for his part in the war, as we all did, but by that time his words had an up-ticked thick with an exhaustive spiritual crescendo feel to it.
Song interpreted all of our words to Tam Tien and Madame Tam. It was very intense, at times their faces, just as ours, revealed their inner feelings that, long ago settled in hearts of stone. 
Tam Tien and Madame Tam spoke about their American War experiences. Tam Tien was a former teacher at a school near Cu Chi but he became a Viet Cong guerrilla fighter after Americans bombed his village and school. That's where he met Madame Tam, she had been a "runner" beginning at the age of 12, delivering messages among the various VC units in the Cu Chi area. They were both wounded in battle and had visible scars as a result.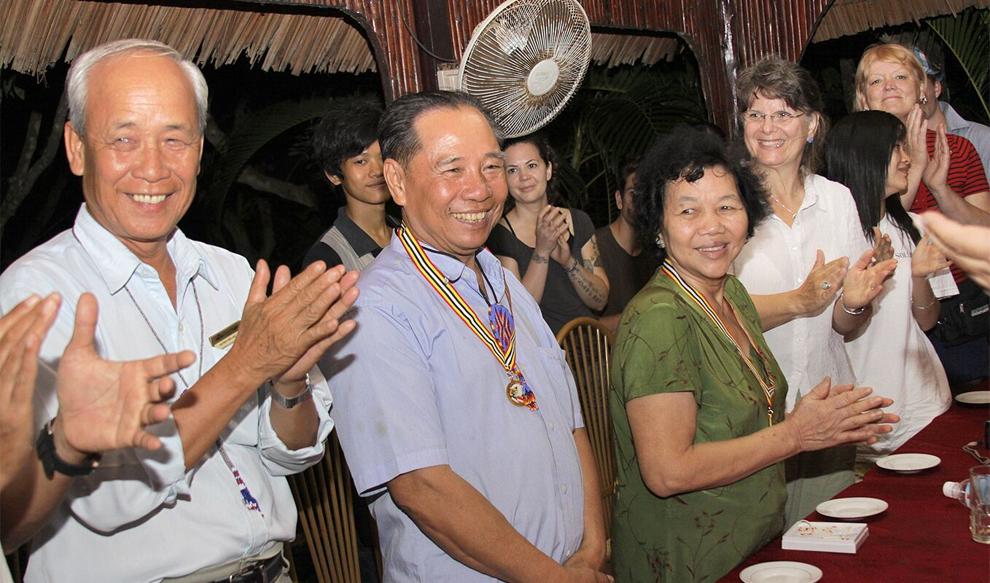 It was intense evening to begin with but eventually the ice cracked then melted and it became intense in a very friendly meeting in the Warrior Spirit way. We all had our training, we all had our missions, we all carried out our missions. We all survived physically but we all were tarnished emotionally. But one was the invader of another's country and the other was the defender of the homeland. We Americans at the table came away from VietNam with an emotional tank filled with guilt. 
The former Viet Cong, Tam Tien, at the table drained some of the guilt from the tank when he said, it wasn't the American soldiers that were the cause of the war but the American government. The soldiers were just carrying out their orders just as he and his fellow Viet Cong and North Vietnam Army regulars were. 
The Vietnamese people, he said, aren't looking back but are looking forward and bear no grudges against VietNam War Veterans or Americans. We heard that time and time again with our meetings with our former adversaries as well as from other Vietnamese people we interacted with as part of our tour.
We had a toast, then Roger and Wilbert gifted Tam Tien, Madame Tam, Ray and Song with beaded medallions, and Flathead Nation Veterans medals. We then broke bread with rejuvenated spirts under the thatched roof of the long rectangular dining hall. The heavy silk curtained air now felt like a warm blanket that enveloped our bodies, cradled our emotions and soothed our souls.
All was well in the Mekong Delta. 
Mr. Soul picked up the reason.
All is quiet all along the watch towers.