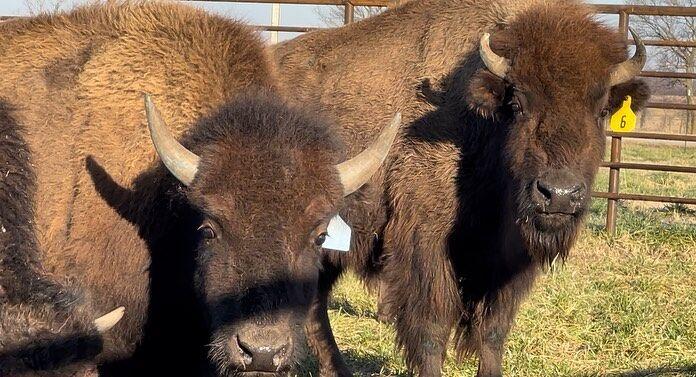 Char-Koosta News 
The relocation of Yellowstone National Park bison to tribal lands is continuing to spawn herds on Montana Indian Reservations and to out-of-state Indian Reservations. 
Last week 56 bison were transferred from the Fort Peck Tribes quarantine facility to the Modoc Nation in Oklahoma and the Yakama Nation in Washington. Each of the Tribal Nations received 26 bison.
The Fort Peck Nation as well as the InterTribal Buffalo Council (ITBC), and Defenders of Wildlife facilitated the transfer.
In 2019, YNP established its Bison Conservation and Transfer Program (BCTP). It is a partnership among YNP, the State of Montana, U.S. Department of Agriculture, the Fort Peck Assiniboine and Sioux Tribes, InterTribal Buffalo Council and non-government partners such as Defenders. So far more then 150 brucellosis-free bison have been quarantined at Fort Peck before being sent to tribes across the United States including Alaska.
Prior to the transfer bison were inspected at Fort Peck by the Animal and Plant Health Inspection Service, an arm of the U.S. Department of Agriculture. It was the final round of the federal agency's brucellosis testing and the 56 bison came up negative.
Brucellosis can cause stillbirths or natural abortions in cattle but heretofore there hasn't been a documented case of that.
Animals that are enrolled in the BCTP enter a quarantine process where they are held in pens and tested repeatedly over a multi-year period. Those that continue to test negative get transferred to a quarantine facility on the Fort Peck Reservation, where a final phase of assurance testing occurs. Then the animals can be shipped to other select tribes' cultural herds.  
This is the first time that two large, intact families of bison have been transported to tribal lands through the BCTP.
"Bison are incredibly social animals, so one of the key goals of this program is to maintain these social structures once they arrive at their new home," said Chamois Andersen, senior Rockies and Plains representative for Defenders of Wildlife, in a news release. "We are honored to partner with the Fort Peck Tribes and ITBC in this important work to bring bison back to the tribes."
The bison from Fort Peck are direct descendants of the last survivors of the mass slaughters during the 19th century. The bison slaughters were used by the federal government to deny the Plains Tribes of their main food source. Before the mass slaughter in the 1800s an estimated population of 30 million bison free roamed throughout sections of North America. In 1900 about 1,000 bison remained but most were in captivity. Also, there was a small free ranging herd in YNP.
Today there are approximately 500,000 bison, almost all bison are managed as livestock and many contain cattle genetics.