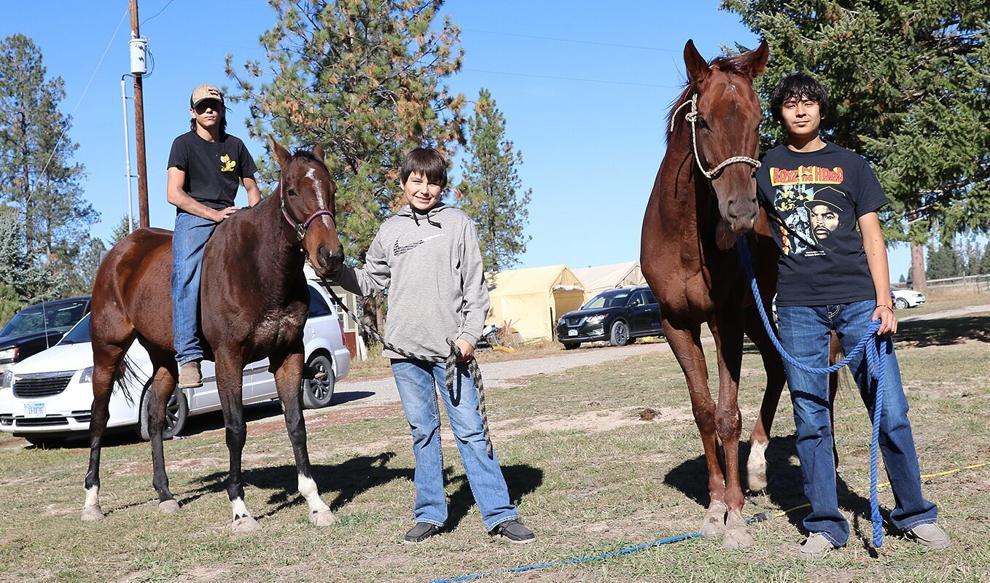 Young Indian Relay racers are mounted on a positive endeavor in quest for trophies and role modeling
Char-Koosta News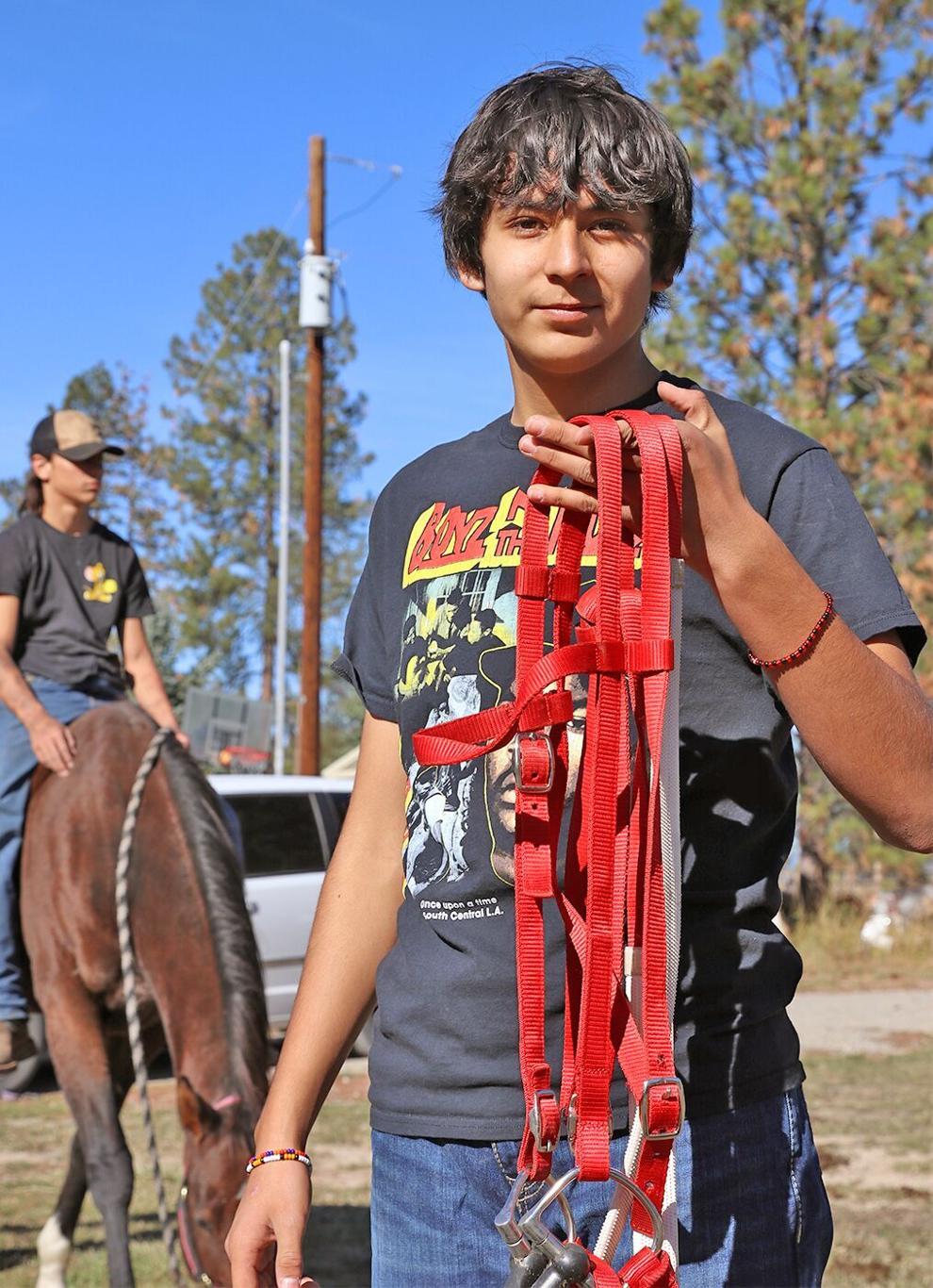 RONAN — The is something about the bond relationship between horses and humans that rivals the more common relationship between humans and dogs, and probably betters the oft-seemed one-way relationship of humans and cats. 
The human-horse relationship is not passive nor one-way — it borders on the edge of spiritual. Both feed off the physical and emotional inputs and outputs of the other. The rider learns to adapt to and accommodate to the horse similar to the way a horse learns to obey — accommodate — to the rider's commands. 
The two-way trust relationship bond is solidified by the contact and care given the horse that develops into a recognitional effect from the horse to its owner and other close contact individuals. 
That is the type of relationship a pair of young Indian Relay race team members are presently forging with the four thoroughbreds they use in their quest to become proficient competitors in the rising sport of Indian Relay racing.
They are members of the Dancing Boy Express team, the youngest Indian Relay team competing nationally in Indian Country, and the first such team on the Flathead Indian Reservation. 
They are 15-year-old riders Dillon Irvine and Fortino "Tino" Templer of Ronan. The Dancing Boy Express team is further comprised of holder Jordon Messerly, and muggers Dane Morsette, and Thomas and Talon Addison.  
The team's thoroughbred racehorses are Vee Secret, Sisters Heart, Daisy Creek and Off Again-On Again, a horse with Kentucky Derby winner lineage. Thoroughbreds are among the top three breeds that are considered the hardest to train along with the Arabian and, Akhai-Tekke, the oldest breed of horses.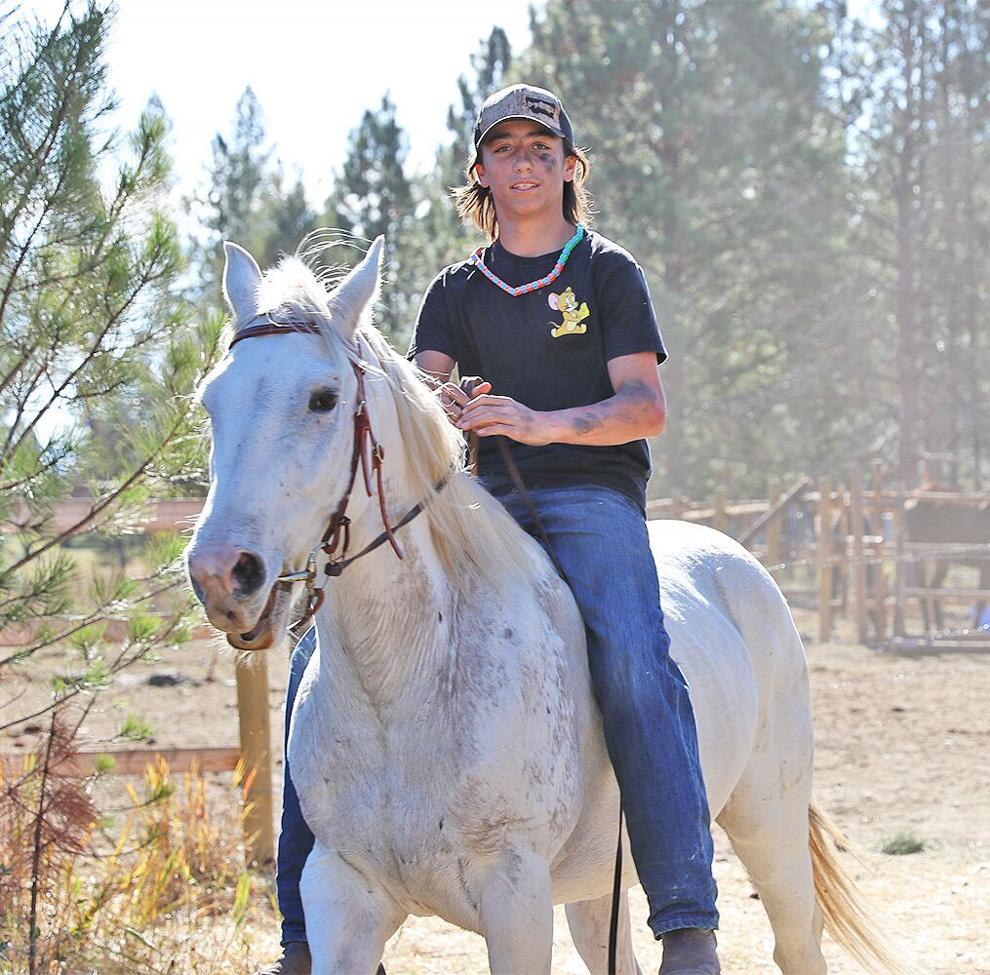 "Thoroughbred horses are a high maintenance breed," said LD Irvine, owner of the four racing horses. He and wife Norrie made the jump into Indian Relay racing after viewing many with son Dillon in tow. To this point they have invested $25,000 on Dancing Boy Express. Like all sports, there is more time spent in practice than competition, and of course the goal of competition is to win. "You just don't go out and ride and run the horses. There is a lot of daily contact with feeding and grooming, and there is practice, almost daily, and then there is a lot of preparation for race day."
LD, along with, Hummingbird Lane neighbors Kevin and Victoria Templer, parents of Tino, are the Dancing Boy Express team trainers. The Templers have mapped out a 1/4-mile practice track on the Hummingbird Lane property owned by Kevin's mother Arlene, southeast of Ronan. The property is just across the lane from LD and wife Norrie's residence. There is a lot of work yet to be done but hopes are it will be completed by spring.
Norrie said one of the reasons she full-heartedly backs the Indian Relay race endeavor is to provide her children with a positive recreational option, especially for Dillon.
"When Dillon was a little guy, we took him to the Kalispell rodeo for the Indian Relay races. He got really excited about the relays and said he wanted to do that too. Then he got Tino and some of his other friends interested too," Norrie said. "This year we made the commitment to invest in the horses and the other resources needed to help fulfill their dreams, now they can make them come true."
Another and more heartfelt reason for getting involved in Indian Relay racing was during LD's tenure as a basketball coach at Two Eagle River School, two members of the Eagles' team committed suicide. That was during a very dark time on the Flathead Reservation when numerous young people committed suicide. 
"When that happened, it was really disastrous for us, especially for Dillon. He couldn't understand it and I didn't have any answers for him. When we started to become involved in horses, he kind of came out of it, came out of his funk," Norrie said. "I don't know what it is about horses but watching Dillon and the boys interacting with horses, it seems that the horses started to trust the kids and the kids started to trust the horses. They became fixated with the horses and were able to establish a bond. They get home after school and start working the horses — feed them, train them, curry brush them, check their teeth. It's not all fun and games. They have friends come over almost every night after school, they really enjoy riding."
The quest for Indian Relay racing began small. 
The Templers own the ponies that provided their son Tino and Dillon an afterschool recreational outlet in grade school. 
"They rode the ponies till their feet started to drag on the ground," Victoria said. 
It was then that the youngsters got interested in Indian Relay racing and practiced on the ponies. They also started to attend Indian Relay races, and eventually with parental help and guidance dove into it big time with the big thoroughbred horses.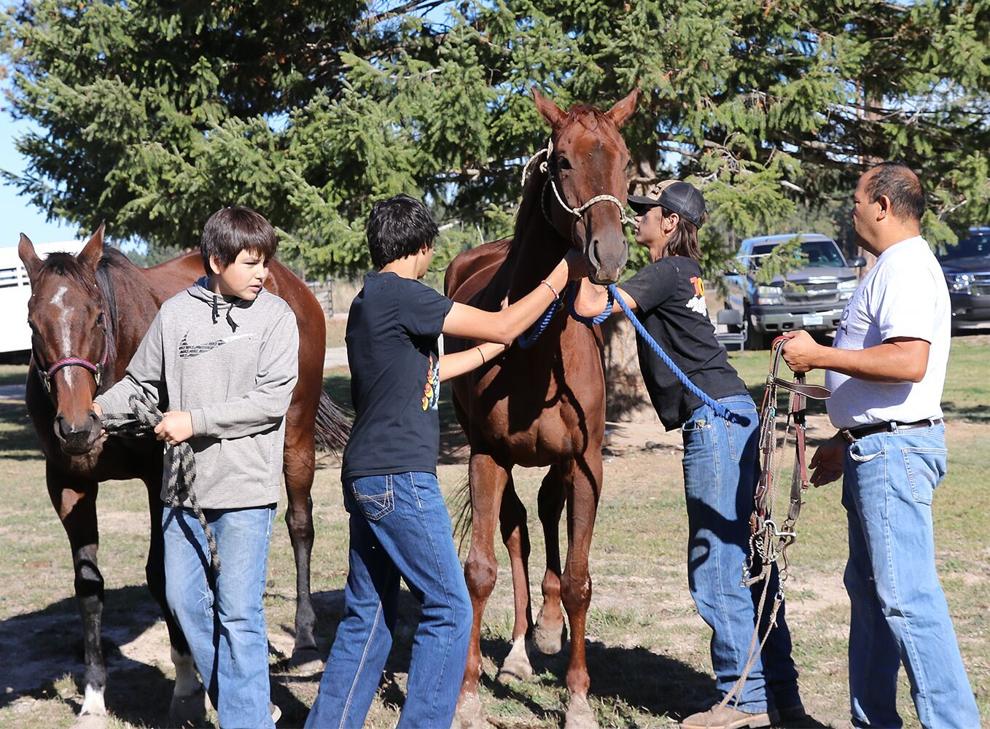 "A couple of years ago we moved up to riding the big horses and we began riding them every day," Dillon said. "I was nervous to begin with because I never knew what might happen while riding but I've gained confidence. A good relationship with the horse makes me more confident when I ride. It's an exciting sport but I am kind of nervous about getting run over by a horse during the dismount-remount."
It was a big step up to thoroughbred riding and racing — without a saddle to boot — for Tino too.
"All my life, I've been involved with horses and for the last three months with these (thoroughbred) horses," Tino said. "I was aware of Indian Relays. I saw them at rodeos and we practiced the relays on our ponies. I was about 10 when we got the ponies."
"I always rode big horses when I was younger," Tino said. "The thoroughbreds are different though; they are a lot more jittery and a lot faster. That makes me a bit more jittery. It's good to bond with a horse, I'm working on that."
The Dancing Boy Express team got their Indian Relay racing baptism a couple of weeks ago at Belcourt, North Dakota at the Chippewa Downs. They were prepared. They placed third in heat two, and fourth in heat four — pretty good for rookies in their inaugural race. 
"We always have a game plan that we set up before races. Holding horses for a rider is really important. A good holder makes it easier for a rider to get a good jump onto the horse," Dillon said. "The day before the races and a few hours before the race starts, we get to use the track for a few hours of practice. We competed against adults who are much bigger and able to get on the horse much better than us kids. Its was something I looked forward to ever since I saw my first race."
"Hopefully we will have the practice track ready by next spring, the start of the season," Tino said. "It will be a long winter of waiting but with the experience at Chippewa Downs and practice we'll be ready to do better the next time."
Both figure they can become role models for younger kids on the Flathead Reservation/
"I hope other kids look up to us and become interested in the sport of it," Dillon said.
"It feels good having my younger cousins and siblings looking up to me," Tino said.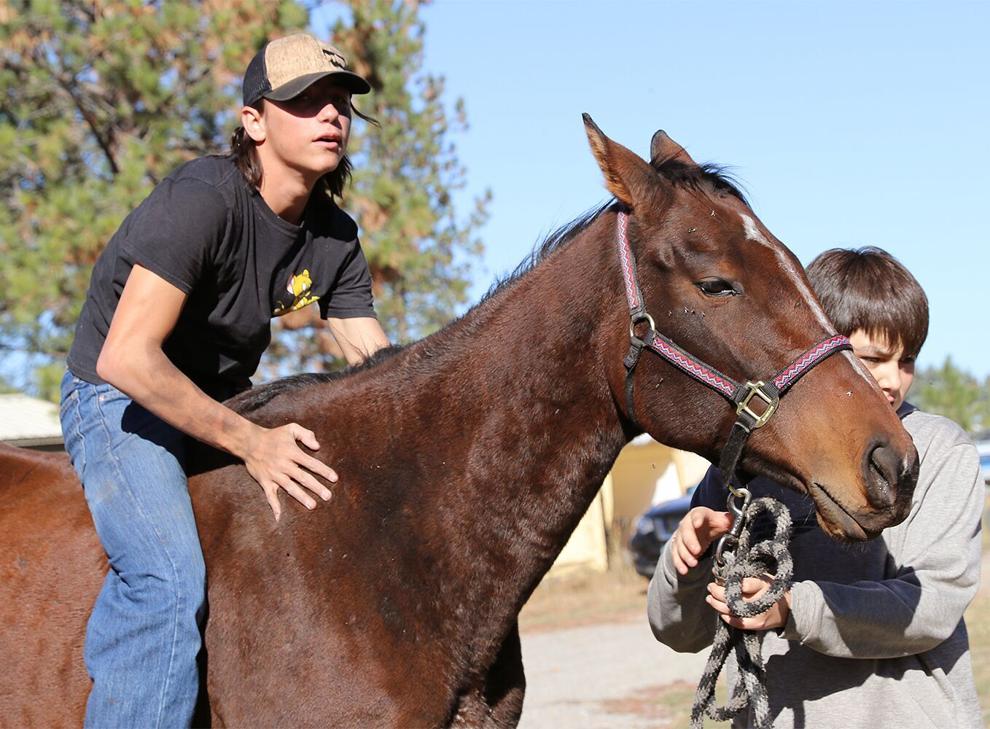 "Being around the horses keeps them busy, keeps them safe. We prefer that than having them hanging around town all the time. I have a huge fear of them getting involved in drugs and alcohol. We live in a small community and that affects all of us on a personal level," Norrie said. "I hope this encourages people look at this and see that it's a positive and healthy activity for young kids to be involved in, not the Indian Relays but involvement with horses. I hope that the little ones and even older ones can be encouraged to participate in other positive activities; their physical and emotional health is not only a positive thing for them but it is for the community too."
Presently, there are five sanctioned Indian Relay races in Montana: Browning, Kalispell, Dodson and two at the Crow Reservation.
There are talks underway to include Indian Relay races in the Professional Bull Riders tour.
The Dancing Boy Express Indian Relay team is seeking sponsors. Presently Eagle Bank is the lone sponsor.
• For more information about Dancing Boy Express, contact LD or Norrie Irvine at (406) 399-1576.