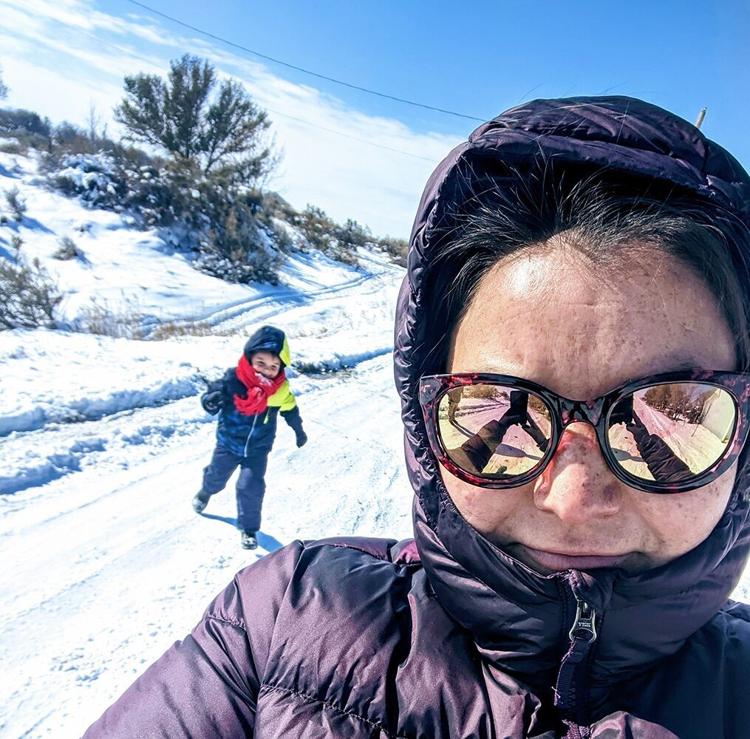 Let's face it: exercising in the winter cold is tough. We want to cozy up with a blanket and hibernate like our friends, the bears. Unlike our fur-coated distant cousins, however, us humans need to stay active and socially connect in all seasons to stay mentally and physically well. With pandemic restrictions keeping us from gathering indoors, going for a cross-country ski with the family or braving a solo run on the crunchy pavement or trail may help us beat those cold-weather blues that come with shorter days and minimal sun. In some cases, this may even lead to Seasonal Affective Disorder (SAD), a depression that can set in at various times of the year. To learn more about this, I asked Shawna Buffalo, CSKT Mental Health Therapist, if she could share more about this disease and if exercise could help relieve some of the symptoms. The following was prepared by Shawna.
Seasonal Affective Disorder (SAD) is a type of depression that is related to changes in seasons. SAD usually begins and ends at about the same time every year. It can start in the fall and continue into the winter months, but it can also occur in the spring and early summer.
SAD symptoms may include:
Feeling depressed most of the day, nearly every day
Losing interest in activities you once enjoyed
Having low energy
Having problems with sleeping
Experiencing changes in your appetite or weight
Feeling sluggish or agitated
Having difficulty concentrating
Feeling hopeless, worthless or guilty
Having frequent thoughts of death or suicide
Symptoms specific to winter-onset SAD, sometimes called winter depression, may include:
Oversleeping
Appetite changes, especially a craving for foods high in carbohydrates
Weight gain
Tiredness or low energy
Symptoms specific to summer-onset seasonal affective disorder, sometimes called summer depression, may include:
Trouble sleeping (insomnia)
Poor appetite
Weight loss
Agitation or anxiety
How to prevent SAD?
Research shows that regular exercise can help prevent SAD and boost your overall mood. Just by exercising 30-60 minutes and getting 20 minutes of exposure to sunlight each day can prevent SAD. Eating regularly and a well-balanced diet, drinking 6-8 glasses of water each day, getting plenty of sleep, taking a vitamin D supplement, limiting alcohol consumption and exercising outside in the daylight can all prevent SAD.
Tips for exercising this winter:
Get outside to walk, jog, run.
Try out the winter outside activities, such as skiing & snowshoeing.
If you work in an office, keep a pair of sneakers and socks under your desk and slip them on for a 10- to 20-minute walk before eating lunch, even if it means abbreviating the time you spend eating.
Exercise videos and indoor exercise equipment such as flexibility bands, a stability ball, free weights, treadmill, elliptical trainer, and stationary bicycle can keep your at-home fitness routine going when you are snowbound. You also can join an exercise class, take a vigorous walk around your local mall, or exercise at home with an online video. Exercising anywhere is key to sustaining a bright outlook.
Share walking, jogging, running, and exercise classes and outings with a buddy. The sociability will make exercising less of a chore and the togetherness can build relationships.
Many people find meeting with a personal fitness trainer helps them stick with their exercise routine. Personal fitness trainers also can help vary workouts to keep them interesting and effective.
If you are less active during the cold months, cutting back on calories can help stabilize your weight until spring breezes tempt you to be more active again.
When to seek professional help?
If exercise and diet alone does not improve your mood and your sadness persists for more than 2 weeks, talk with your doctor. He or she may recommend talk therapy, cognitive behavioral therapy, light therapy, techniques in addition to exercise to manage stress, and/or antidepressant therapy.
Since exercise is so important for our mental health at all times of the year, but especially during winter, I thought I would ask a series of questions about winter exercise to a local group of savvy outdoor enthusiasts: the CSKT Tribal Health Kidney Keepers! I asked them to name two reasons why they brave the cold of winter, to share their favorite winter activity, and what they eat or drink to warm up afterwards.
Please enjoy some of their answers, below.
"I exercise in winter to keep from being sedentary. My activity of choice is hiking or walking trails in our local area. The bears are usually sleeping. To recover from the cold, I usually drink Gatorade or something warm like hot tea." — Rich Janssen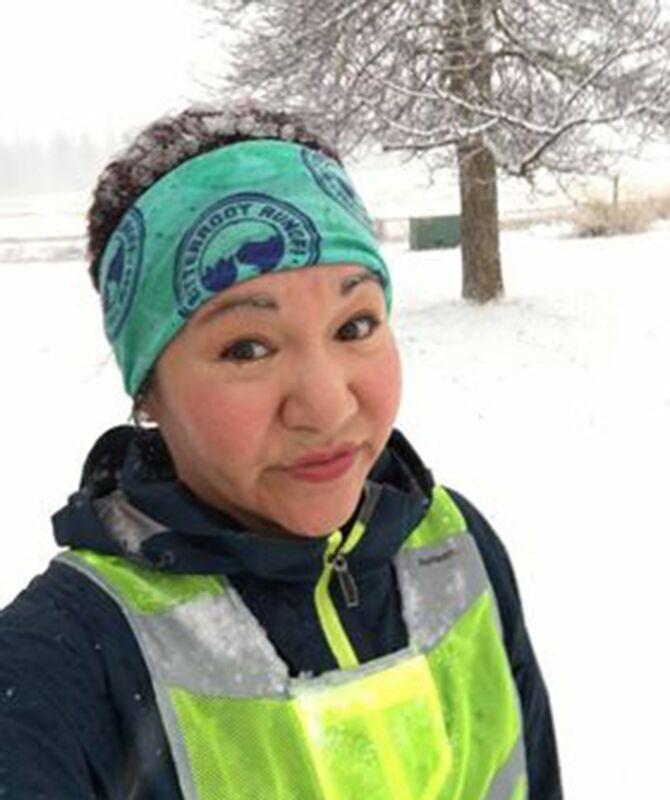 "I love the fresh air on my face (as well as sunshine if there is any!). I like to run, especially in the beautiful winter scenery, which I wouldn't get on a treadmill. As long as I have yaktrax for the snow and ice I'm good! I also love to cross country ski. There is something very magical about it. Being outside in the peace and quiet with glistening snow all around you. It's challenging to keep your balance and so much fun once you can stay up on your feet. Not to mention a great calorie burner! After a winter outing, I l prefer some sort of hot soup or stew, like chicken noodle or beef stew! I love being outdoors in winter doing whatever I can." — Gina Flores
"Even though it's cold, I need to keep my son active—either sledding or building a snowman. It's not my favorite, but I do get out in the cold to go running. During these times I don't want to go to the gym, and my indoor elliptical broke. This year more than ever before I've done more cold outdoor running. Dressing for it is tough though; you want to instinctively dress for cold weather but when you warm up from the exercise, you're too hot. So, you just have to suffer for the first 15 minutes. When I'm done though, the mental health benefits kick in and I feel less stressed. I really like breaking icy mud puddles, especially on one-mile walks with my son. To warm up after playing outside, we like to drink hot tea." — April Charlo
"Exercising in cold weather keeps me warm! I enjoy sledding and snow-shoeing and to warm up, I like to eat soup." — Lynn Grant-Twoteeth
"Just putting it out there—I HATE being cold. But, I do get out in the winter to maintain physical fitness and my wellbeing, and it's fun spending the time outdoors with my daughter. I like snowshoeing but that's only because I don't know how to downhill ski! Can sitting in the hot tub be a favorite winter activity? After spending time in the outdoors during winter, I like to drink coffee, maybe eat some chicken noodle soup." — Chelsea Kleinmeyer
"I never know what I'll encounter in nature. The scenery is beautiful, which provides the opportunity to view wildlife. I love just walking through the winter months. Snowshoeing, downhill skiing, cross country skiing, and ice skating are also fun, but I can always go for a walk. To recover from long walks in the cold, I usually drink lots of water since you can easily dehydrate this time of year. When with friends, we always drink hot tea. When skiing, I like to pack warm noodle soup (pho). It's easy to pack the separate components. One year, the Kidney Keepers did a winter night hike along the river during a full moon. Beautiful." — Brenda Bodnar
For myself, there is nothing better than breathing in the cold, dry air while walking along an isolated snowy path, listening to the quiet sounds of those courageous enough to withstand the winter woods. With a warm cup of tea to follow, and maybe a nap, I can dabble in multiple mammal comforts.
Stay warm out there friends and reach out for help if needed. Whether it's the global pandemic or dipping temperatures that keep us inside, remember that you are not alone.
If you are feeling symptoms of Seasonal Affective Disorder (SAD), call and schedule an appointment with your Primary Care Provider or with Tribal Behavioral Health at 406-745-3525. If you are experiencing suicidal ideation, then go to the nearest local emergency room to seek immediate help.
For those of you looking to exercise in winter, motivation, support, and events are frequently posted on the CSKT Tribal Health Kidney Keepers Facebook page!
This column is a project of Kati Burton, CSKT Guided Care Dietitian. She hopes to bring local voices to the table to discuss food traditions and memories that reconnect us with our food history and help us to eat well.