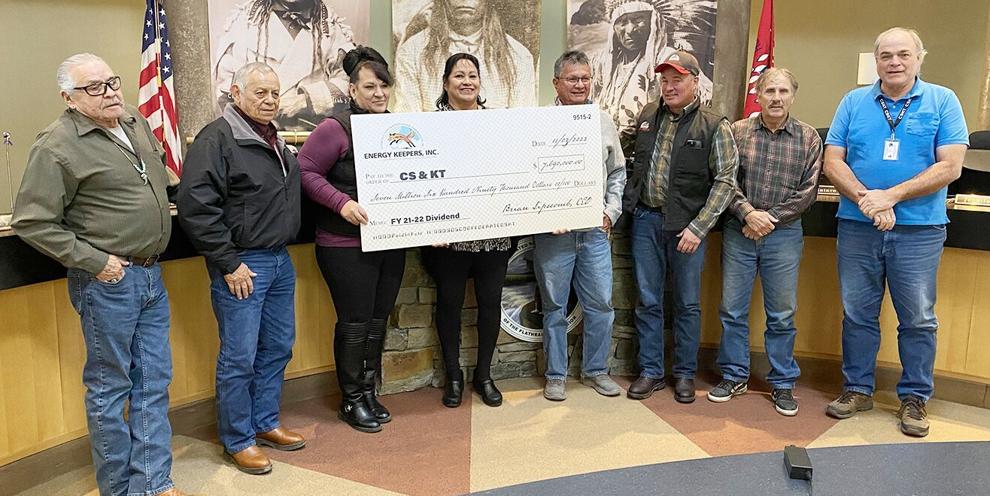 Char-Koosta News 
PABLO — Money is power and for Energy Keepers, Inc. power is money, especially in open market energy power trading. That was one of the bottom-line line items touched on at the EKI's annual report presentation to the Flathead Nation Tribal Council last Thursday. At the presentation EKI Chief Executive Officer Brian Lipscomb was carrying some heavy baggage, a huge mock-up of EKI's $7.7 million dividend check to present to its shareholder — the governing body of the Flathead Nation. 
The $7.7 million is a hefty load compared to last year's $4.295 dividend payment. It was derived from $30.9 million in net revenue from the operation of Séliš Ksanka QÍispé Dam which was a huge uptick from last year's $17.2 million net revenue. It was part of EKI's $31.2 million total cash flow paid to its shareholder this year.
Through the years from 2016 to 2022 EKI revenue flow to its shareholder has been $173.4 million. It is derived from four funding sources: $4 million in loan payments that goes into a Dedicated Trust Fund; $15 million in dividends that goes into the Enterprise Dividend Fund; $132 million in land rental payments that goes into the General Fund; and, $16 million in FERC (Federal Energy Regulatory Commission) payment that goes into the FWIS Mitigation Fund.
The net revenue flow exponential growth is a sign that the Flathead Nation's via EKI's plunge into the energy power provision market back in 2016 is, as they say, paying dividends. A major reason for increased revenues is Energy Market Trading. Lipscomb said this past year EKI was able to capitalize on energy sales in the West, especially in California, where the effects of climate change increased power demand related to warmer temperatures and damaged electrical power transmission lines caused by wildfires. 
Lipscomb said EKI is aiming to grow its energy trading portfolio. "Going forward we intend to grow energy trading. In order to do that we need the capital to support that, without the capital we can't do that," he said. "It's getting more expensive for us to trade; probably three- to five-fold more to generate $4.6 million in financial trading than what it did three years ago. The money we have available to us supports that all this trading."
EKI will continue to monitor power supply and demand analytics to guide its Energy Market Trading.
EKI also met its Reserved Fund target of $50 million that will be used to build or buy revenue producing assets to add to its investment portfolio. Also affecting EKI's investment potential are President Joe Biden's Bipartisan Infrastructure Law and Inflation Reduction Act. The former has from 30 to 50% capital available to be used for building any potential energy related asset; the latter has allocated $21 billion to the Department of Energy's Indian Energy program for loans to tribal entities building energy assets. 
"With the Infrastructure bill and the Inflation Reduction Act we will have tremendous opportunities that weren't there three years ago when we put [the long term] plan together," Lipscomb said.
On the table of consideration are solar power development on CSKT land to connect into the Bonneville Power Administration Hot Springs substation; providing a solar powered grid to power the proposed S&K Gaming casino in Polson; and a small solar power system for the Flathead Indian Irrigation Project Flathead River pumps near Polson, among other such revenue producing assets being considered. 
Through the years EKI has invested in major upgrades to modernize its power-producing facility and is now looking at ways to improve it. 
The investments in upgrading the Séliš Ksanka QÍispé Dam facility lessens the chances of components failure that negatively affects the hydroelectric production — down time is expensive. The Equivalent Forced Outage Rate, as down time is called in the hydro industry, has been reduced and held below industry standards for the last four years. 
The standard cost for an unplanned outage for a generator winding failure is approximately $7 million, a rushed unplanned outage is approximately $6.7 million, and the cost of a planned outage is $3.1 million. Similar unplanned outage costs vs planned outage costs were applicable to step up transformers. All of that would negatively affects the net revenue income as could climate change that has spawned the 20-year drought in the West. However, as earlier noted the latter has increased EKI's Energy Market Trading revenues this year but it remains a threat and will continue to be part of the supply and demand analytics that in part drives EKI's revenue stream.
"I still recall discussions we were having in 2015, after the first two months of owning the dam, all of us at the table shaking our heads wondering what the hell did we do, and here we are," said Vice-Chair Len TwoTeeth, recalling that cold-water plunge with the purchase of Kerr Dam, now called from PPL Montana. "Kudus to you all. We're very fortunate to have the staff we do working for Energy Keepers."