It seems that the mussel prevention effort message is being heard by Montana water recreationalists
Char-Koosta News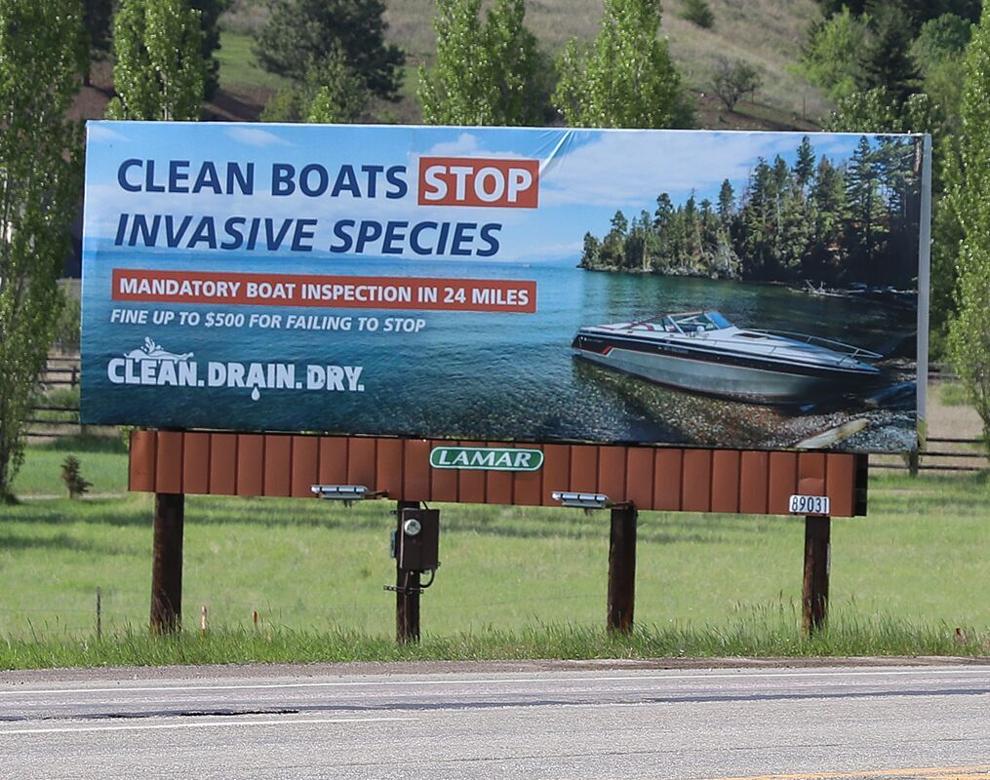 RAVALLI — It looks like it's going to be another record for zebra and/or quagga mussel fouled watercrafts in Montana. Last summer Mussel Buster inspectors throughout the state found a record 35 mussel fouled watercraft. As of Tuesday, June 8, inspectors have found 25 mussel fouled watercraft, and with the vast majority of the summer recreational season ahead, 2021 is a sure bet to set a new but unwanted record. Thus, the importance of the strategically placed inspection stations and inspectors comprise a paramount offensive-defensive bastion in the battle to keep the Columbia River Basin (CRB) the only un-infested river basin in America. 
So far this season, 22,448 inspections have been done at 22 of the 32 state inspection stations. Among the inspections were 4,996 high-risk watercraft that were last launched from states with known aquatic invasive species (AIS) infestations. The lion's share of the mussel fouled watercraft emanate from Midwest Great Lake states of Michigan, Minnesota and Wisconsin, and to a lesser extent the Southwest, especially Arizona.
According to a 2019 Montana Department of Natural Resources and Conservation report, prevention, early detection and rapid response are considered the most cost-efficient weapons in the mussel invasion economic defensive arsenal. Once established, adult invasive mussels can't be eradicated, that would mean damage mitigation and control are the only feasible responses. And that would cost an estimated $234 million a year.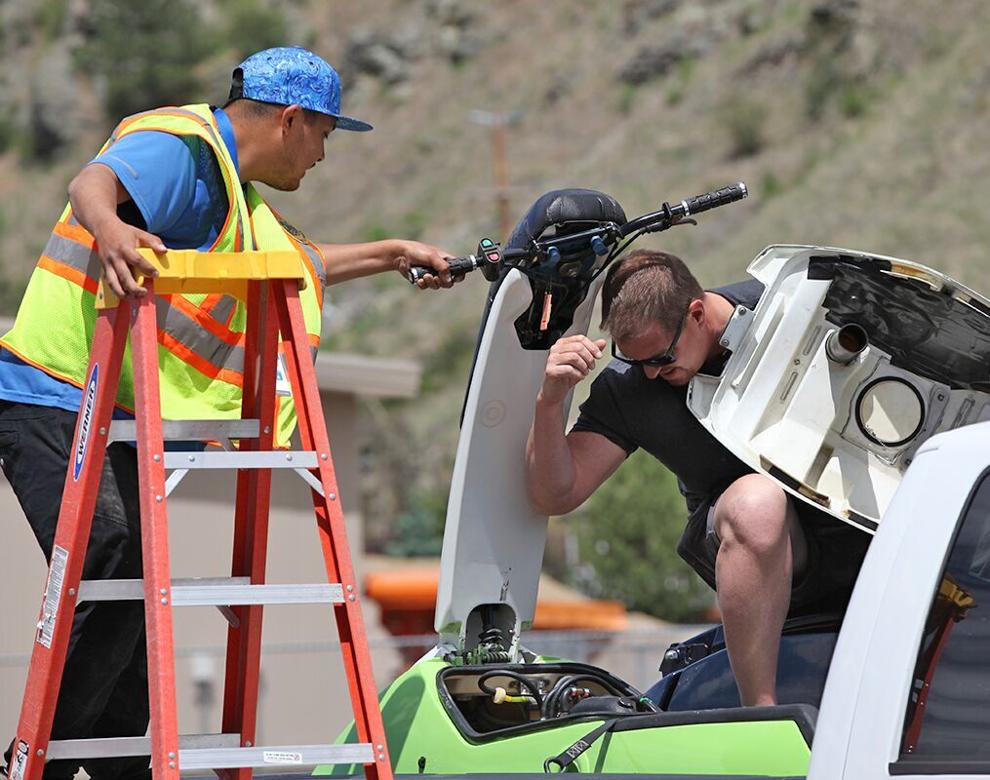 So far, the Flathead Nation inspection stations at Ravalli and Thompson Falls have conducted 3,500 and 698 inspections respectively. The Blackfeet Nation inspection station at Browning has conducted 446 inspections. Both Tribal Nations operate the inspection stations under contracts with the Montana Fish, Wildlife and Parks. The Clearwater Junction inspection station has conducted the most inspections with 6,000 in the books.
The Flathead Nation also funds portion of the inspection station budget it manages. They provide for an on-site fish and game warden — Garrett Fenton — at Ravalli to deal with drive-bys, and potential dicey situations at the inspection station.
In her first season as a watercraft inspector, Matilda Pablo said she is surprised about the people who are getting their watercraft inspected being unaware of the reason for the inspections. Many of them are out of state water recreationalists and commercial haulers. 
"We educate them on why we are doing this," Pablo said. "It really is super important to protect Flathead Lake and the streams from mussels."
However, the aquatic invasive species message is getting out there and more water recreationalists, especially those from Montana are becoming increasingly aware of the negative impacts of a mussel infestation in the state and the CRB.
The Montana Fish, Wildlife and Parks Aquatic Invasive Species Bureau recently erected a huge billboard a couple of miles north of the Wye alerting watercraft recreationalists that the (Ravalli) AIS inspection station is 24 miles ahead and that inspections are mandatory. It also contains the up to $500 penalty for failure to stop at inspection stations.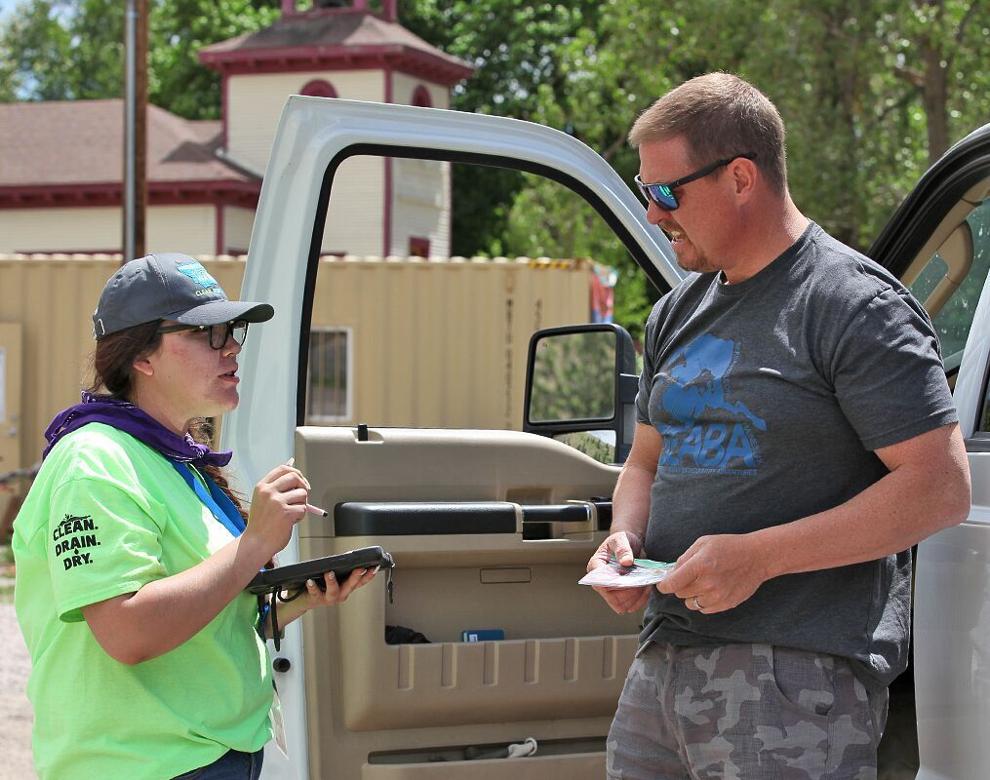 Besides the ever-increasing signage, TV commercials and newspaper ads have proven to be effective. And watercraft businesses have bought into the importance of the AIS prevention message, and help by informing customers of the concerns and provide them with informational handouts, such as the importance of "Clean. Drain. Dry." 
"I am aware of the reason to be inspected, that's why I stop," said Missoula resident John McGreevey while his boat was undergoing an inspection by Pablo and Carlos Hernandez. 
McGreevey said that he is an avid water recreationalist and has seen the TV and newspaper advertisements as well as the new signage just north of the Wye. He said he doesn't mind having to stop even though his boat has been inspected each time he heads north to Flathead Lake. "I like having these stations; they have been finding mussels at the Anaconda station. Mainly where they (mussel fouled watercraft) come from is out of state. The more information that is out there, the better. I have been in boat shops, and the folks there are spreading the message."
Former Ronan resident, Donnie Olsson, who now lives in Bozeman, and describes himself as a conservationist, said he is well aware of the reason for the AIS inspections.
"I do a lot of reading and know mussels would be a real threat to the water," Olsson said. "I am an advocate of doing the best we can to protect the Montana waterways."
One way to further ensure the comprehensive inspections is the ability to quickly respond to drive-bys. 
"We have had pretty steady traffic today," said CSKT Tribal Fish and Game Warden Garrett Fenton Saturday afternoon at the Ravalli inspection station. "We've had one drive-by today."
Fenton said, he gets a smorgasbord of reasons from drive-bys, such as "I forgot" or those who claimed they were unaware that their stand-up paddle boards had to be inspected.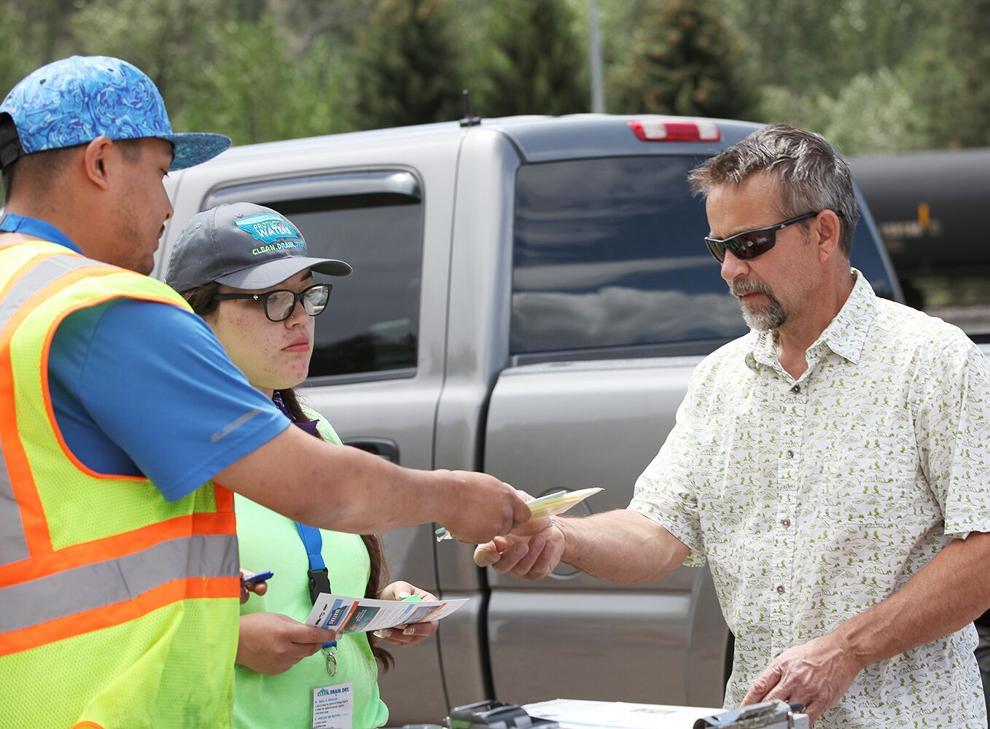 "Most drive-by stops have been of people who were already inspected at another station," Fenton said. "They say they were already inspected at another station and were unaware that they have to stop at every inspection station. Some say they are going to Glacier Park and plan to get inspected there. I inform them that it is mandatory to stop at every inspection station. Most times, I give them a citation."
A fine of up to $500 can result from a court appearance on a drive-by citation. 
Fenton said, the summer leisure- and big-boat recreation traffic will be picking up now that the summer recreation season — Memorial Day to Labor Day — shifts into overdrive.
Fenton agreed that Montanans are getting the AIS prevention message in the fact that only one of the drive-bys so far this year has been a Montana resident.