Char-Koosta News 
PABLO — The key message from the drive-through flu vaccination event last Wednesday at Salish Kootenai College was the importance of an early influenza vaccination. The reason is the dark shadow of COVID-19 hanging over everything — its darkest shade hovers over the American healthcare system and its capacity to handle an infestation outbreak of both diseases this fall and winter, the long-acknowledged flu season. This year the flu season runs from Oct. 1 through March or April. Last year approximately 400,000 people were hospitalized due to the flu.
National COVID-19 infection spikes this year have proven that COVID-19 could severally compromise the public healthcare delivery system and alone could do that again. The severe flu outbreak would only exacerbate the problem. 
Montana is presently experiencing a COVID-19 spike to the heights heretofore not experienced in the state, after seeming like an island of calm in the turbulent coronavirus storm in America. 
That early flu vaccination message has been heard loud and clear by local healthcare officials and providers at the Confederated Salish and Kootenai Tribes Tribal Health Department and the Lake County Public Health Department.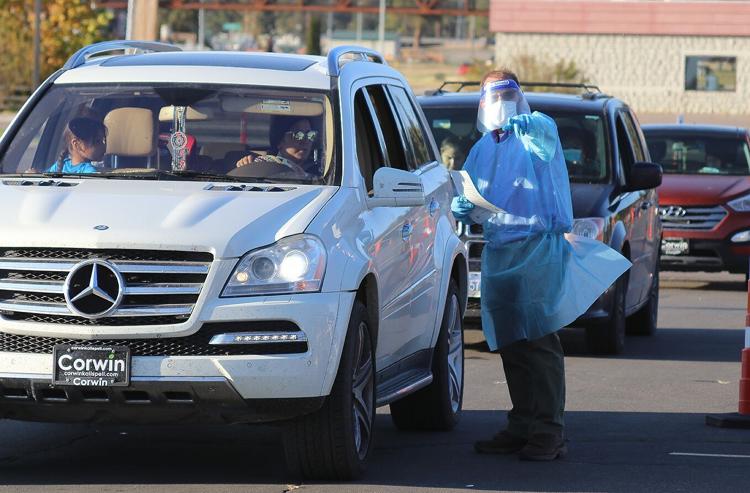 It also appears the people at the drive-through event at the Dr. Joe McDonald Health and Fitness Center parking lot heard that clarion call. The CSKT THD spearheaded the event and administered a tad more than 600 shots, and another 110 were administered by LCPHD. 
"It's always important to get a flu shot but this year it's really, really important," said event coordinator Kriss Murphy, THD Community Health nurse. "The CDC (Centers for Disease Control and Prevention) recommends that people get a flu shot as soon as possible. The state (Department of Public Health and Human Services/DPHHS) is also recommending early vaccination to decrease the flu cases."
LCPHD Health Services Director Emily Colomeda agreed about the importance getting an early flu shot, regardless of age, in order to prevent the scenario of having the flu and COVID-19 at the same time.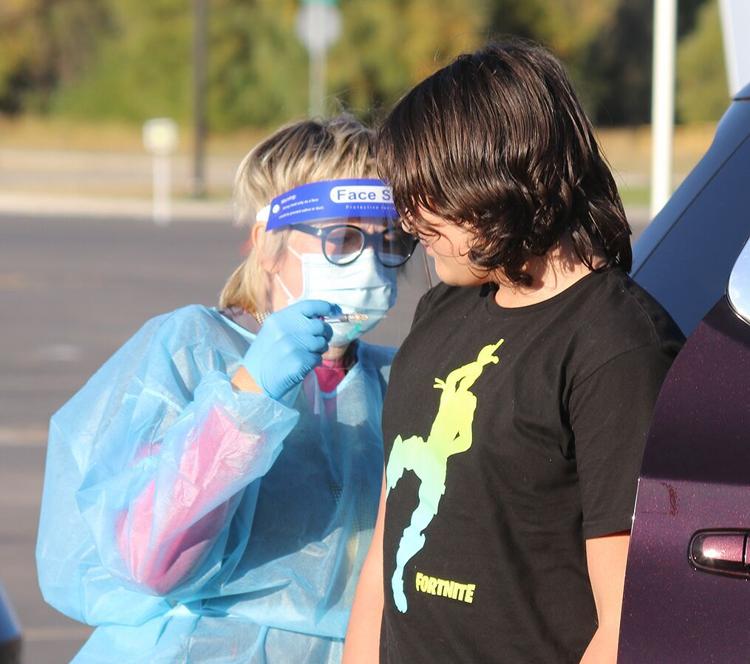 On a related component of flu, Colomeda said that it's a bit difficult to get an in-time gauge on the percentage of Lake County and Flathead Reservation residents that have the gotten a flu shot. People not only get flu shots at medical clinics but also at private pharmacies located in businesses. That information is sent directly to the Montana DPHHS that tabulates it and then makes that information public; as a result, there is an inherent time lag on that information reaching county and Indian reservation health departments.
"We are always behind, but we get the flu numbers out quickly as possible," Colomeda said, adding that the flu numbers assist healthcare departments and providers to get a clear picture of where the hot spots are, so they can better prepare to address them. She said it takes about two weeks for the vaccine to build up antibodies to fight the flu virus, and that some people experience immediate negative reactions as their body becomes acclimated to the vaccine. 
The CDC and Montana DPHHS are concerned about the potential of double-barrel influenza and COVID-19 assault this fall and winter. Each year there are many cases of flu that require hospitalizations and many deaths are flu caused; vaccinations have proven effective in reducing the risk of flu, hospitalizations and death. There presently isn't a COVID-19 vaccine, however flu vaccines have been around for a long time, and they are dancing to the lead of ever-changing influenza mutations.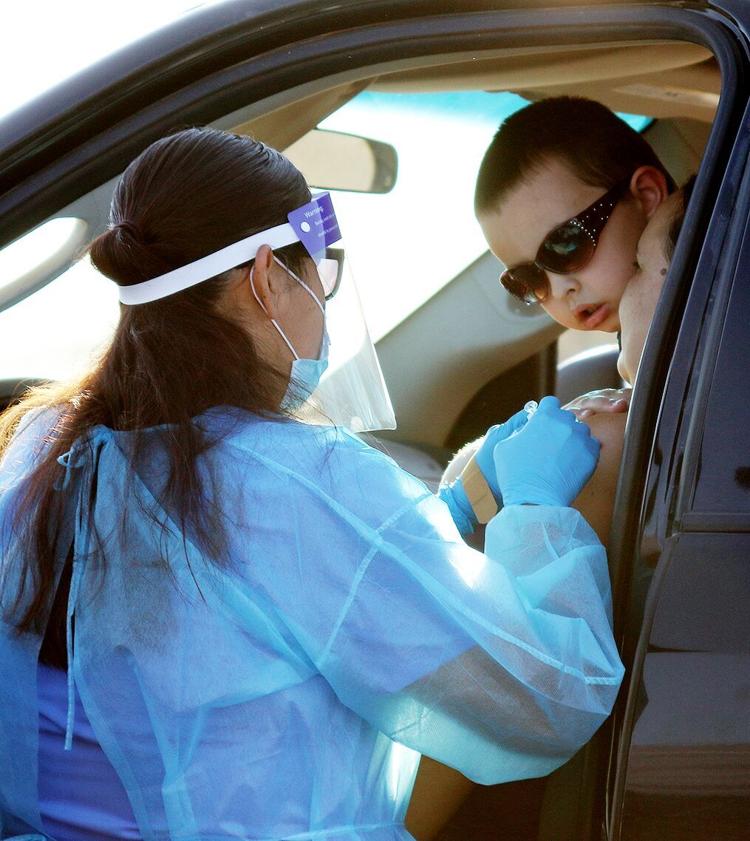 This year an A strain predicted to dominate the early part of the season and a B strain developing near the end of the season. According to the CDC, the B strain is less complicated than the A strain and doesn't change, or mutate, as much. Type B flu only affects humans and doesn't cause pandemics, although it is seen as more dangerous to young children. Type A has many variations, mutates all the time, and can infect animals that can then pass it to humans — wild birds are common hosts, and is responsible for flu pandemics. 
"It's really important that kids get a flu shot," Murphy said. "Every year kids die from the flu."
The message coming out of the White House is that a COVID-19 vaccine would be available by the end of the year if not earlier. However, vaccine researchers throw shade on that sunny projection. Inovio researchers at a San Diego pharmaceutical lab that are rapidly working to speed up the development of a vaccine, under a federal contract, doubt that sunny projection. "The whole process can take multiple, multiple months, if not years," said Kate Broderick, the senior vice president of Research and Development at Inovio.
The elderly, people with pre-existing chronic medical conditions, compromised immune systems, racial and ethnic minority groups, people with disabilities, pregnant and breastfeeding women, those developmental and behavioral disorders, and those with drug and substance abuse disorders are among those most at risk for developing the disease.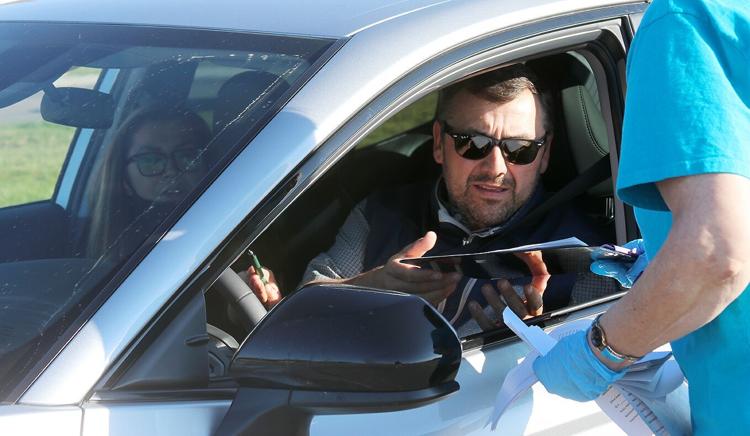 Murphey said social distancing is the most important COVID-19 precaution and wearing a mask is as important when not able to social distance; those together hand washing are the three components of the precautions recommended by the CDC. They need to become second nature until an effective vaccine is available. 
"You have to take care of yourself and others by taking the recommended precautions," Murphy said.
The other at-risk component of COVID-19 is healthcare providers.
"The risks are part of the job of a medical person. We follow CDC guidelines, wear personal protective equipment to help ensure our safety. Every day we re-evaluate what we are doing," Murphy said, adding that the summer's COVID-19 testing on the Flathead Reservation were a great way to test emergency response training and so was the drive-through flu vaccination event. An exit evaluation form was handed out to the participants to gauge their thoughts on the drive-through flu vaccination event. "We will evaluate how this went and get a better idea on how this works and how to improve it."
Murphy said the involvement of the LCPHD was crucial because its station vaccinated the non-tribal public, and because of the importance of the two health departments working together to address public health issues that affect all. Colomeda agreed.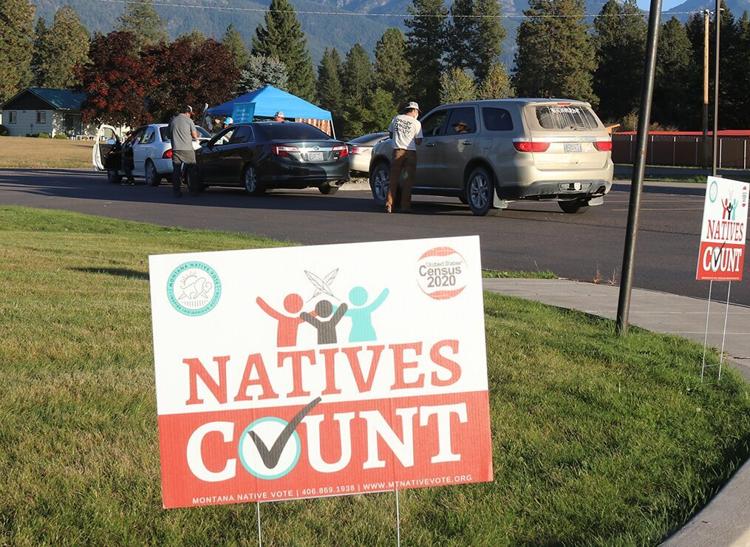 "We are really happy to be here with Tribal Health providing flu vaccinations," Colomeda said. "I am presently surprised by the turnout."
The 2020 Census takers added 110 tribal people to the Census at their station near the Arlee-Charlo Theater.
There were traffic ebbs and flows throughout the day of the event that began at 10 a.m. and closed down at 7 p.m. with high traffic flows at the opening, then around noon and again after the workday and school day ended.