Char-Koosta News 
PABLO — A full slate of Democrat candidates seeking national legislative offices, and state legislative and administrative offices came to Salish Kootenai College Saturday to the candidate rally held in the Dr. Joe McDonald Health and Activities Center parking lot. The drive-in rally with people remaining in their vehicles to watch and hear the candidates on the big screen was due to COVID-19 precautions. 
The Democrat candidates on hand and on stage included: Lisa Povlack, vying for the HD-93 seat; Gerry Browning, for the HD-12 seat; Melissa Romano, for Supt. of the Office of Public Instruction; Shane Morigeau, for State Auditor; Raph Graybill, for Attorney General; Bryce Bennet for Secretary of State; Lt. Gov. Mike Cooney and Casey Schreiner, for Governor and Lt. Gov. respectively; Kathleen Williams, for House of Representatives by video; and Gov. Steve Bullock who is seeking the U.S. Senate seat.
The candidates' main message was that they recognize tribal sovereignty, and have and will work with the Tribal Nations in Montana on a government-to-government level. They were all in opposition to the Republican attempts to scuttle the Affordable Care Act, that, among other things, would eliminate insurance coverage of pre-existing health conditions, and Medicaid expansion in the state that covers approximately 90,000 Montanans.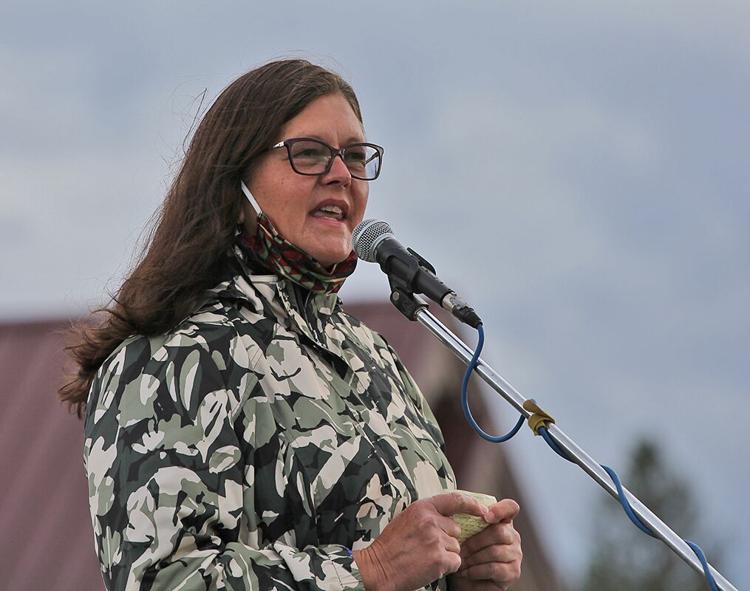 Flathead Nation Tribal Council Chairwoman Shelly Fyant welcomed the rally candidates and attendees then alluded to a recent pair of Yellowstone County District Court rulings that overturned two Republican backed legislative acts that negatively impacted the ability of American Indians on Indian reservations in Montana to vote. They also adversely affect all Montana voters as well. 
"There isn't anything that's going to stop the CSKT from getting out the vote," she said, getting an enthusiastic response to the struck down voter suppression efforts. "The voter suppression efforts that limit the number of ballots people can collect, to six ballots, doesn't work in Indian Country."
Yellowstone County District Court Jessica Fehr recently struck down the Ballot Interference Prevention Act of 2018 that limits people from collecting more than six ballots to deliver to election offices, saying that it infringes on the fundamental right to vote and violates due process rights.  
Also, Yellowstone County District Judge Donald Harris ruled that all mail-in ballots postmarked on or before the November 3 election have to be counted. Forty-five of the state's 56 counties have opted to conduct mail-in voting. He also ruled that the six-ballot collection limit law was unconstitutional.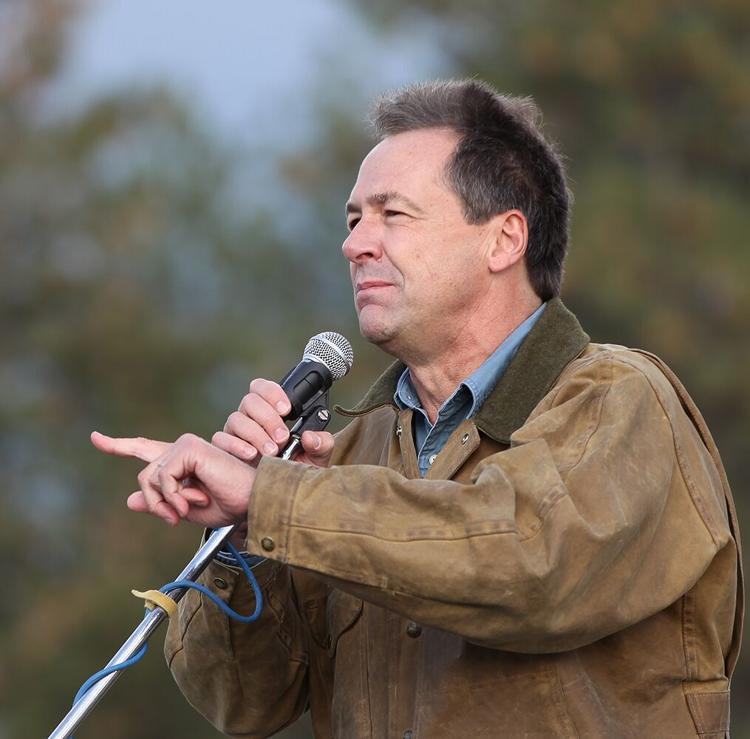 "I need your prayers and I need your votes. Your votes are your voice," Gov. Bullock said. "It's been a gift over the last eight years as governor and four years as attorney general before that to work government-to-government with not only the government of the Salish and Kootenai Tribes but the people of them. We made the state the first in the nation to invest in language preservation because preserving the language is preserving culture and identity."
Bullock lauded his administration's accomplishments and investments: in tribal college apprenticeship programs that began with SKC, and were the first such in the nation; healthcare that eases the worry of going without; record investments in education; and kept public land in public hands that all Montanans own equally.
"Elections have consequences… There is really a choice here — Indian Country should never be an afterthought. Indian Country should be front and center along the way," Bullock said. "I'm running against a guy named Steve Daines. I believe we could be represented better. While I fought for healthcare for you, he fought and took money from insurance companies to strip away coverage for pre-existing conditions, strip away Medicaid Expansion, to increase the cost of prescription drugs… Washington doesn't work for Montana. Washington should be working for you not the corporations." 
U.S. House of Representatives candidate Kathleen Williams could not attend the rally because she was in a candidate debate with Republican state Auditor Matt Rosendale, whom she called a bench warmer who has not performed. 
In her pre-recorded video shown on the big screen, Williams promised to address climate change, the justice system, healthcare and keep public lands in public hands.
"I look forward to being your champion on these and other important issues," Williams said. "Rosendale wants to take away our healthcare. He voted against the Little Shell recognition then had the gall to show up at the recognition ceremony."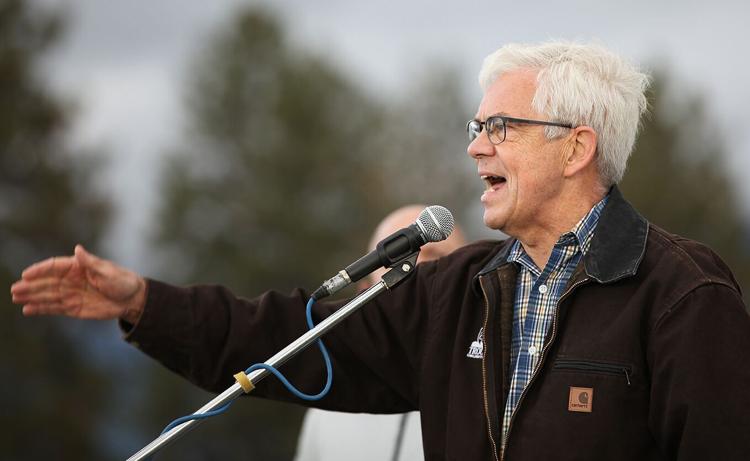 Governor candidate Lt. Gov. Mike Cooney said his main message was that Montana and its elections were not for sale, and would work hard for the votes needed to send Republican candidate, current U.S. House Rep. Greg Gianforte back home to New Jersey.
Cooney promised to continue to protect public lands as well as ACA healthcare citing Medicaid Expansion that covers 10 percent of the state's population.
"Gianforte is challenging the Affordable Care Act in the U.S. Supreme Court. He wants to see it go away," Cooney said, adding, "Our education system is the greatest in the world. Our public education is not for sale. I will fight for Pre-Kindergarten education throughout Montana."
Cooney also said he has never supported a sales tax and never will. His opponent has said Cooney favors a sales tax.
Secretary of State candidate Bryce Bennet said he would listen to all Montanans' concerns, and would continue to fight any voter suppression efforts.
"I stood alongside American Indian representatives to battle voter suppression," Bennet, a state legislator, said. "We fought back against voter suppression and we won. Attacks on voter rights is an attack on our Democracy."
Attorney General candidate Raph Graybill said he would fight any efforts to take away insurance coverage of pre-existing conditions. Graybill is running against former Republican Speaker of the House Austin Knudsen.
"My opponent's whole reason for running to be attorney general is to take away your healthcare," Graybill said. "I need your help. They have big pharma, I have you."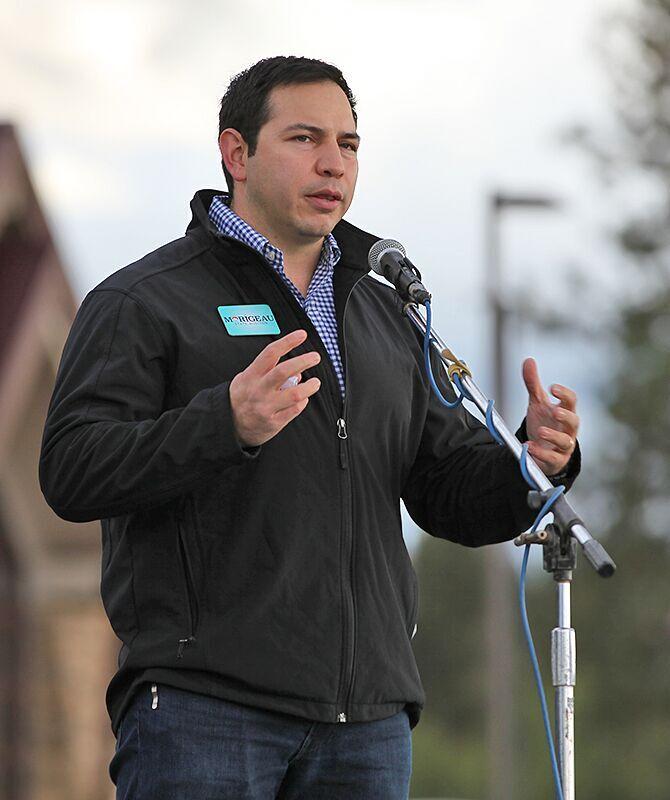 Auditor candidate Shane Morigeau, a CSKT tribal member, said there were way too many people in the Montana Legislature that were disconnected from the reality of "our communities."
The two-term Montana House Representative lauded his legislative accomplishment of getting nine of his bills passed. "I passed some great things because of all the people here," he said, adding that he would work for better healthcare for Native people that includes home healthcare.
Superintendent of Public Instruction Melissa Romano is running against incumbent Elsie Arntzen, whom she narrowly lost to in 2016. Romano is a public-school teacher. 
"I know what goes on in our public schools. Education is my life and my passion," Romano said. "I will be a vocal advocate for public education and that has not happened the last three years. Now more than ever we need a leader that shows up every day and be a strong advocate of public institutions."  
She said Arntzen didn't show up for legislative hearings related to education issues and advocated for public funding for parochial schools. A recent U.S. Supreme Court decision on a case in Montana ruled that public funds could be used for such schools.
"I'm committed to this race and will rely on you and everyone who believes in public education," Romano said. "We're going to take this seat back."
Area candidates, Lisa Povlack, vying for the HD-93 seat, and Gerry Browning, seeking the HD-12 seat said they understand issues important for the Flathead Nation and would support, and would appreciate the tribal votes.