Char-Koosta News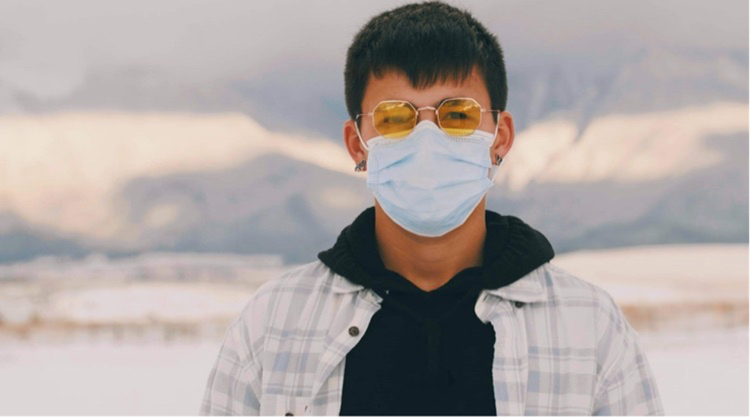 FLATHEAD RESERVATION — Davonne Curley, 14, has joined the ever-growing list of young Confederated Salish and Kootenai Tribal member musical performers to help spread the COVID-19 message to his peers on the importance of taking precautions that help in limiting the spread of the deadly virus. 
As of this week, more than 300,000 people in America have died due to complications of the corona virus. Recent daily deaths have topped 3,000 a day, and the average has been more than 2,500 a day. 
The precautions of social distancing, wearing a mask and washing hands have proven to blunt the rate of infection, and that is the foundation of the Confederated Salish and Kootenai Tribes COVID Youth Community Care and Awareness Campaign with the Tribal Education Department leading the effort.
"I believe we need to take every precaution we can, from wearing a mask, staying 6 feet away when out in public areas, and sanitizing before and after going out," Curley said. "If we take these precautions it will better our chances of protecting our elders and young children from the corona virus."
American Indians and other people of color — Blacks and Hispanics — have been the hardest hit by the coronavirus. 
According the Centers for Disease Control and Prevention, American Indians and Alaska Natives are 5.3 times more likely than Caucasians to be hospitalized due to COVID-19 — the largest disparity for any racial or ethnic group.
There are myriad reasons why American Indians are particularly susceptible to the virus, including social inequities and the disproportionately high rates of preexisting conditions, such as diabetes, heart disease, asthma and obesity, that put them at increased risk of severe illness.
Many American Indians also live in multigenerational homes, with large families, which can make social distancing a challenge.
Access to quality health care is also an issue. The Indian Health Service, the federal agency that provides health services for many American Indians and Alaska Natives, is chronically underfunded and under-resourced. In 2018, most of its hospitals were operating with fewer than 50 total beds, while the agency had about 20 percent fewer doctors than what is needed to adequately address the healthcare issues of American Indians. 
"As Native Americans I feel like we should be doing all that we can to protect our elders and our future generations from this pandemic so our traditions and knowledge can remain strong and can be passed down," Curley said. "It means a lot to me to be a part of the CSKT COVID-19 Youth and Community Awareness Campaign because I believe that if we are going to make changes and spread awareness for COVID everyone including younger people have to do their part in keeping everyone safe." 
To view Davonne's performance, access these websites. 
FaceBook: https://www.facebook.com/davonne.curley
SnapChat: https://wwwsnapchat.com/add/davonnewebs2019
The COVID-19 awareness message for Flathead Reservation youth is built on themes such as #ProtectOurElders and #WalkTogetherWell in order to inspire youth to carry the themes to peers, involve family, and positively impact health and safety in the tribal community. The hashtags with the video are #ProtectOurElders, #fixyourmask, #csktcovidchallenge, #csktchallenge, and #walktogetherwell. Youth "Challengers" will be asked to follow the artist and, in their post, include the hashtags, as shown above, in order to keep message branding and momentum.