Dupuis is the first tribal person to earn the prestigious award
Char-Koosta News 
PABLO — For the first time in its 11-year history, a tribal member was named a 2019 Montana Forestry Pioneer. Ken Dupuis, 84, a member of the Confederated Salish and Kootenai Tribes, received the award in October 2019, but came to Tribal Council to receive it in person amongst friends and family.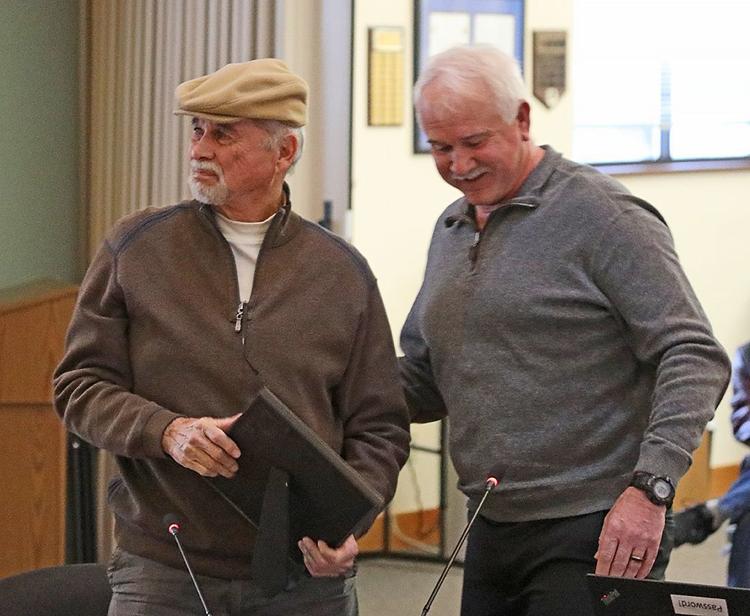 Montana Forestry Pioneer Committee member Bob Sandman presented the award to Dupuis. Sandman lauded Dupuis leadership, vision, and experience. Fellow forester Tony Harwood nominated Dupuis for his history and involvement in tribal forestry dating back to 1957.
The State Forester initiated recognition of Forestry Pioneers in 2009. These awards recognize individuals who, through their personal and/or professional commitment, have furthered the cause of forestry, forest management, and/or natural resource management in Montana. Forestry Pioneers are individuals who have made significant contributions to the advancement of the forestry profession in Montana.
Sandman, also a Forestry Pioneer, said up to 30 individuals are nominated every year. Once they go through a vetting process that examines the nominee's history and impact on the field of Montana forestry, they are then voted on by the committee. If eight or more of the members vote in favor of the nominee, they are awarded as a pioneer. If they nominee isn't voted in, they are removed from the list after three years.
Not many tribal persons from the Montana have been nominated, said Sandman.
In Dupuis case, Sandman said the committee found that throughout his career as forester he exhibited clear characteristics of vision, leadership, and mentorship. These traits weren't recognized by only tribal departments and government; Sandman said that Dupuis was uniquely recognized as a leader by other agencies inside and outside the tribes.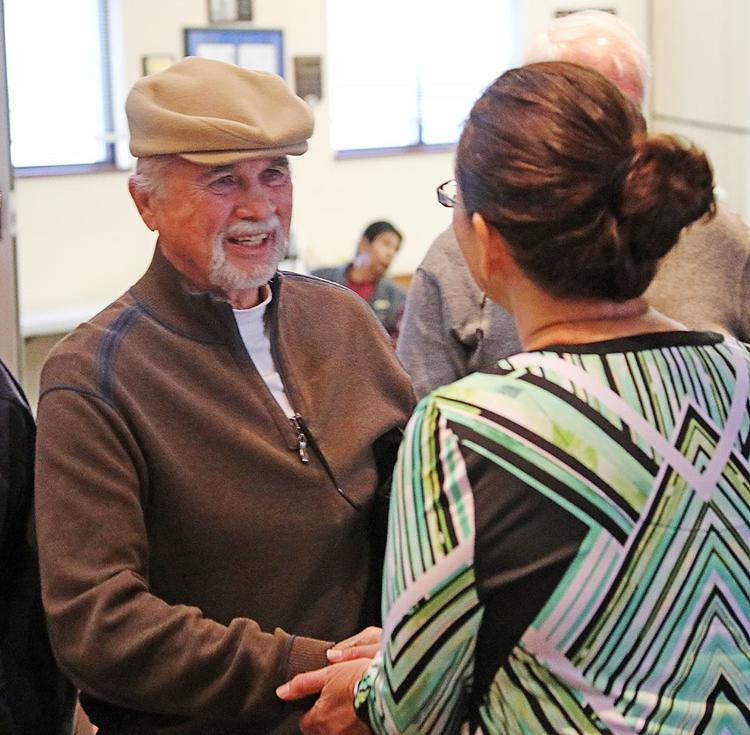 The Dixon High School graduate earned a bachelor's degree from the University of Montana's Forestry Program in 1957. Sandman said that many people who worked forestry jobs didn't often pursue degrees. Later, Dupuis encouraged his four children to pursue higher education.
Dupuis' 36-year career saw him work for the Bureau of Indian Affairs as a Forester on the Flathead, Yakima and Fort Apache Indian Reservations until his retirement in 1993. During Thursday's Council meeting, Chairwoman Shelly Fyant said she remembered Dupuis' leadership during the late '70s when she worked in the forestry building in Ronan in what is now an Ace Hardware store.
Though Dupuis was officially given the Pioneer award in October, he wasn't able to attend. Sandman teased Dupuis, saying his son Doug told them he had fallen out of a tree while raking leaves. Ronan Representative Carole Lankford Depoe attended the October ceremony and requested that the award be given to Dupuis in Council Chambers.
Dupuis humbly accepted the award. "I want to thank the Council for this opportunity," said Dupuis. "An award like this just doesn't go to one person. This is an organizational award for those who worked for you at the time and I was very fortunate in my time with the Bureau of Indian Affairs working here in Flathead that we had some exceptional and motivated people working in the Tribal Forestry Department and in the Bureau of Indian Affairs. There was no question at the time that the forestry program was one of the best and was acknowledged by the Bureau of Indian Affairs and tribal country that it was the best in the Bureau. I think everyone on the staff should be proud of that."
Fyant said, "You're very deserving of this award and we're all proud of you. To earn a forestry degree in the fifties as a tribal member is so significant in of itself."
St. Ignatius Representative Fred Matt agreed. "I hope you really absorb our appreciation and what that means to us here as a tribe."
Sandman said it was a great honor to recognize a tribal person as a forestry pioneer and hopes more tribal members are recognized for their contributions to Montana's forests.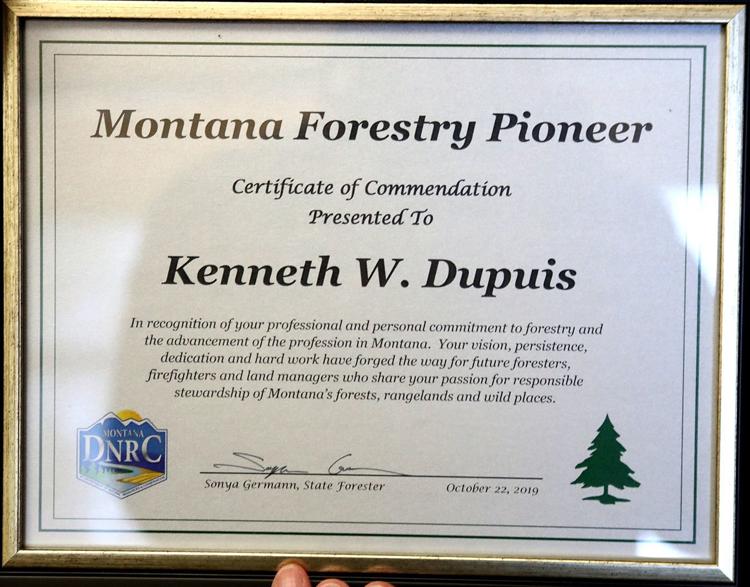 In addition to the award, Dupuis' name is engraved on a brick and placed around the flagpole of the new entrance to the Montana Forestry Division Headquarters with another 100 pioneer names.
According to the Montana Department of Natural Resources & Conservation website, Dupuis, provided leadership in building a comprehensive, science-based forest and fire management program for the Confederated Salish and Kootenai Tribes at Flathead Agency. He increased the forestry budget and instilled a high-level of professional standards for a state-of-the art program in natural and cultural resource stewardship that is recognized as a model in 'Indian Country' and the State of Montana. He provided leadership for environmental protection, forest planning, application of silviculture practices, training and education, forest research, wildland fire suppression and prescribed fire use. A significant achievement was the development and maintenance of interagency cooperation with neighboring agencies as demonstrated by full partnership with the Montana Department of Natural Resources and Conservation land management of School Trust Lands and the creation and administration of the 1981 BIA/CSKT/State of Montana Fire Protection Agreement on the Flathead Indian Reservation. Ken also instilled a keen sense of interagency cooperation with interagency fire suppression training, multi-jurisdictional large-fire management, and full personnel participation on Northern Rockies Incident Management Teams."
He was selected as the Forest Manager for the Flathead Indian Agency in 1977. He led the forest management program until his retirement.
He has been awarded a number of awards including the Intertribal Timber Council 1991 'Earl Wilcox Award' for significant achievement on behalf of Indian people and their forests.
For more information, go to http://dnrc.mt.gov/divisions/forestry/forestry-pioneers