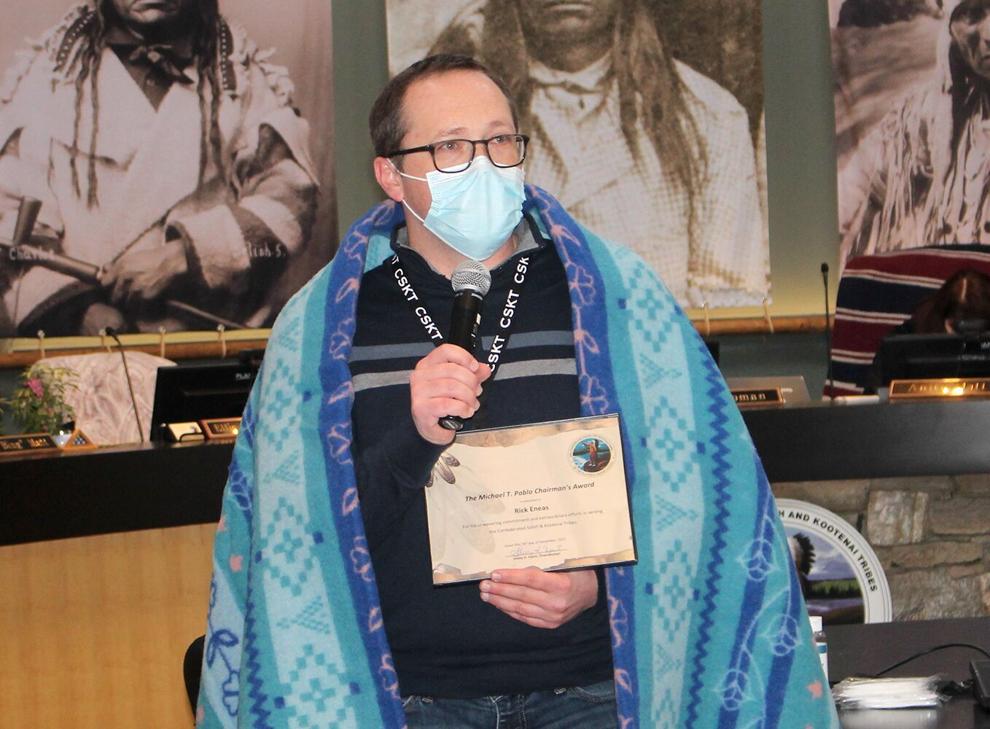 Char-Koosta News 
PABLO — On Tuesday, December 28th, Tribal Council Chairwoman Shelly Fyant and the Tribal Council presented CSKT Executive Officer Rick Eneas with the Michael T. Pablo Chairman's Award. 
Eneas has been chosen to be honored for his continuous commitment and remarkable efforts in assisting the Confederate and Salish Kootenai Tribes.
"I've always admired Enea's professionalism, hard work, and bold ideas," remarked Fyant as Rick accepted the award and Pendleton blanket. "He has done everything he can to empower his people."
Eneas said he was grateful for the opportunity to work with such amazing people, and he is deeply honored to receive the Chairman's Award. 
"We have a long way to go, but I credit the wonderful work we've done to the leadership of the council, the dedication of the staff, and the resilience of our people," Eneas said. "I look forward to serving well into the future, and this is greatly appreciated."
We couldn't have done it without Rick, said Chairwoman Fyant, reflecting on the unexpected problems that the Tribal Council faced after the COVID-19 outbreak. 
As Tribal Council and staff shook Eneas' hand, Kootenai Culture Committee Director Vernon Finley, sang an honor song in Eneas' honor.