Char-Koosta News 
ARLEE — The Arlee walking path in the bowl created by gravel excavation many, many years ago is a diamond in the rough. It is located next to the Arlee Community Center on Powwow Road and the walking path is an ad hoc addition to the fitness center. 
The Arlee Community Center, as the name implies, is also used for many public activities that includes wakes, funerals, and feeds. A staple of the feeds is dry meat, and heretofore there wasn't a convenient location to do that like there is at the Séliš-Ql̓ispé Culture Committee Longhouse. 
Now that has changed thanks to a group of volunteers, and fitness center manager Carlin Matt who constructed two dry meat fire pit smokers on each end of a small covered pavilion that was built by Terry Tanner and his NRD crew awhile back. The volunteers include Phadey Schwab, Curtis Morigeau, David Burland and Ron Couture.
"We have talked about this after Terry built that," Morigeau said, adding that the Salish Kootenai College heavy equipment program cleared an entrance way and filled it with gravel and cleared and leveled the area. 
While Morigeau, Schwab and Burland were working on the cement foundation of the fire pit, Couture was busy raking pine needles and mowed grasses in the walking path bowl. Previously they had used heavy duty string mowers to clear the area of weeds and grasses.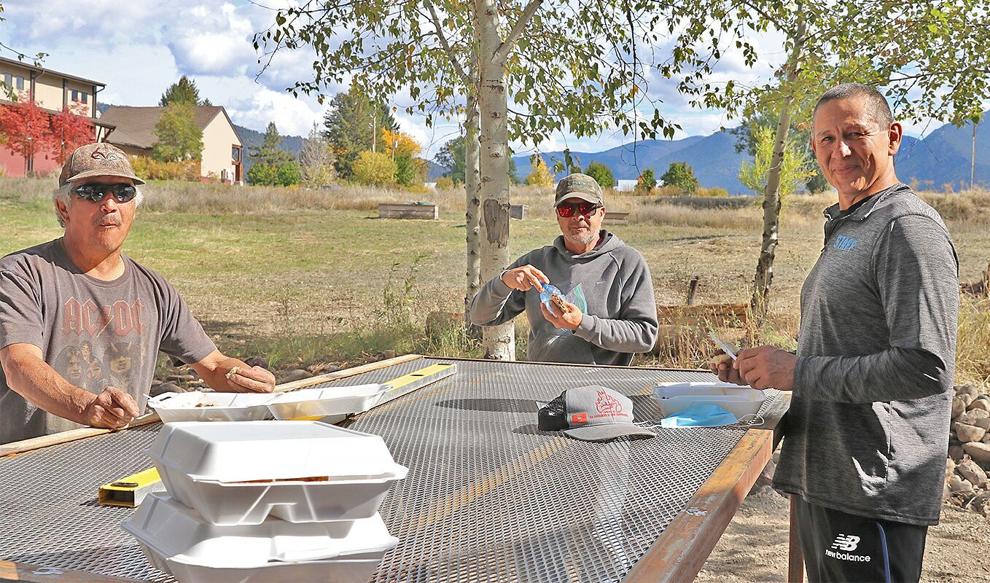 Burland said the fire pits are not just meant for use during funerals but can also be used by other folks for family gatherings, etc. 
"We want to make this a beautiful place for people to use and treat it with respect," Burland said. 
There are also some raised community garden beds in the bowl for people to use that were paid for by the MSU Flathead Reservation Extension Agency Office, managed by Brenda Richey.
There are also plans in the air to construct a covered stage for use for plays and other such activities.
Tribal Council Chairwoman Shelly Fyant said that Brenda Richey could once again assist with such a project under grant opportunities that address mental health issues and foster healing in the Jocko Valley, which has in the very recent past experienced an epidemic of suicides. And the provision of healthy activities is one way to address that.
And if everything goes as hoped next summer an outdoor stage could be there to host youthful activities.