Climate change affects Indigenous people and their traditional resources
Char-Koosta News 
HELENA – Roughly 300 people attended the "Protect Our Home: Climate Advocacy Day" rally on January 20 at Montana's State Capitol. The rally was organized by 17 organizations from across Montana, and the event had two goals: one was to assemble and engage with Montanans, and the other was to do skill building with those who attended.
In addition to panel discussions and a number of featured speakers, the event included information sessions, and lobbying opportunities.
"Protect Our Home: Climate Advocacy Day" aimed to empower and inspire all Montanans to join the movement for a "livable climate" for everyone. It also supported democratic engagement and influenced legislators to actively support urgent climate action.
Instead of debating whether climate change was a problem, Montanans at the rally were there to demand action—immediate action. The question is no longer whether or not climate change will harm Montana and Montanans; rather, "Let us think about the future and how Montana can keep its status as the Big Sky state," as speaker Termaine Edmo, climate change coordinator for Blackfeet Nation, phrased it.
Numerous tribal members and members of the indigenous community attended the rally. CSKT member Claire Charlo gave her opinion on the need of conserving "our homes" in all of its forms. Her true home, as she described it, is in the mountains, among the huckleberries. Many indigenous people believe in connections and relationships with wildlife and the natural environment, which play a role in culture, spirituality, and mental health. 
According to the Department of Economic and Social Affairs of the United Nations, "Indigenous peoples are among the first to experience the direct repercussions of climate change due to their dependency upon, and close relationship with, the environment and its resources."
It consists of loss of traditional foods, consequences on ecosystems and water quality and quantity, extreme impacts on Native communities' way of life, and ultimately it is pain on top of pain, since the Native community already feels a feeling of "loss," climate change is just salt on an open wound.
Researchers from Yale University, Colorado State University, and the University of Michigan published the first ever data collection in the journal Science to quantify the history of land dispossession and forced migration on Indigenous peoples in North America and assess its long-term environmental and economic repercussions.
The conclusion of the study states, "This research suggest that near-total land reduction and forced migration lead to contemporary conditions in which tribal lands experience increased exposure to climate change risks and hazards and diminished economic value. The significance of these climate and economic effects reflect aggregate changes across the continent, but there is an urgent need to understand the magnitude of place-specific impacts for particular Native nations resulting from settler colonialism in future research. This study and dataset initiate a new macroscopic research agenda that prioritizes ongoing data input, historical validation, public data dashboards, and computational analysis to better understand the long-term dynamic of land dispossession and forced migration across scales."
The study also comes to the conclusion that tribes' current lands are generally more exposed to risks and hazards associated with climate change, such as more intense heat and less precipitation. Almost half of the tribes are exposed to greater wildfire risk. Additionally, tribes' current lands are less likely to be located over lucrative underground oil and gas deposits, which reduces their positive commercial mineral worth.
Kyle Whyte, one of the study's co-authors, is quoted by NPR saying, "The reason why tribal nations are located in the places they are in is because the U.S. tried to remove them and get them out of the way, so that the U.S. could build this massive industrial economy, that we now know contributes to increased concentrations of increased greenhouses in the atmosphere."
Additionally, according to NPR, Whyte believes the data provides tribes with a vital tool for articulating the land loss challenges that tribes face and arguing for stronger support for tribal sovereignty and the capacity to manage their own lands, especially to deal with the effects of climate change.
https://www.science.org/doi/10.1126/science.abe4943 
A livable climate for all
What is Montana without its landscapes, national forests, national monuments, national fauna, outdoor recreation activities, and so on? As time passes, more and more people are starting to worry about the impact that climate change has on the state of Montana. Voters appear to have similar worries, and an increasing number are calling for rapid action.
According to the 12th Annual 2022 Conservation in the West Survey, voters in the Mountain West are becoming increasingly concerned about problems including drought, inadequate water supplies, wildfires, the loss of wildlife habitats and natural spaces, and climate change.
Registered voters in the western states of Arizona, Colorado, Idaho, Montana, Nevada, New Mexico, Utah, and Wyoming were polled as part of the survey. Voters provided their opinions on issues such as public lands conservation, energy, water, wildlife, and other urgent problems in the Mountain West.
New Bridge Strategy and Fairbank, Maslin, Maullin, Metz & Associates carried out the survey. The poll contacted at least 400 registered voters in each of the eight Western states for a total sample of 3,400 people. This number includes an oversample of Black and Native American voters. The poll was performed between January 5 and January 23, 2022. The State of the Rockies website has the overall survey as well as state-specific surveys.
https://us6.campaign-archive.com/?u=6b3f59dc19c07727b0b196979&id=aa286fe9af
According to the poll 69 percent are concerned about the future of nature, which includes land, water, air, and wildlife. This level of worry marked an increase from the 61 percent found in the survey from the previous year. In light of this, 86 percent of voters in the West now think that issues pertaining to clean water, clean air, wildlife, and public lands are significant in their choice of whether to support an elected figure, up from 80 percent in 2020 and 75 percent in 2016.
The poll reveals a rise in concern for common effects of climate change, such as 79 percent concerned about worse air quality owing to ozone and smoke, 86 percent concerned about droughts and diminished snowpack, 61 percent concerned about extreme weather events like powerful storms or floods, 69 percent concerned about high heat, and 82 percent concerned about more frequent and severe wildfires and 70 percent say wildfires are more of a problem than ten years ago.
Voters in the Mountain West prefer clean energy sources. 66 percent of people favor a gradual shift over the next ten to fifteen years that would see all of Montana's energy provided from clean, renewable sources like solar and wind. 
Jeff Smith, climate advocate and Co-Chair 350 Montana, speaks at rally panel discussion, and says it best, "Each one of you here represent hundreds if not thousands of Montanans," who a share a concern of climate change and the state of Montana. 
The indigenous presence at the rally wasn't just for climate change, but also public discussion and testimony of House Bill 18, "An act establishing the missing persons response team training grant program; creating the missing persons response team training grant account; providing a fund transfer and an appropriation; and providing an effective date."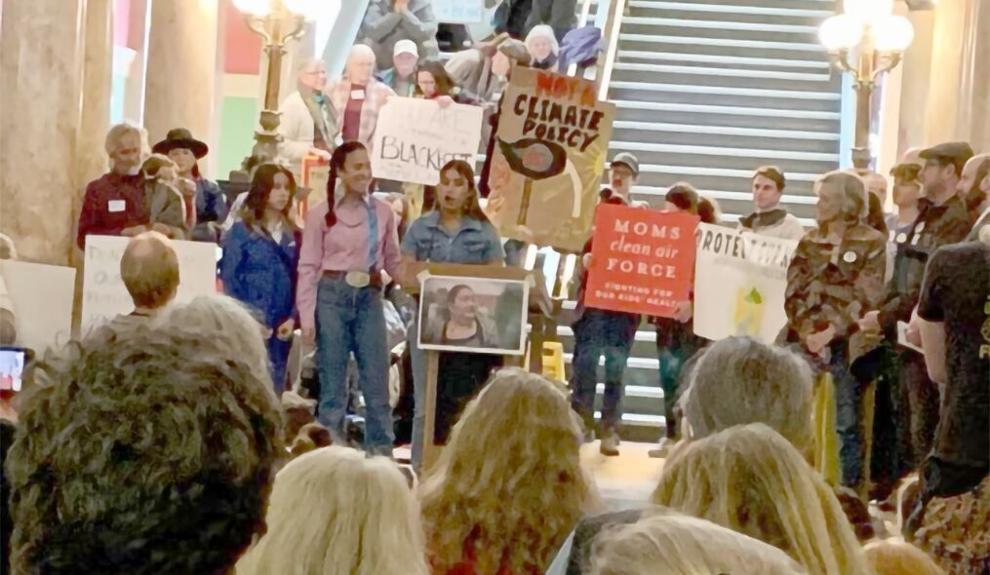 House Bill 18
House Bill 18, "an act establishing the missing persons response team training grant program; creating the missing persons response team training grant account; providing fund transfer and an appropriation; and providing an effective date."
The capitol had a strong indigenous presence due to the climate rally, which featured indigenous speakers, but many were also present to testify in support of House Bill 18. 
On Friday, January 20, the Senate Judiciary Committee heard testimony regarding the bill after it had cleared the House. 
Indigenous families are left wondering: what if their loved one was looked for sooner rather than later, what if they had the right equipment, manpower, and resources at their disposal? Every element and decision is significant to a family who has a loved one missing. Unfortunately, many indigenous families bear this burden and pain. As of January 24, according to the Montana Missing Persons Database, 51 children are being reported as missing, and 25 of them identify as American Indian or Alaskan Native, and three whose race in unknown. 
Additionally, 47 indigenous people were reported missing on January 24 according to the Montana Missing Persons Database. As the MMIP, MMIW, and other movements have gained momentum over time, more people are becoming aware of what is happening, and legislation like House Bill 18 will help.
Since 2019, the Montana Missing Indigenous Taskforce has been debating the necessity of training response teams and those using search-related equipment.
Drew Landry, a US Department of Agriculture Extension Agent, has been working with Blackfeet Community College since the creation of www.mmipmt.com, the Montana missing indigenous persons reporting system.
Concerned citizens of the Blackfeet Nation built the site, it is a project started by students and Staff at Blackfeet Community College. 
The missing indigenous persons site, in Landry's opinion, might eventually develop into a national database.
Landry described several searches in the previous two years that were postponed due to a lack of the proper underwater camera, boat, or drone during the task force meeting in November. "So it's not just information sharing, but also equipment and people trained to use that equipment that will save lives," he said.
This is not an exaggeration; during the previous search for Jermain Charlo last fall, walkie-talkies or a better method of communication were required for the various search groups; with no cell coverage, coordination between groups was difficult.
Four wheelers also came in handy, as someone was able to deliver water or give someone a ride back to the base of the search. It is the items that one does not consider until he or she is on the hunt and discovers how intricate and difficult a hunt can be with a large amount of people. 
Brian Frost, the Missing Persons Specialist of the Montana Department of Justice, said, "The truth is that plenty of Montana agencies, regardless of size, and regardless of their geographic location to reservations, have active missing persons cases."
On Friday, it was highlighted that House Bill 18 benefits all Montanans, not only Natives.