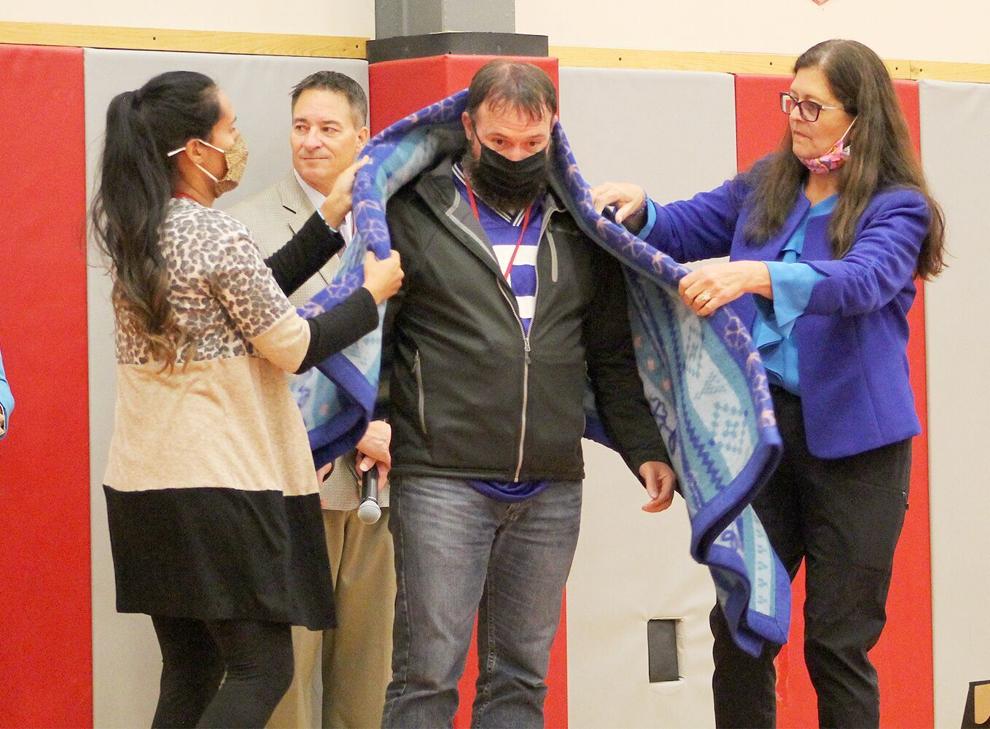 Char-Koosta News
ARLEE – On Tuesday, September 28, Superintendent of the Office of Public Instruction Elsie Arntzen presented Arlee High School science teacher Bill Stockton with the 2022 Montana Teacher of the Year Award. Stockton is one of four finalists chosen for the prestigious award.
Arlee High School students and staff were told they were gathering for a pep rally for homecoming week, but it was actually a surprise ceremony for Stockton and the announcement of winning the award. Stockton, who was dressed in a jersey for Jersey Day had no idea about the unexpected award. However, when he saw his wife and two children enter the gym, he had a feeling something else was going on.
"Do you want to know what's exciting about this? It's a collaboration between you, your teacher, and your families," Arntzen told the students in the audience. "Only one teacher in Montana receives an award like this once a year, and one of those teachers is receiving it today. I'm going to need a drum roll and a big round of applause."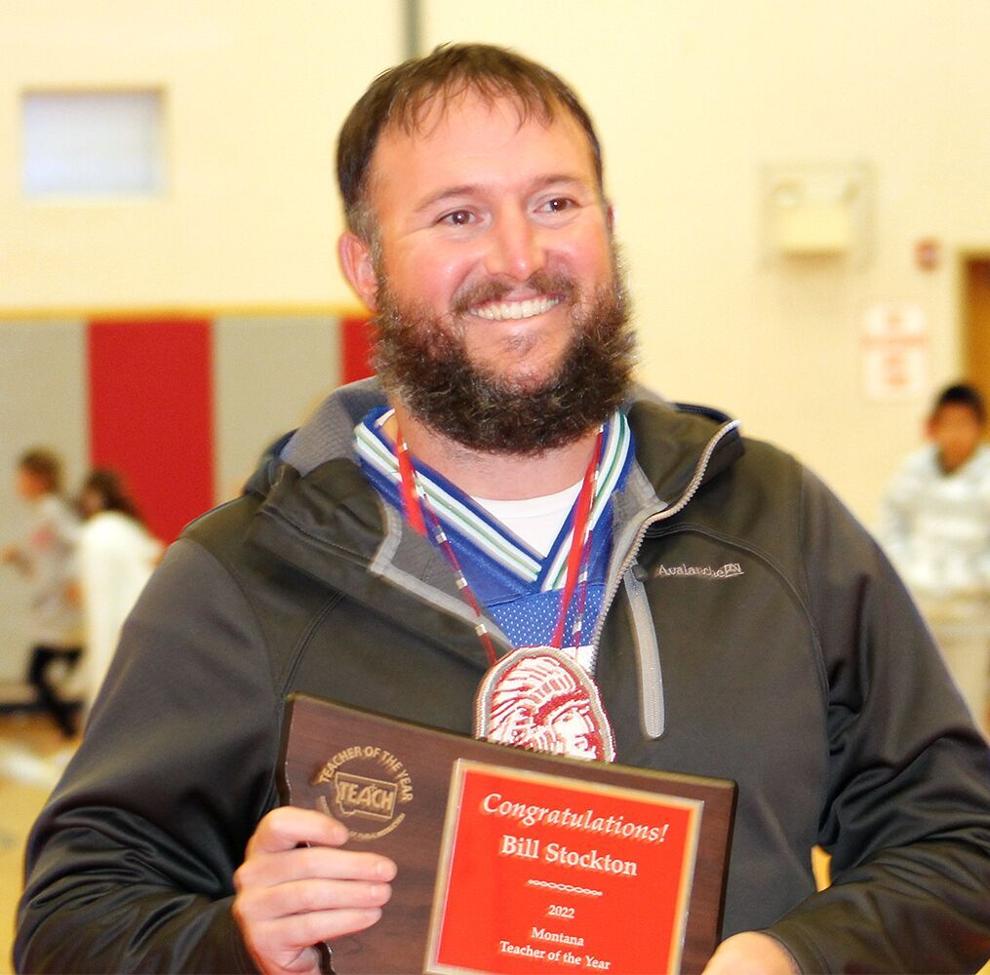 "I want to thank everyone in this room because I came here very young and unprepared, and I really want to thank all the amazing teachers who helped me along the way," Stockton said. "And I would like to thank all the students who challenged me and made me think about what I was doing and why."
Arntzen said she started the program through her organization, Chief State Officers. When she won the OPI, her office brought in a focus group to see what 'teacher of the year' meant. They divided it into 10 distinct regions, nine geographical regions and one strictly cultural region for tribal people.
"The large committees may see a paper copy, a video, a resume, or something, and select four teachers," Arntzen explained.
After four teachers are chosen, they are interviewed in person, and teachers will prepare a video presentation before they compete in the national competition.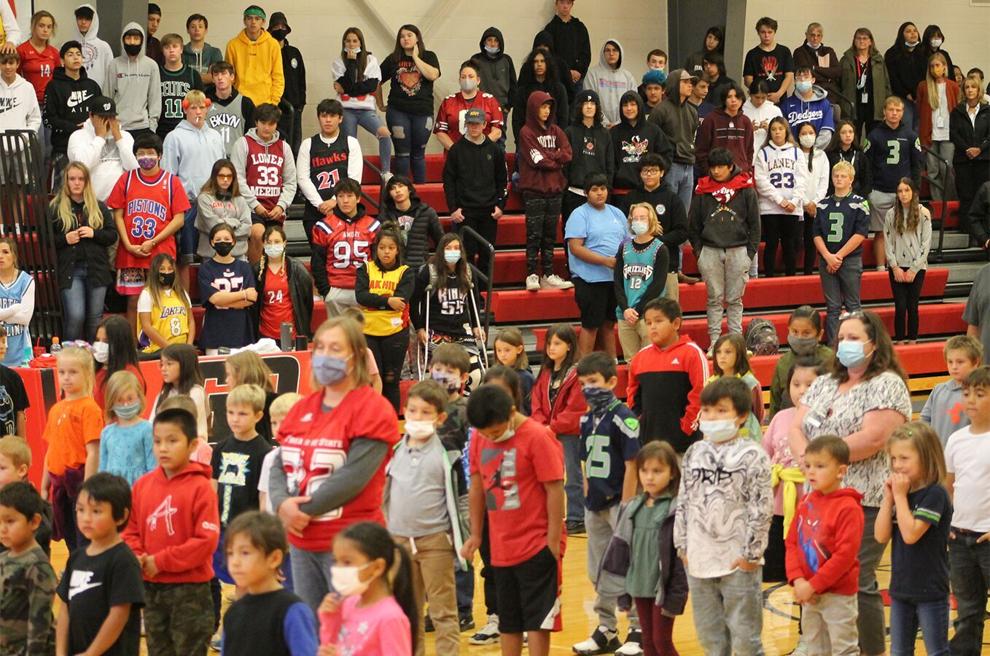 All of the teachers chosen are one-of-a-kind in their own way. "Every one of them is so different," Arntzen said. "Every single teacher I've had in the last four years has had a connection to Indian Education for All."
Every year, the American Christmas tree in Washington D.C. requires an ornament that has a Montana or other state feel to it. "The homework for you Mr. Stockton and all of Arlee here is to create an ornament that will be hanging on the National American Christmas Tree," Arntzen said. "I'm sure you'll do Montana proud on that tree."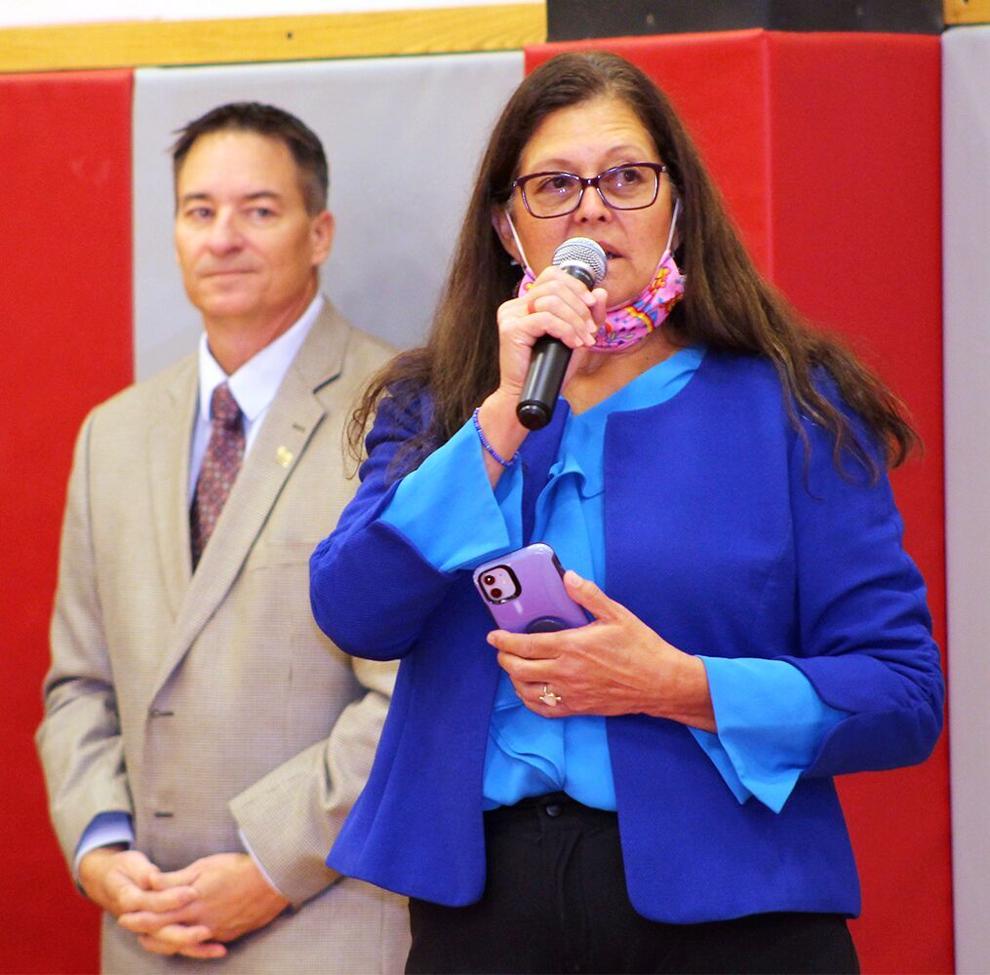 "I'm glad it remained a surprise until the end," said CSKT Councilwoman Shelly Fyant. "One of my daughters in law went to SKC and had the opportunity to student teach under Mr. Stockton, and he really pushed her and gave her a great experience."
"Mr. Stockton goes above and beyond," Fyant said, adding that Arlee High School is fortunate to have him, and presented Stockton with a blanket and Pend d' Oreille Drum group honored him with a song.
Stockton's approach to education is to make his classes relatable for the students by getting them involved in the local community and subject matters that are relevant to them. 
"In all of our classes we should be talking about the Indigenous people of our state, and I think this is something we need to look at nationally, and I think this something I can help other teachers integrate into their classrooms," Stockton said.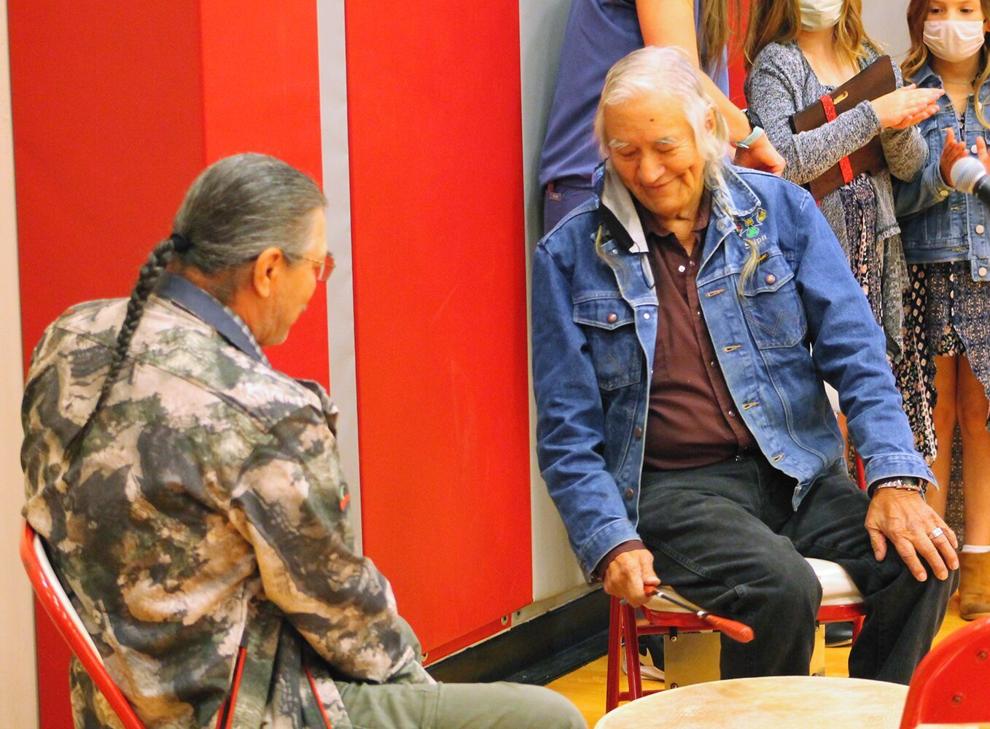 Stockton says most teachers in Montana are aware of and understand the importance of teaching Indigenous cultures, but outside of Montana he doesn't believe this is done, but should be. 
"One of the hopes is that we can get more people to understand what Indian Education for All looks like and how to integrate it into our classrooms to give our Indigenous communities and the people who came before us a voice and representation," Stockton said.
"Indian Education for All is part of Bill's teaching structure, and I would say it is one of the things that pushed him ahead of the other key candidates," Arntzen said.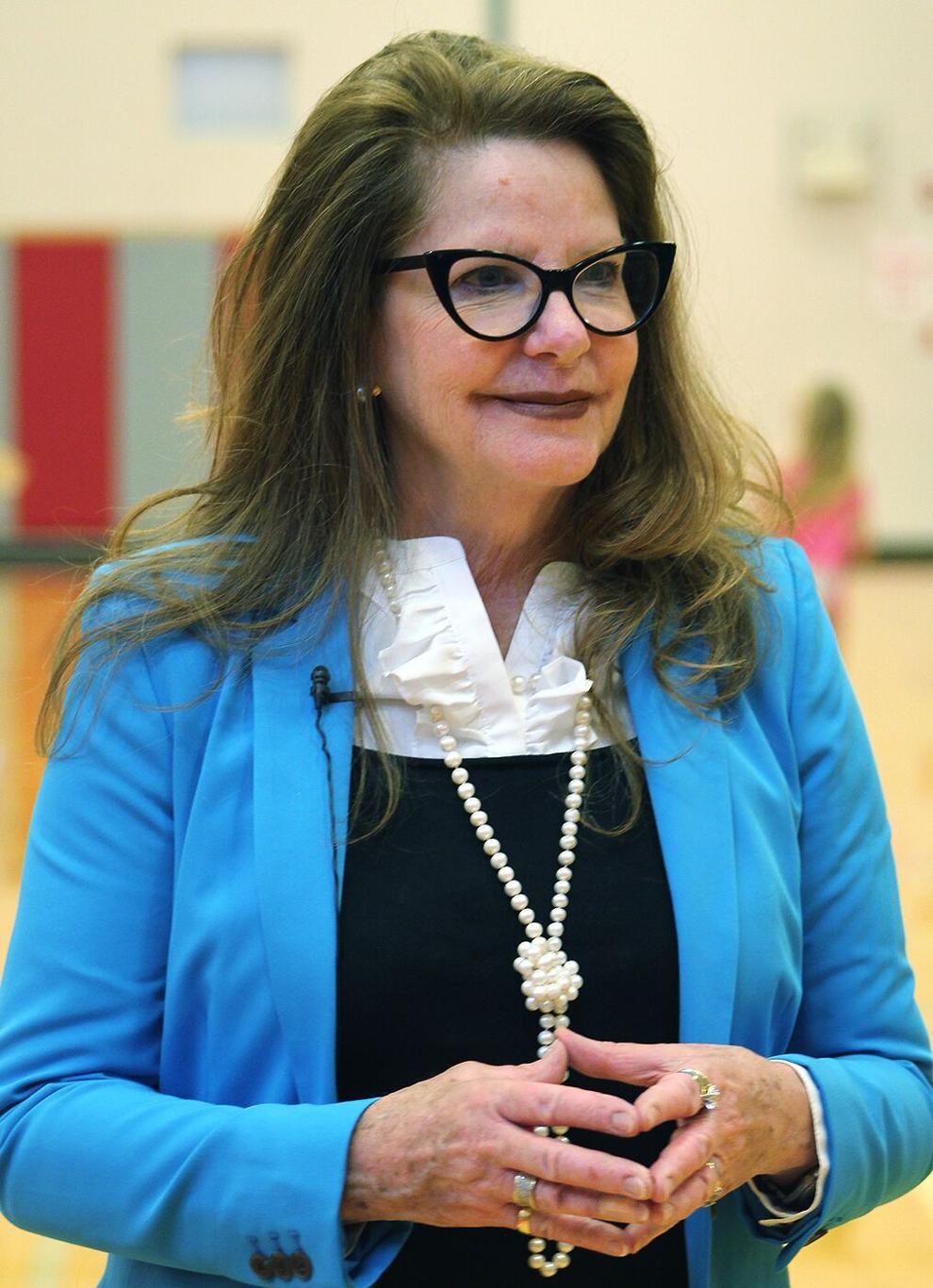 "It's about supporting one another and our teachers, and it's about celebrating education," Arntzen said. "We must band together; the virus, not the school or the teacher, is the enemy."
"I owe a lot to Arlee, and I am truly honored to represent Arlee," Stockton said.
Senator Steve Daines (R-MT) issued a statement in which he acknowledged and thanked Stockton. 
The letter states, "A big congratulations to Arlee High School science teacher Mr. Bill Stockton on being named the 2022 Montana Teacher of the Year! Bill's enthusiasm and passion for teaching has no doubt inspired countless young Montanans. Bill, thank you. Thank you for being a great example for all Montana teachers."
Stockton will pave the way for other teachers, serving as an example for those who want to truly make a difference in the lives of students in their community, such as Arlee.
"Education never stops; every day, we have the opportunity to learn something new, and we should be excited about that opportunity," Stockton said. "I thank everyone who has come to celebrate with me; I was not expecting this." 
Stockton is the second Arlee High School teacher to win the Montana Teacher of the Year award. In 2014 English and history teacher Anna Baldwin won the award.