Char-Koosta News 
ARLEE — These are global wide tough times brought on by COVID-19. There is no safe harbor from the infestation including the hamlet of Arlee. Thankfully there hasn't been any cases of COVID-19 there but nonetheless Arlee feels its effects.
One of the many negative effects beyond an actual case of the coronavirus is related to food access, its supply and its dent on limited budgets caused by income losses due to employment lay-offs or hours reduction. In an effort to bridge that vital gap the Arlee Community Development Corporation has been distributing food staples under its COVID-19 Food Emergency Distribution Program. The program is available to everyone with no income requirements.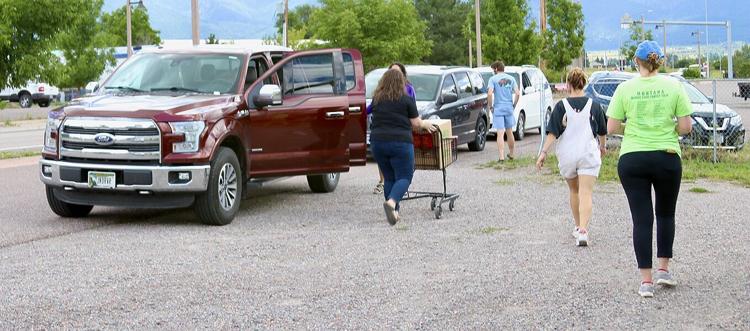 The program was seeded by $25,000 in grants from the Headwaters Foundation of Missoula, the Lower Flathead Valley Community Foundation in Ronan and the Bozeman-based Gianforte Family Foundation.
Since late March, every Friday from 12:30 to 3 p.m., first at the Brown Building for a couple of months and now at the former Hangin' Art Gallery. Arlee CDC President Casey Barrows said both facilities were provided rent free by the Brown Building community board and by Donna Mollica, respectively.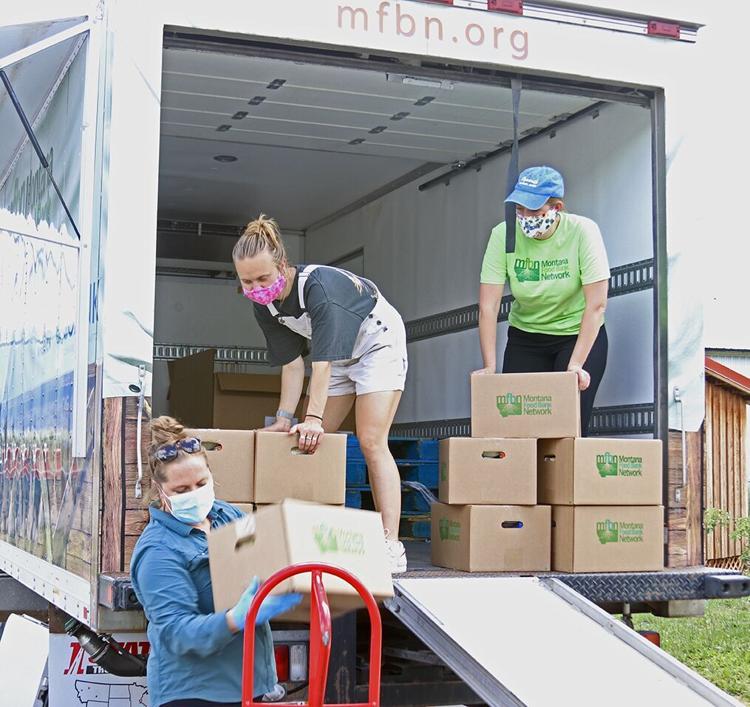 This past week the Montana Food Bank Network came aboard the effort and delivered a cargo truck full of food staples to add to the food distribution effort.
"This is the first time we've done this with the Montana Food Bank Network," Barrows said. "We'll definitely be doing this again, every other week. It saves us money and we get more food for the people. It's a double win for us."
For the past three months, the Montana Food Bank Network has been working hard to address the changing needs of its network partners and neighbors struggling with food insecurity in Montana, said Jesse Schraufnagel of the MFBN.
"We cover the entire state, and the need has increased 150 percent for most food distribution agencies because of the virus," Schraufnagel said. "The Missoula Food Bank has gone from 3,000 customers a month to 6,000 a month after the pandemic."
The pandemic has also put a major hitch in the supply giddy-up.
"We were able to get our food orders filled in one to two weeks, now it takes three months. Our normal distribution system is not as it was before and we have to source other places."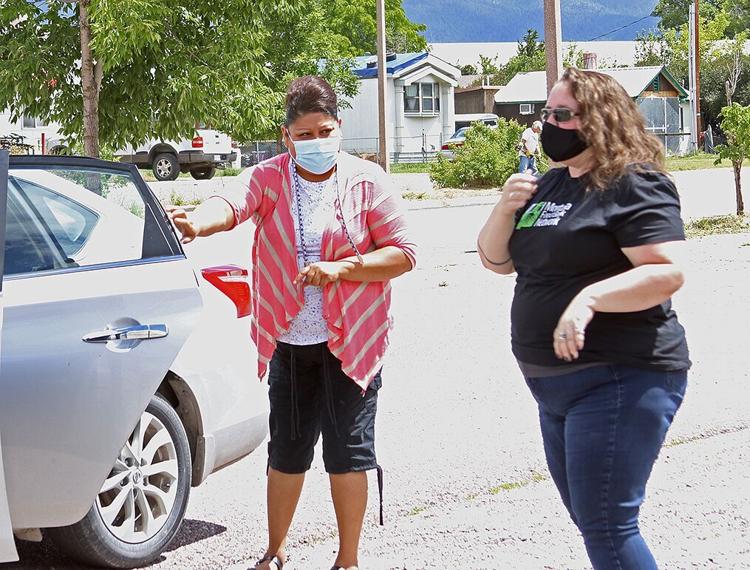 The Flathead Reservation Community Action group has also been involved in the effort, providing meat for distribution as well as masks and gloves for volunteers involved in the COVID-19 Food Emergency Distribution Program.
Barrows said the Arlee Volunteer Fire Department donated its food supplies for its annual 4th of July breakfast fundraiser after it was cancelled due to COVID-19.
Wendy Matt stopped by Friday to pick up a container of food from the Montana Food Bank Network and praised the effort. "This is awesome. It really helps us. I share this with my kids who are struggling a bit," she said, adding that she is very concerned and cautious about going to stores these days, especially where a lot of customers and staff aren't wearing masks. "I wear a mask everywhere I go and I wish everyone did. It's scary seeing people without masks."
Arlee's COVID emergency food distribution program needs your help. Volunteers are needed for packing meals every Thursday from 5-7p.m. And for helping pass out meals for the no contact drive-thru/walk-up on Fridays 12:30–3p.m. Masks and gloves are provided.
To sign up visit: https://forms.gle/7qBVaStGcgnSkPLs8
---
Network Partner Agencies
Montana Food Bank Network (MFBN) provides wholesale access to healthy quality foods to the network of around 145 partners. These network partner agencies provide direct service to individuals and families in need by distributing food and grocery products to clients in their service areas. Each agency is as unique as the community it serves and forms the foundation of hunger relief throughout this wonderful state.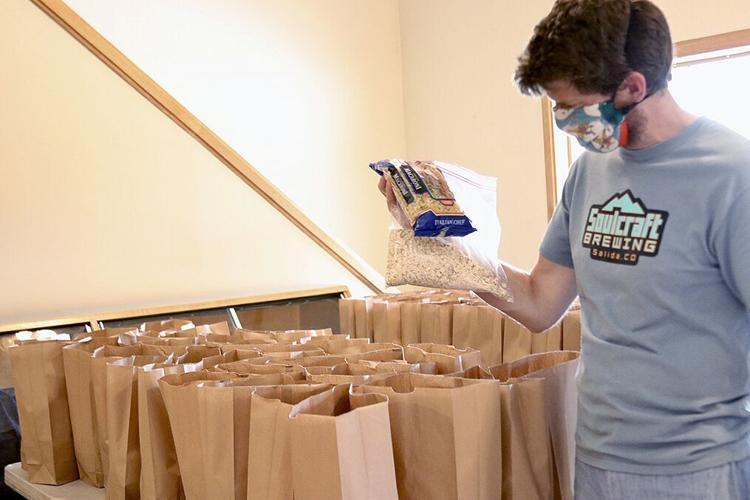 Network partner agencies range from regional food banks with modern warehouses to single rooms in rural towns. They provide assistance in the form of bags or boxes of groceries, hot meals in soup kitchens, or serve daily meals as part of residential and treatment programs. MFBN helps to meet around 5 percent of the total food needs of some larger, urban partners while meeting almost 100 percent of the need in rural areas. To locate all MFBN Network Partner Agencies view our Resources Map online at https://mfbn.org/get-help/.
Montana Food Bank Network operates on a six-week order and delivery cycle. At the start of each cycle, MFBN provides order forms for several food programs offering a product in caseload quantity to network partner agencies. Agencies place their orders and wait for MFBN to make their scheduled delivery or make their order available for pick up at the MFBN warehouse in Missoula.
For some products, network partner agencies pay a shared maintenance fee of no more than 19 cents per pound for a nonperishable product. A perishable product such as fresh produce, bread, and dairy are offered with no shared maintenance fee.  
Shared maintenance helps cover a percentage of MFBN's operational costs such as utilities, transportation, and running refrigerators and freezers. All other assistance and services provided by Montana Food Bank Network are available to network partner agencies at no cost. This includes food safety training, meetings, outreach materials, nutrition information and training, and access to Feeding America resources.
Through a partnership with Montana Food Bank Network, network partner agencies can reduce the amount spent on food purchase and use the money saved to feed, shelter, train, counsel, educate, protect, rehabilitate, house, and comfort more individuals and families in need. Montana Food Bank Network serves as a supplemental food resource for its partners and encourages the development of long-term charitable giving and solutions to hunger in Montana.
For more information contact Jesse Schraufnagel Agency Relations Coordinator at https://mfbn.org/staff/jesse-schraufnagel/.