Culturally relevant career advice for Native Americans funded by AT&T Foundation
By American Indian College Fund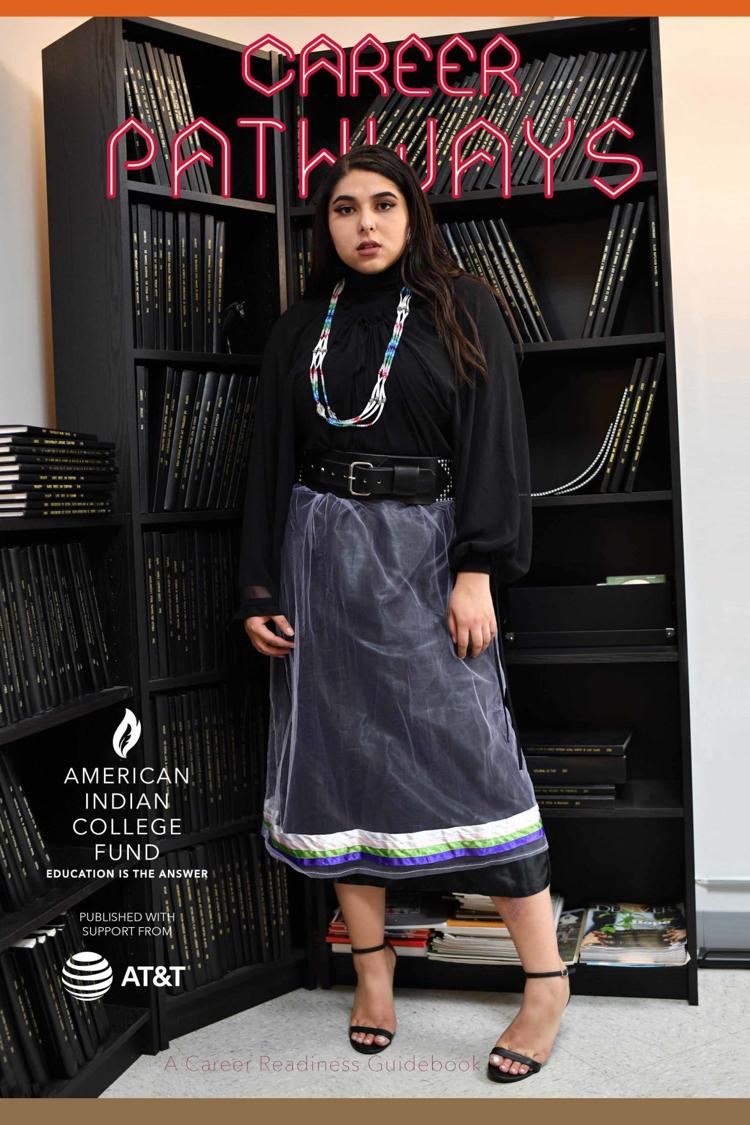 DENVER, CO — Native American college students have unique needs and challenges in higher education. Navigating their developing career paths while honoring their indigenous identities and communities is no different. To help Native students plan for and accomplish their career goals in college and at any stage of life, the American Indian College Fund has published a new "Career Pathways" guidebook.  
While many career planning resources exist to help students prepare for work, the new "Career Pathways" guidebook was created by the American Indian College Fund (the College Fund) to provide tailored resources and advice to meet the unique needs of indigenous students. The guide is filled with culturally relevant career preparation resources, including the advice of Native professionals and teachers shared from their own valuable experience. Tom Brooks (Mohawk), Vice President of External Affairs at AT&T and a member of the College Fund's Board of Trustees, introduces the publication with his own inspirational journey through education, career possibilities, and the fulfillment of his current path.
The "Career Pathways" guidebook includes articles on identifying career goals, finding internships, applying to graduate school, studying for a skilled trade certification, interviewing skills, the advantages of joining a professional association, planning a career in Indian Country, and more. All articles are written with insight into Native culture, such as incorporating indigenous style into professional wardrobes and finding careers that reflect Native graduates' cultural, tribal, and personal values.
Career Pathways is available free of charge at www.collegefund.org/careerpathways. The new publication is a key to career readiness programs implemented at select tribal colleges and universities nationwide and will be distributed at the American Indian Higher Education Consortium (AIHEC) Legislative Summit in Washington, D.C., February 3-7, 2020, and AIHEC's Student Conference in March 2020 in Albuquerque, New Mexico. High school and college educators, career counselors, and Native student centers are encouraged to share the publication with their students.
About AT&T: AT&T Inc. (NYSE:T) is a diversified, global leader in telecommunications, media and entertainment, and technology. It executes in the market under four operating units. WarnerMedia is a leading media and entertainment company that creates and distributes premium and popular content to global audiences through its consumer brands including HBO, Warner Bros., TNT, TBS, truTV, CNN, DC Entertainment, New Line, Cartoon Network, Adult Swim, Turner Classic Movies and others. AT&T Communications provides more than 100 million U.S. consumers with entertainment and communications experiences across TV, mobile and broadband services. Plus, it serves nearly 3 million business customers with high-speed, highly secure connectivity and smart solutions. AT&T Latin America provides pay-TV services across 11 countries and territories in Latin America and the Caribbean, and is the fastest growing wireless provider in Mexico, serving consumers and businesses. Xandr provides marketers with innovative and relevant advertising solutions for consumers around premium video content and digital advertising through its AppNexus platform.
About the American Indian College Fund — Founded in 1989, the American Indian College Fund has been the nation's largest charity supporting Native higher education for 30 years. The College Fund believes "Education is the answer" and provided $7.72 million in scholarships to 3,900 American Indian students in 2018-19, with nearly 137,000 scholarships and community support totaling over $208 million since its inception. The College Fund also supports a variety of academic and support programs at the nation's 35 accredited tribal colleges and universities, which are located on or near Indian reservations, ensuring students have the tools to graduate and succeed in their careers. The College Fund consistently receives top ratings from independent charity evaluators and is one of the nation's top 100 charities named to the Better Business Bureau's Wise Giving Alliance. For more information about the American Indian College Fund, please visit www.collegefund.org.