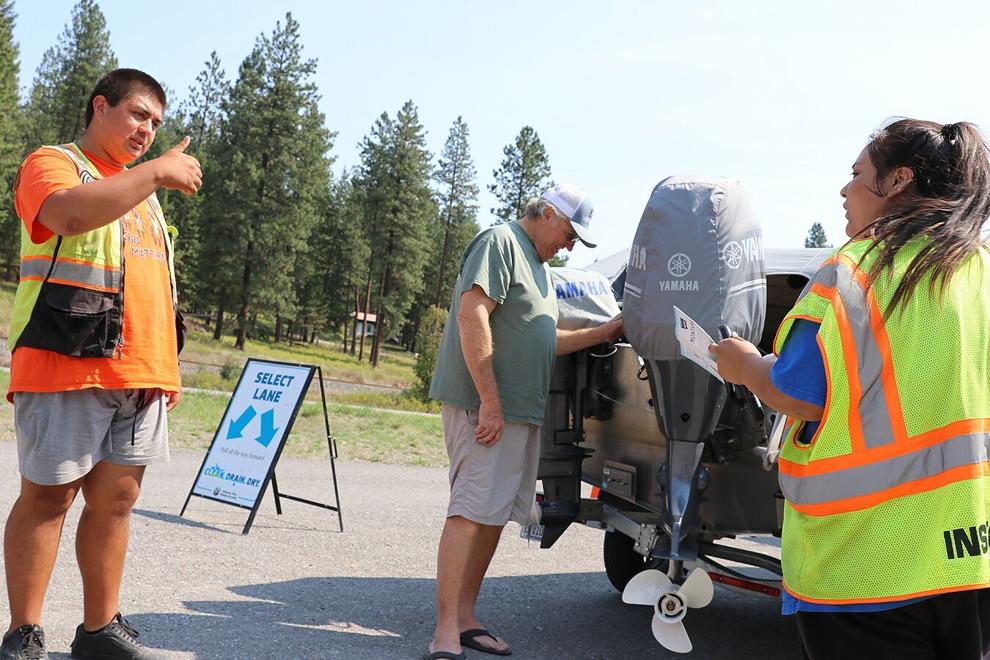 Char-Koosta News 
THOMPSON FALLS — It seems like the smoke-filled blink-and-you-missed-it summer is screeching to a sunny this-is-how-it-should-have-been end, and that is reflected by the declining watercraft inspections at the Thompson Falls watercraft aquatic invasive species (AIS) inspection station. 
The Thompson Falls station along with the Ravalli inspection station are managed by the Flathead Nation under a contract with the Montana Fish, Wildlife and Parks. 
"It's been a real good season here. It all starts with our boss and supervisors," said Elias Alexander in reference to AIS coordinator Katie Finley, and site supervisors Lacey Parker and Rob Howard. "They make sure that we have a good working environment."
Also making Thompson Falls a good working environment is the boating public and the residents of Thompson Falls.
"Some people are impatient about having to stop and be inspected but overall, nine out of ten inspections have been good," Elias said. "They understand why their boats have to be inspected and are down with the cause. That makes our work a lot easier."
One of those folks making Elias' job a lot easier was Jim Mickelson of Missoula.
"I think these inspections are great, I hope they keep on doing them," Mickelson said as his boat was being inspected at the Thompson Falls AIS inspection station Monday. "They need to catch the mussels because it's not a good thing for Montana if our waters are contaminated with mussels."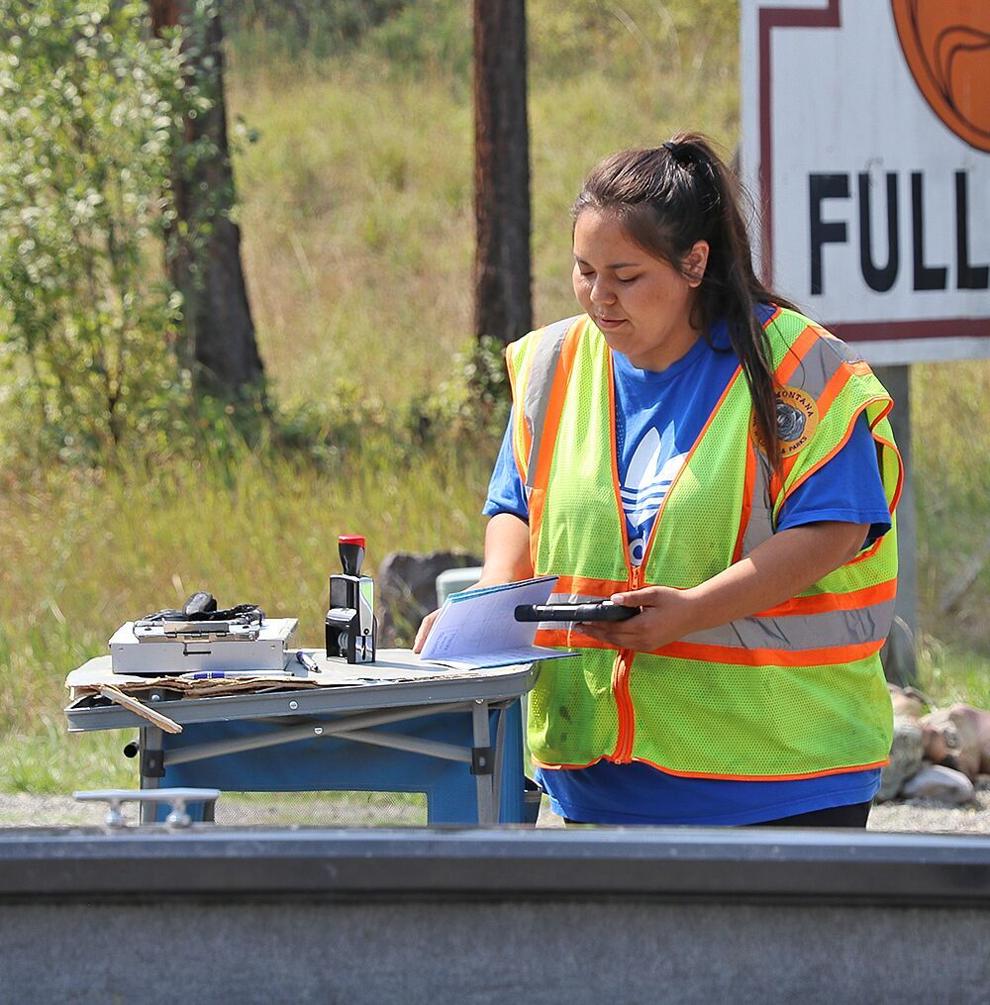 Mickelson said stopping at watercraft inspection stations has become second nature to him. 
"I don't have a problem stopping for an inspection," Mickelson said. Earlier in the day Mickelson was boating and fishing for small mouth pike in the Noxon Reservoir. "This is just a normal part of the day. It keeps me honest; I understand that it's my responsibility to keep my boat clean."
Mickelson, who also water recreates on Flathead Lake, said he understands his responsibility in a large part due to the public information effort by the Montana FWP and its AIS Bureau. He gets the AIS message when he gets his fishing license, when he stops at inspection stations, on TV ads, on the internet, and on billboards.
"They are really effective in getting the (AIS) message out to the public; it's out there, in a lot of places," Mickelson said. "They are making a real good effort to keep the invasive things out of here."
To that end, Mickelson said he would like to see more inspection stations in the state and is "more than willing to pay a sur charge" to help pay for them.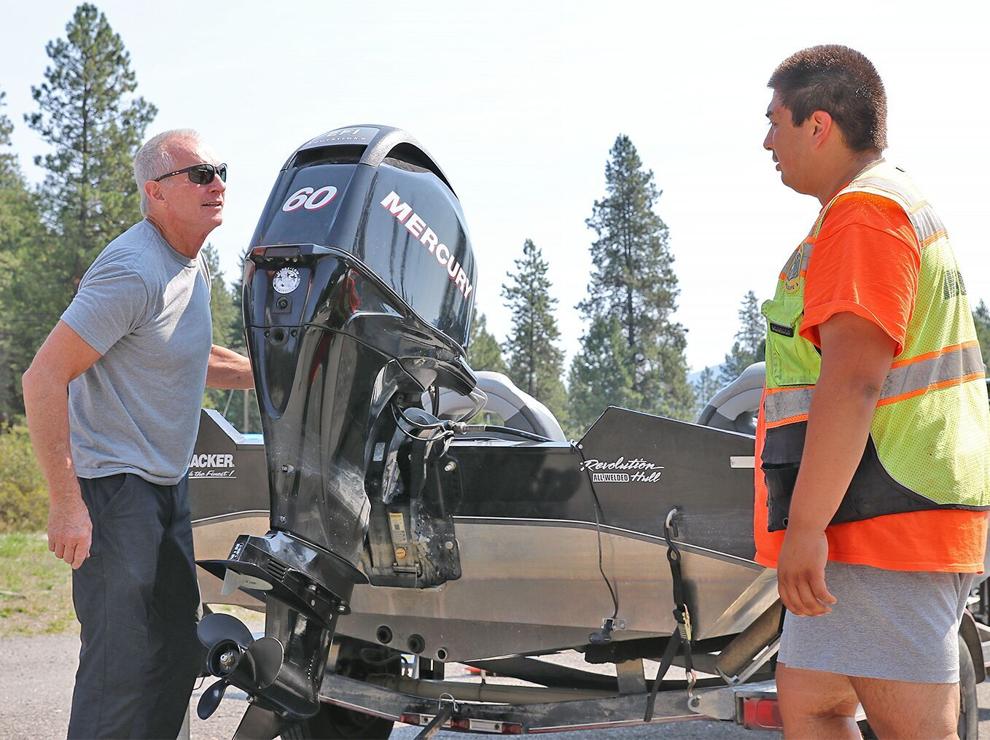 Al Reginatco of Corvallis also felt that the mandatory watercraft inspections are a good thing.
"This is necessary and quick, and worth the time considering the consequences," said Reginatco about the inspections. He had been boating at Lake Pend d'Oreille in Idaho and was heading home. "The mussels would be bad for Montana. There is nothing positive about them."
The Thompson Falls inspection station will be closing Saturday, September 18.
Both Alexanders feel a sense of pride in their being safeguards of Flathead Reservation waterways, the Flathead River Basin and by extension Columbia River Basin waterways. The CRB is the last major river basin in the United States to be free of a zebra and/or quagga mussel infestation. 
"I really like working here. I definitely plan to come back next year," Rozaline said. "It's pretty cool to be part of making sure that mussels don't get in the water here." 
"There are a lot of nice people we deal with like those," Elias said about Mickelson and Reginatco.  "The people of Thompson Falls have been really nice too. It's nice to be a part of this."
There is a lot of responsibility of the monumental mission of keeping mussels out of the CRB on the backs of the Flathead Nation watercraft inspectors but good supervisors, understanding boaters, and a welcoming community helps lighten the load of the dedicated Flathead Nation inspectors.