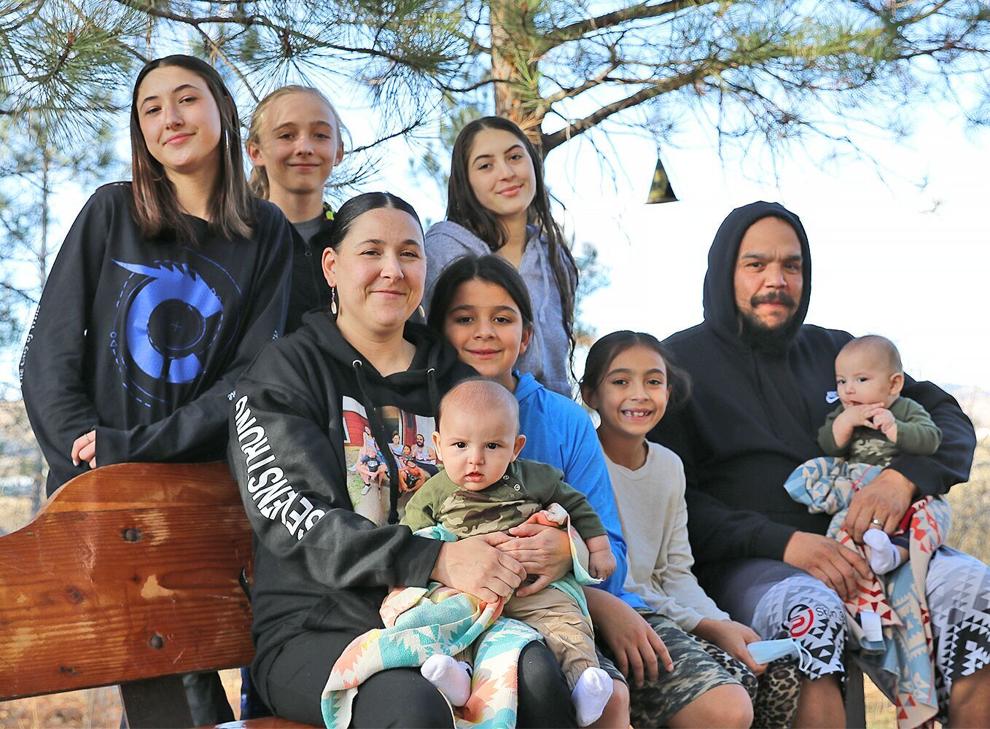 Char-Koosta News 
Drug usage addiction can be like a rip tide that drags a person away from safe harbors and casts them adrift in dangerous waters with little or no hope for survival of the person they were. However, there are lifebuoys that can rescue a person from the choppy waters of oblivion, among them is self-realization of the problem and the taking remedial actions to scuttle it.
Thirty-five-year-old Cammie Dupuis-Pablo and 40-year-old Roger Pablo, Jr., both got caught up in the rip tide of drugs and alcohol as teenagers and it led to wasted years of disfunction and eventually the loss of their children to Child Protective Services.
Education and cultural guidance were in the life raft that saved them from drifting in the sea of drugs and alcohol, and eventually resulted in regaining custody of their children, and adding to it. Cammie received a college degree this past spring and Roger attended a trade school where he learned the masonry trade. Cammie is presently busy raising a seven-member family, that includes 5-month-old twin boys. Roger is working for Anderson Construction in Missoula on a job that is presently finishing up construction of the Mustard Seed Restaurant building in the Southgate Mall complex.
But not so long ago their lives were not so family centered. 
Cammie dropped out of Ronan High School in her 2002-2003 sophomore year and began to "run around."
"I had some trauma in my life, some bullying that was complicating my life. I couldn't focus on school," Cammie said, adding that among the trauma was a teen friend dying. "After dropping out, I had no boundaries. I had a car and I just partied and drank."
Then Cammie got pregnant and had daughter Kaylynn. 
"Having Kaylynn was a good thing for me. I don't know what would have happened without her," Cammie said. "She probably saved me at that time."
A year and a half later Cammie gave birth to daughter Kailee. Then Keelan but his father died when he was 10-weeks old.
"After that I kind of went downhill till I hit rock bottom," Cammie said. "I've never really gotten over that, I just had to learn to live with it."
However, before coming to terms with the loss, Cammie reverted to doing drugs and "being dumb."
During that time, she got together with Roger and they had Kade. Despite that Cammie's downward spiral continued as did Roger's. 
"Roger was doing drugs, meth," Cammie said. "Then I started using meth. I'd never used meth before. I stopped when I got pregnant with Kade but Roger was not ready to settle down. He was still out there running around, getting in trouble. He was pretty much cut out of our lives."
Roger eventually ended up in jail for drug related charges.
"I started drinking (alcohol) when I was 13 or 14 years old," Roger said. His family was living on the Tulalip Reservation in Washington at the time. "We moved back to Arlee when I was 16 and kept on drinking and started using drugs. It was pretty much crank and partying all the time. When I was 17, I began selling it."
During that time — in 1999 — Roger got in scuffle with another young man at a bar in Pablo. The other person fled the area in a vehicle that Roger chased in another car. The chase ended at a Ronan residence, and the person fled into the trailer house and came out with a gun and shot Roger six times. He spent a few weeks in a hospital recovering then upon release resumed methamphetamine usage.
"From 1999 to 2004 all I did was use meth. I sold things and scraped up money anyway I could to buy meth," Roger said. "After about five years I felt stuck in a bad place and didn't want to use it anymore but I couldn't stop. I called my grandma in Tulalip and told her I was in a bad place and needed leave here."
However, Washington wasn't any better.
"I began to mess around with it (meth) again," Roger said. "In Washington the drugs are cheaper and better. I was soon right back where I was before and just partied all the time."
During that time some clarity through the drug fog came into Roger's life. 
"Some of my friends talked about going to a job corps in Everette and learning a trade so they could get a job," Roger said. They went and so did Roger where he learned the masonry craft. "I was the only one who graduated (among the five who enrolled) and learned the trade and how to work, what is required of being a good worker."
However, that didn't pan out to job. Why? Meth again.
"When I graduated, I was given money for it. I tried to get a job be wasn't able to get a steady construction job because I didn't have a car to get to work," Roger said. 
So, Roger came back to the Flathead Reservation where he soon got a job that he was able to keep for nearly five years. It was during this time that he met Cammie.
However, he was drinking a lot and eventually got busted for selling drugs and was sentenced to five years in the Montana State prison. He spent two years of the five-year sentence and got out of prison in 2015. He got a job in the construction of the new Walmart in Polson.
"You can't help who you love. When Roger was in jail, I reached out to him, talked to him," Cammie said. "After he got our of jail we got back together, and we had Kyrah."
However, the family bliss didn't last very long.
"About two years later, we had a feeling of being bored, and decided to go out and have some fun," Cammie said, adding that the "fun" was the same old, same old. "We decided to get high and just like that we were right back on meth — Roger, really bad."
Roger got in trouble again and was sentenced to 15 years in prison with 10 suspended related to the numerous charges. The sentence was eventually lowered to 10 years with five suspended. While in prison the second time he became involved in drug and alcohol treatment programs. 
That set alarms off with Cammie's mother, and Child Protective Services got involved. CPS placed the children in the custody of Cammie's mother, who took out a restraining order against Cammie.
"Roger was in jail. I didn't have my kids for about a year," Cammie said. "I felt really hopeless."
"Cammie stuck with me while I was in prison, she was always there for me," Roger said. "When I got out, I just drank coffee and stopped smoking. I lost the urge to use meth. I started to see things straight. My life wasn't about me anymore. It was about my family."
While Roger was in prison, Cammie also changed her course in life.
Cammie went to Missoula and stayed in a shelter home where she made friends, got help and got a job. And always, in the front of her mind and heavy in her heart were her children.
While in Missoula she contacted the All Nations Heathcare and Wellness Center seeking counseling and guidance to resolve her legal problems and sentencing requirements in Lake County. She partook in cultural activities under the guidance of Kevin Kicking Woman, and counseling with Willie Gervais, whom she still sees once a week.
During a sweat with Kicking Woman, he brought up the prospect of Cammie attending college.
"I thought I was too old and had the kids to take care of but Kevin put me in touch with people that could help me," Cammie said and eventually enrolled at the University of Montana. "All the things I did there helped save me and gave me the strength I needed to get back what mattered most in my life — my kids. I wasn't okay with someone, my mother, having my kids, and CPS telling me I lost my parental rights and that I couldn't get them back. But I eventually got them back, and I also got a sense of normality in my life."
At UM Cammie began to find out her sense of self and potential in the world of higher education.
"It was a whole new world for me, a new atmosphere where people looked at me and saw a good person, someone with a positive outlook. I don't think anyone had ever saw that in me before," Cammie said. "That brought me to a place of feeling I was a worthy person. I found my true self. All Nations built the support system I could stand on and step up to do other things, and the Native American Studies program at UM helped me achieve the educational goals I set. Over the last five years I basically proved I can do anything I set out to do."
While at UM, Cammie sought degrees in Communication and Native American Studies. During her time at UM, she was recognized on the Dean's list, and the President's Outstanding Senior Recognition Award for her academic achievements. She also served on the ASUM Student Senate in 2019-2020 academic year but decided to not run for a second term to spend more time with her children and focus on her studies. While on the ASUM Student Senate she was singled out for her efforts to freeze the Montana University System student tuition in testimony at the Montana Legislature. She also served on the UM Diversity Board. She was also earned the Native American Studies Outstanding Student Award.
"I loved being on the student senate, I loved being on committees and advocating for people and wanted to run again but it takes a lot of commitment and time," Cammie said. "And what really matters is my kids. After fighting so hard to get them back I wanted to be with them, spend more time with them. The senate and school work took away precious time."
Cammie not only gained an education at UM, she also became pregnant with twin sons, and this spring, on May 1, Cammie graduated Magna Cum Laude with a double major Bachelor's Degrees in Communications and Native American Studies.
"I was so miserable the last two months of school," Cammie said. "Two of my friends had to help me up and help me walk to get my diploma." 
The twins — Kamdyn and Khazmynd — were born June 23.
Looking forward, Cammie is considering attending the UM Law School or seeking a Master's Degree in Communication. But said the raising of her children, especially the twins, is taking precedence over future desires and plans. The family has a home in the Schley area.
"Right now, I am in the homeland with my kids. This is where I want to be right now in my life," Cammie said. "Whatever happens after this, I want it to in some way be helping Indian people."
And Roger is working in Missoula on the Mustard Seed construction project.
And there are seven children — Kamdyn, Kade, Keelan, Kyrah, Kailee, Khazmynd, and Kaylynn — depending on them.